Brand Name: YSL
Shade:  Almond B30
Finish: Luminous
Priced at: $58 at Sephora excluding taxes
Overall Rating: 4.3/5
Packaging Highlights
    Beautiful luxurious gold themed packaging
    Comes in a luxury gold card box that looks pleasing to the eyes
    The actual bottle is so sleek and beautiful
    My favorite is the golden cap which is really high quality and makes the entire bottle look gorgeous
    The black line between the cap and glass bottle also adds to its beauty
What I like about YVES SAINT LAURENT TOUCHE ECLAT LE TEINT RADIANCE AWAKENING FOUNDATION SPF 22?
    Available in a wide variety of shades
    Offers such a gorgeous luminous finish to the skin
    Does not accentuate dryness or pores
    Makes skin looks flawless
    Blends like a dream
    Does not oxidize
    Lasts a good amount of time
    Has such a nice cucumber like scent which makes me feel fresh and energetic
    Contains SPF and anti-fatigue agents
    Weightless finish
What I don't like about YVES SAINT LAURENT TOUCHE ECLAT LE TEINT RADIANCE AWAKENING FOUNDATION SPF 22?
    Has orange undertone which makes the application go a little cakey and orangey
    Flashes back in the photos because of SPF
My thoughts on YVES SAINT LAURENT TOUCHE ECLAT LE TEINT RADIANCE AWAKENING FOUNDATION SPF 22?
I initially tried a sample from Sephora in the same shade and loved it so much that I ordered a full size bottle. I am always a little skeptical about trying new foundation be it high end or low end because most of them have always caused serious breakouts on my skin which is a deal breaker for me. When I tried the sample it didn't break me out and my skin looked so beautiful with a healthy luminous finish that I was sold and went ahead to order the full size bottle in the same shade i.e. almond B30. Love it for days when I have to go for a no-makeup makeup look because I don't have to put in too much effort to make my skin look extra luminous as it contains the right amount of luminosity already. It does offer what it claims in terms of offering a straight 8 hour radiant coverage with SPF protection and weightless finish.
What is it made of?
Octinoxate 6.8%: Sunscreen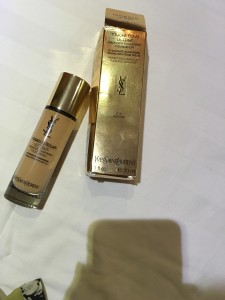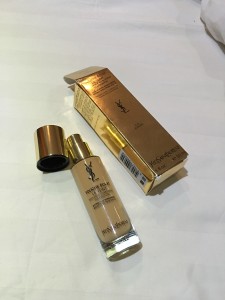 Related Articles:
NYX Total Control Drop Foundation
Bourjois Fond De Teint Healthy Mix Foundation
Top Favorite Low Cost Tried & Tested Foundations For Daily Wear
Bourjois 123 Perfect Foundation
Nars All Day Luminous Weightless Foundation
Are You Making This Foundation Mistake Since Decades?
Tips To Buy The Right Foundation
How Do You Select The Right Foundation Shade?
Kat Von D Lock-It Tattoo Powder Foundation
Hourglass Immaculate Liquid To Powder Foundation Mattifying Oil Free
Too Faced Born This Way Foundation
Makeup Forever Ultra Hd Foundation – Shade 117 = Y225 Marble
3 Best Foundations/BB Creams For Acne Prone Skin
BareMineralsbareskin® Pure Brightening Serum Foundation Broad Spectrum SPF 20
Clinique Acne Solutions™ Liquid Foundation
Coverfx Total Cover Cream Foundation
Giorgio Armani Luminous Silk Foundation
Foundation 101 – Tools & Coverage
Clinique Beyong Perfecting™ Foundation + Concealer
Basic Primer & Foundation Must Buy Drugstore & High End
Beginner 101 – What You Shouldn't Do When Applying Foundation?
Beginner 101 – Some Foundation Must Do's!
Beginner 101 – 5 Brushes You Need In Your Life Right Now To Perfect Your Foundation & Concealer
Kat Von D Lock-It Tattoo Foundation
Too Faced Born This Way Foundation Swatches
Makeup Forever Ultra HD Invisible Cover Stick foundation
Makeup Forever Ultra HD Invisible Cover Foundation – Shade 125 = Y315 Sand
First Impression Marc Jacobs Beauty Re (Marc) Able Full Cover Foundation Concentrate
Best Foundations For All Skin Types
Too Faced Born This Way Foundation Swatches
Smashbox Photo Finish Foundation Primer
Giorgio Armani Beauty Luminous Silk Foundation
Mac Studio Fix Powder Plus Foundation
By : Natural Health News
Save
Save
Save
Save
Save