Brand Name: GERARD COSMETICS
Shade: ALL DOLLED UP – Bright Fuchsia pink
Finish: Matte
Priced at: Available in different bundles and individually as well. Check website for accurate pricing.
Overall Rating: 5/5
Packaging Highlights
    Comes in a standard black and gold Gerard packaging
    The bullet itself is pure golden with high quality plastic and in the shape of M.A.C lipsticks
    Gives a luxurious feel when you touch it
What I like about GERARD COSMETICS LIPSTICK (ALL DOLLED UP)?
    Beautiful packaging
    A very nice bright fuchsia pink color which goes perfectly well with wheatish complexions
    Non-drying formula
    Super rich pigmentation
    Great lasting power
    Does not chip or crack
    Does not feel heavy
    Amazing color
    Contains castor oil for a non-drying finish
What I don't like about GERARD COSMETICS LIPSTICK (ALL DOLLED UP)?
Totally loved it so there is nothing bad to say.
My thoughts on GERARD COSMETICS LIPSTICK (ALL DOLLED UP)
This was my first ever Gerard lipstick and a shade this bright. I have never tried such bright hot pink shade ever in my life but when I was placing an order I just felt like trying it and put it in my cart without thinking much about it. When I received the package, opened and tried it on I was blown away by the results. The color looked absolutely gorgeous on me considering such shades normally don't come out as amazing on NC 20 – NC 25 or above skin tones as they do on NC 15 or lower. The formula is another thing that made me fall in love with these Gerard lipsticks. It offers the perfect matte finish with no compromise on quality whatsoever. The lipstick formula is non-drying, creamy and glides on smoothly yet looks perfectly matte with a non-creamy finish. A magic formula, no?
Definitely recommend it to everyone especially those who like matte finish lipsticks but people who have dry, chapped lips should stay away from all types of matte lipsticks including these.
What is it made of?
Castor oil, Caprylic/Capric Triglyceride, Candelilla wax, Lanolin, Cetyl Acetate, Liquid paraffin, Ozokerite wax, Acetylated Lanolin Alcohol, Beeswax Carnauba wax, Myristyl Lactate, Lanolin Alcohol, Tocopheryl Acetate, Octinoxate, Grapseseed oil, Jojoba oil, Shea Butter, Avocado oil, Aloe Vera Lipoid, Soybean oil, phenoxyethanol
BHA may contain: Mica Cl 70019, Iron Oxides Cl 77419/Cl 77492/Cl 7499, Titamium Dioxide Cl 77891.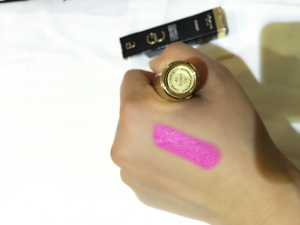 By : Natural Health News
Save