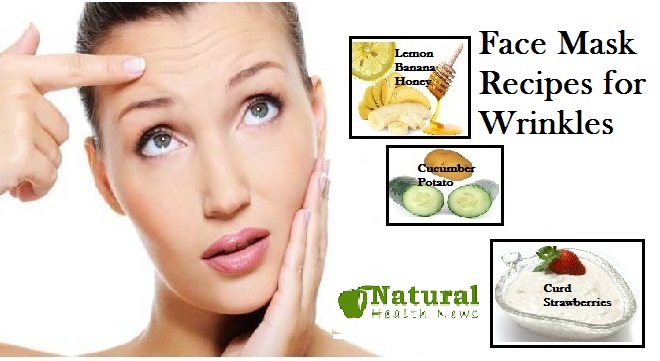 Wrinkles are considered a common skin problem when you age. In fact, there is nothing that you can do stop this natural process. However, you can use some tips to prevent the early signs of wrinkles by looking after yourselves. One of the methods that you can avoid or slow down the early appearance of wrinkles is to use homemade face masks with natural ingredients to maintain a soft, supple, and smooth skin for a longer time. Here are some homemade face mask recipes for wrinkles that you can try.
1. Apple, Cucumber and Potato
This mixture of apple, cucumber, and potato will not only aid in preventing wrinkles appearing on your skin but also give you a bright and glowing skin complexion. In addition, this face mask is also effective in gradually removing age spots.
Simply, grate a potato, a small apple, and 1/2 medium cucumber and then mix them together. Next, apply the mask to your skin and keep it on for 10 minutes. After that, rinse it off well with clean water.
2. Curd, Lemon Juice and Olive Oil
Curd contains lactic acid that acts as a natural cleanser on the skin.
Just mix 1/2 cup of curd, lemon juice, and 4 teaspoons of olive oil to make a mask. Then, apply the mask to the skin and keep it to dry for 20 minutes. Finally, remove the mask by using rose water with a cotton ball or a sponge.
3. Egg White, Strawberries and Coconut Oil
The natural, gentle acids present in the strawberries help to kill bacteria, remove acne, and reduce the appearance of wrinkles, while coconut oil can help to keep your skin nourished. Moreover, the natural antimicrobial, anti-fungal, and antibacterial effects of coconut oil will help to prevent or kill bacteria causing acne. Therefore, this anti-aging face mask can not only help to reduce wrinkles but also aid in treating acne and blackheads.
Firstly, mash some fresh strawberries finely and mix it with 1 egg white and 1 tablespoon of coconut oil. Next, apply this mask to your face and keep it on for at least 5 minutes. Finally, remove the mask by rinsing it off with lean water.
4. Banana, Curd  and Honey
Banana that is one of the beneficial fruits for skin treatment promotes the production of collagen. Hence, it helps to smooth the skin and reduce the wrinkles naturally.
To make a face mask with banana, take one ripe banana, 2 teaspoons of honey, and 4 tablespoons of curd. Then, mix them together to create a uniform paste. Next, warm this mask in a pan for several minutes and then apply this mask to your skin. After that, wait for 15 minutes before rinsing it off with lukewarm water.
5. Sweet Almond Oil and Blueberries
Blueberries are naturally high in vitamin C and contain anthocyanins that will aid in producing collagen in your skin while sweet almond oil is rich in fatty acids for skin nourishment.
Simply, combine 1 tablespoon of sweet Almond oil with a handful of blueberries in a blender. Then, apply this mask to the skin and leave this mixture on your skin for 5 minutes. After that, remove the mask with clean water.
6. Greek Yogurt, Coconut Oil and Papaya
Greek yogurt contains a rich content of protein and the lactic acid that will aid in tightening up your skin pores while coconut oil nourishes and softens your skin. Besides, papaya has an enzyme called papain that helps to eliminate the dead cells on your skin.
Just mix yogurt and papaya in equal parts to make a paste. Then, add a little Coconut oil to it and mix them well. Next, apply this mask to your skin for 5 minutes. Finally, wash it off using plain water.
7. Papaya, Milk and Honey
Another homemade face mask recipe for wrinkles is papaya. The natural exfoliating effects of papaya help to lighten and revitalize your skin. As mentioned above, papaya has papain and vitamin A that help to remove the dead cells and treat a damaged skin.
To make this face mask, mix 1 tablespoon of papaya pulp, 2 teaspoons of honey, and 2 tablespoons of milk. Then, apply this mask to the face and keep it on for 10 or 15 minutes. Finally, use warm water to wash your face. You will quickly get a radiant skin naturally.
8. Lemon juice
Lemon juice contains citric acid that works as a natural exfoliant and aids in getting rid of the dead cells on the skin surface. It also acts as a cleansing agent and astringent, which will help to fade blemishes, wrinkles & fine lines, and other symptoms of aging such as dark circles.
    Gently rub lemon juice into the face and keep it on for about 10 minutes and then wash your face with plain water. Do this simple mask 2 to 3 times per day.
    Another option, mix 1 teaspoon of yogurt, 1 teaspoon of  honey, 1 teaspoon of  vitamin E oil, and 1 teaspoon of  lemon juice. After that, spread this mixture on your face and wait for 15 or 20 minutes before rinsing your face.
    Or, you may also use the mixture of lemon juice and amla powder to apply to your face. This mask also treats wrinkles and delays skin aging naturally.
9. Avocado and Honey
The avocado helps to keep the skin moisturized and nourished while honey is great for a dry skin. Honey is packed with enzymes, antioxidants, and other nutrients that aid in nourishing, cleansing, and moisturizing your skin.
To make this mask, mix 2 tablespoons of mashed avocado with 1 teaspoon of honey. Then, apply this mask to the face and keep it on for 10 or 12 minutes. Finally, use lukewarm water to wash your face.
10. Grape
Another fruit that you may use to make a face mask for wrinkles is grape. In fact, the dryness & fine lines can result from aging. And this problem can be resolved thanks to the antioxidant effects of grapes. Grape face mask helps to reduce fine lines and keep the skin moisturized.
Simply, get a few seedless grapes to create grape juice by using a juicer. Next, add the flour to this juice to make the slurry. Now, apply the mask to your face and wait for 10 or 15 minutes. Finally, rinse your face with plain water. It will gently eliminate impurities and revitalize your skin.
Author by Nga Do
Author Bio:
This guest post is by Nga Do, a DIY beauty and health blogger with many years of experience on searching the effective remedies for skin & hair care and health problems.
Related Articles:
Orglow Instant Organic Face Brightening Mask
Clearglow Acne Prone & Problematic Skin Face Mask
Origins Clear Improvement Active Charcoal Mask
Origins Original Skin™ Retexturizing Mask With Rose Clay
Sephora Collection Mud Mask Purifying & Mattifying
Origins Calm To Your Senses™ Mask
Erborianpâte Au Ginseng Black Concentrated Mask
Try This Herbal Mask At Home To Get Rid Of Acne!
8 Homemade Skin Masks for Anti Aging