A lot of girls are struggling with acne problem and are unable to find a permanent cure for this issue. I am myself struggling hard to get rid of this ugly skin problem and during the process I have tried almost all the known acne care products available in the market. It's just that my skin has some good and bad days. Stress, anxiety, anger and other hormonal problems play a huge role in aggravating my acne. The happier I am the better my skin gets.
Skin & beauty plays a vital role in boosting your self-confidence therefore, it is highly emphasized to take care of your skin properly. Problem skin has always been difficult to deal with especially the one with cystic breakouts, severe eczema, psoriasis and other skin related issues. I have figured out a way to deal with my problem skin which acts up when I am stressed, angry or going through some hormonal changes at the end of every cycle. I would like to share my herbal secret here with you all that I randomly discovered once while developing an herbal mask for myself.
What Do You Need?
    1 bag of green tea
    1 tablespoon oatmeal
    1 tablespoon gram flour (if not allergic)
    1 tablespoon dark unsweetened cocoa powder
    ½ tablespoon honey
    ½ tablespoon green tea (liquid) or water
    ¼ tablespoon peppermint oil
How to Prepare The Mask?
    Take a bag of green tea, tear it apart and grind the green tea to turn it into fine powder
    Mix one tablespoon of raw oatmeal while grinding green tea
    Add gram flour but if you are allergic to it then you can skip this step
    Add cocoa powder to the mixture
    Now toss all the ingredients well
    Add honey, water to make a thick paste
    Now add peppermint oil to the mixture
    Add yoghurt if you have really dry skin or skip if you have oily skin
    Layer it all over your face and leave it on for 45 mints to 1 hour
    Wash with lukewarm water or tap water at room temperature without using face wash or soap
Written by Anum Rehman Rana, Beauty Editor of Skin & Beauty at Natural Health News.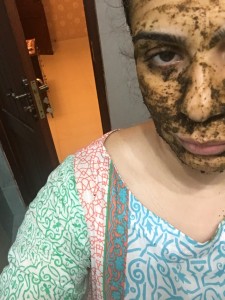 Related Articles:
Orglow Instant Organic Face Brightening Mask
Clearglow Acne Prone & Problematic Skin Face Mask
Origins Clear Improvement Active Charcoal Mask
Origins Original Skin™ Retexturizing Mask With Rose Clay
Sephora Collection Mud Mask Purifying & Mattifying
Origins Calm To Your Senses™ Mask
Erborianpâte Au Ginseng Black Concentrated Mask
8 Homemade Skin Masks for Anti Aging
Top 10 Homemade Face Mask Recipes for Wrinkles
How Strawberry Face Mask for Acne Works
Save
Save