Diet
Benefits of Lemon juice Diet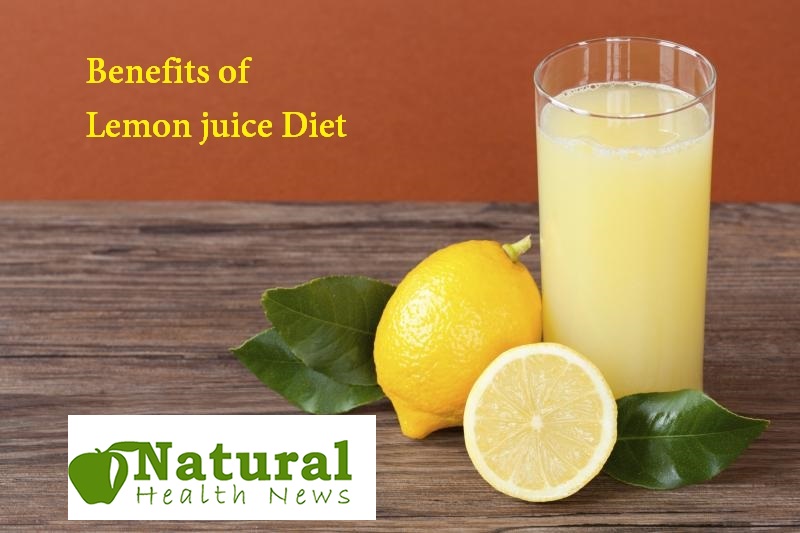 Lemon juice diet is good source of vitamin C. it is good for your health.one glass of fresh lemon juice gives you about 187%  vitamin C. It is also source of copper, magnesium and potassium.  It is based on lemon juice, water, cayenne pepper and maple syrup. Lemon has many healthy nutrients. Fruits which are less in calories like 29 calories per 100 g. one lemon juice gives 7 calories, 0.1 g =grams of fat, 2.1 grams of carbohydrate, vitamin C, and  0.1 grams of protein. Use of fruits and vegetables decreased the risk of many other problems. Many people used lemon vegetables, meat and other foods. Lemon should be stay away from sunlight. It should be stored at room temperature. Lemon are available whole year. Buy big and yellow colored lemon. Try to avoid dark green lemon because they are not much juicy. Lemon are high in vitamins and minerals.
Lemon juice for hair and skin:
Lemon juice is also best for your hair. Many women use harsh chemical for their hair and that can damage your hair. Take one fourth cup of lemon juice and one cup of coconut oil and freeze it for one hour. Apply this paste to your hair and wash your hair.
Lemon can also help to clean oil from your skin. It can removed blemish scars and dark spots by rub a lemon rind on your skin.
Healthy benefits of lemon juice diet:
Lemon diet help to reduce depression and stress.
Lemon diet is good for your liver health because if you are overweight and drink alcohol, then lemon will reduces inflammation and oxidation in your liver.
Lemon with warm water can be drink in morning because it makes the digestive system healthy and eliminate the other waste products from your body.
It also maintain your immune system and also protect you from other infections. It also makes our blood pure. Lemon diet plan maintain your pH levels in your body.
It help your brain and nerve cells due to potassium in lemon.
Lemon water can also prove helpful to fight against the tooth pain.
Lemon diet also helps for unborn baby for the formation of bone tissue due to Vitamin C which is in lemon.
Lemon water can make your better bowel movements.
Lemon iced tea is a refreshing drink
It can be used in different garnish salads
Lemon can also use in beverages like pastry, pies and cakes.
People who consume a much nutrients they have less chances to have asthma.
Lemon and lemon juice fight against the formation of radicals which can cause cancer.
Deficiency of iron can cause anemia. Lemon juice is a good source of iron.
Lemon is also good for your eyes and also help to fight against many other eye problems.
By : Natural Health News