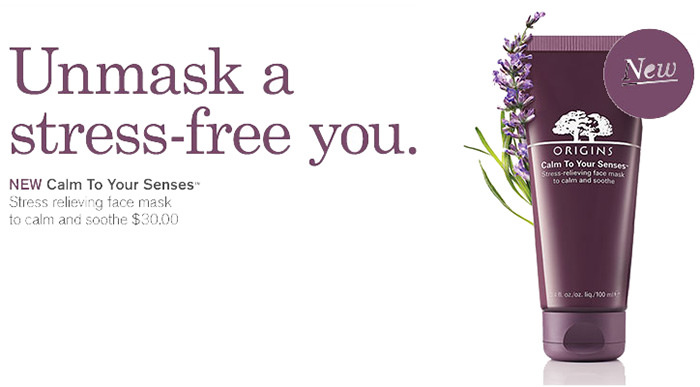 Brand Name: ORIGINS
Purpose: Relieves stress, calms, hydrates and soothes skin
Overall Rating:5/5
Packaging Highlights
    Comes in a beautiful deep purple (lavender like)shade
    Lovely tube that looks very soothing to the eyes
What I like about ORIGINS CALM TO YOUR SENSES™ MASK?
    Very soothing
    Makes skin super soft
    Hydrates and replenishes skin
    Does not clog pores or cause breakouts
    Can be used as an overnight mask
    Melts into the skin and doesn't show like other masks do
    Actually calms down the senses and promotes sleep
What I don't like about ORIGINS CALM TO YOUR SENSES™ MASK?
I absolutely love this soothing mask.

My thoughts on ORIGINS CALM TO YOUR SENSES™ MASK?
I never thought or imagined that a mask could put me to sleep, ACTUALLY! When I ordered this mask I was having sleep issues and was having really tough time falling asleep. I was randomly searching the internet for compulsive buying: D and I ended up on Origins website. I came across this mask, checked reviews on Google, saw a lot of people raving about the health benefits of lavender and this had lavender in it so, I thought of giving it a try and to be honest it was worth it. IT WAS TOTALLY WOTH IT. That night when I put it on (mixed with the charcoal mask), I am not lying, no exaggeration whatsoever, but I fell asleep in 10 minutes. No jokes and not even paid to write this. I was shocked to see such amazing results. I was a little scared that it is more on the creamy side so it might just break me out, to avoid that, on the very first day I washed it out after 10 minutesand it made my skin unbelievably soft. Then I mixed it in charcoal mask just to be sure that I don't get breakouts and I could enjoy the amazing benefits too. I applied the mixture, came on my bed to watch a show so that it could take its time to dry and OMG within 10 minutes I fell asleep and woke up the next morning.
I highly recommend this product to everybody who wants to enjoy some great lavender benefits and want to have beautiful, soft & supple skin.
Suggested Usage:
    Layer it all over your face like
    Massage it gently
    Leave it overnight
    If you have acne prone skin then mix it in Origins Charcoal mask and leave it on for 20 to 30 minutes
What is it made of?
Main ingredient: Lavender
Related Articles:
Orglow Instant Organic Face Brightening Mask
Clearglow Acne Prone & Problematic Skin Face Mask
Origins Clear Improvement Active Charcoal Mask
Origins Original Skin™ Retexturizing Mask With Rose Clay
Sephora Collection Mud Mask Purifying & Mattifying
Erborianpâte Au Ginseng Black Concentrated Mask
Try This Herbal Mask At Home To Get Rid Of Acne!
8 Homemade Skin Masks for Anti Aging
Top 10 Homemade Face Mask Recipes for Wrinkles
How Strawberry Face Mask for Acne Works
By : Natural Health News