Brand Name: Origins
Finish: Dries matte within 5 minutes
Overall Rating: 4.9/5
Packaging  Highlights
    Comes in a matte finish tube packaging
    The hole on top perfectly controls the amount of product coming out
    Travel friendly
What I like in ORIGINS CLEAR IMPROVEMENT ACTIVE CHARCOAL MASK?
    Makes skin baby soft
    Easy to apply
    Draws out impurities
    Dries acne real quick
    Brightens complexion
    Does the job within 10 minutes
    Smells amazing
    Little goes a long way
    Does not dry skin
    Easily washes off
What I don't like in ORIGINS CLEAR IMPROVEMENT ACTIVE CHARCOAL MASK?
Beware! If:
    You have excessively dry skin like patchy or flaky
My thoughts on ORIGINS CLEAR IMPROVEMENT ACTIVE CHARCOAL MASK
This mask is absolute love and my favorite out of all those I own. I feel tempted to apply it twice a day because I just cannot stop admiring my skin after I wash it off.  I have noticed marked improvement in my skin after I have started using it. It dried my cystic acne within two applications. There is nothing I don't really like in this mask except for the fact that it's slightly pricey as in you need a good amount to cover your whole face so you would need one tube every month. There is a reason why I gave it 5 out of 5.
How to use ORIGINS CLEAR IMPROVEMENT ACTIVE CHARCOAL MASK?
    Use once a week or as often as you need
    Cleanse your skin well first
    Open pores with a warm towel
    Layer the mask on
    Allow to dry for 15 minutes
    Rinse well with water
    Pat dry your skin
    Look in the mirror & NOTICE THE DIFFERENCE!!!
What is it made of?
Active Charcoal: Absorbs 100- to 200-times its weight in impurities.
White China Clay: One of the gentlest and most effective clays, it draws out impurities and toxins while clearing the skin of excess oil, dirt, pollutants, and other waste materials.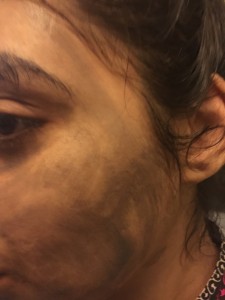 Related Articles:
Orglow Instant Organic Face Brightening Mask
Clearglow Acne Prone & Problematic Skin Face Mask
Origins Original Skin™ Retexturizing Mask With Rose Clay
Sephora Collection Mud Mask Purifying & Mattifying
Origins Calm To Your Senses™ Mask
Erborianpâte Au Ginseng Black Concentrated Mask
Try This Herbal Mask At Home To Get Rid Of Acne!
8 Homemade Skin Masks for Anti Aging
Top 10 Homemade Face Mask Recipes for Wrinkles
How Strawberry Face Mask for Acne Works
By : Natural Health News