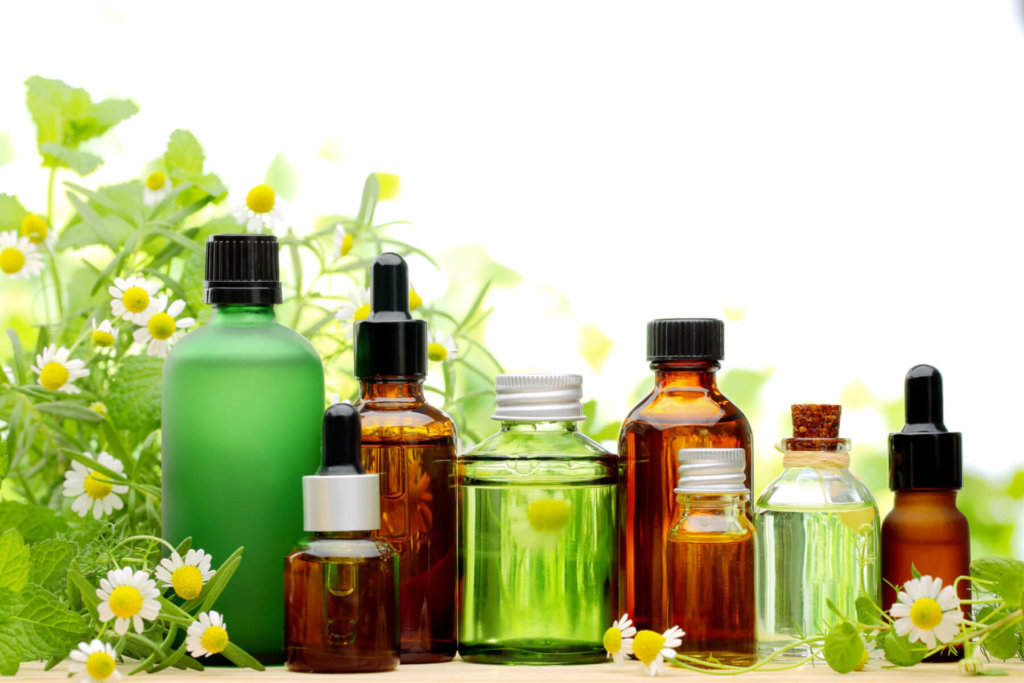 Natural Essential Oils for Skin Care
Natural Skin Care products and remedies are becoming more and more prevalent in today's society. Skin and Beauty products and skin care products are advertising their use of organic and natural ingredients to promote the change. More and more women choose these natural and organic ingredients and products because we have seen the harmful effects that chemicals can have on our skin, body and appearance.Natural Essential Oils for Skin Care are the next great natural skin care product. Essential oils are extracts from herbal plants and herbs that contain the essence, aroma and properties of the plan from which they were extracted.
There are a few primary best oils for skin used in skin care which offer their regenerative properties; natural essential oils for skin care can be used in low concentrations, and are usually well-tolerated – definitely more so than many synthetic ingredients.
Oils for Skin Care
The best natural essential oils for skin care can be used for many different applications including:
As an acne fighter.
As an astringent for clearing away dead skin.
To soothe and help heal chapped or cracked skin.
For mild cleansing.
To refresh you, by adding some minerals or vitamins found in the oils
To moisturize dry skin.
To moisturize eczema and help soothe it.
To help soothe itching, inflammation, and possible infections.
To help smooth out wrinkles and make you look younger.
Essential Oils for Scar Removal
The area of skin which is pinkish or brown in color and grows in place where an individual has wound or painful is termed as the scar. The scar is thus the skin's natural way of repairing itself from wound and is considered as the usual part of the curing process.
There are a number of remedies for the removal of the scars. Vitamin E, essential oils, topical honey and onion extracts are some of the methods besides the surgery. There are a lot of natural essential oils for skin care that are helpful in dealing with scar formation.
Some natural essential oils for skin care mixtures can speed healing time, lessen or remove scars from recent wounds and even greatly diminish the appearance of old ones.
Frankincense Oil
Frankincense Oil is possible to recover the skin's repair procedure and lessening the chance of a scar forming.With its amazing abilities to lower inflammation and improve the skin's healing process, frankincense can be used to prevent and help fade scars.
Lavender Oil
Lavender essential oil is often used in aromatherapy for its calming effect, and it can also prevent scarring.Natural essential oils for skin care to aid proper wound healing and prevent scarring.
Hyssop Oil
Hyssop is an Iranian herb that is rich in flavonoids. Hyssop essential oil has antioxidant, antiseptic, and antifungal properties. It has been found useful in healing dermatitis, eczema, inflammation, wounds, and scars.
Juniper Oil
This is an important factor in preventing scarring while the wound is healing. Juniper essential oil also has anti-inflammatory, antimicrobial, and antifungal properties that promote effective healing.
Geranium Oil
Its anti-inflammatory properties that help to treat scars by relieving inflammation and evening out the skin tone. It also assists in new cell growth. Also, great anti-bacterial oil that will help scars appears much less visible.
Thyme Oil
This herb not only gives a distinct flavor to your food, but the oil derived from it has excellent wound healing abilities. Proper wound healing ensures fewer chances of developing a scar.
Essential Oils for Skin Care
Natural essential oils for skin care are a natural treatment for acne and acne scars, allowing you to avoid the harsh chemicals that are included in some commercial face washes, masks and creams. Best essential oil for glowing skin contains powerful plant extracts that may be used to fight a number of health conditions.Here is a list of helpful Natural Beauty Tips and essential oils for skin care needs.
Tea Tree Oil
Tea Tree Oil hasn't been well researched for its use in scars, but it's a popular choice that many people find effective, especially if they're also struggling with acne. It has a lot of characteristics that make it skin boosting, including antibacterial, antiseptic, antifungal and antiviral properties. Many people love using tea tree oil for acne scars because not only can it help to fight scars, but it's also an effective natural acne treatment.
Rosemary Oil
With its anti-septic, anti-oxidant and anti-bacterial properties, Rosemary essential oil is remarkable at battling an array of skin problems that include acne, eczema and dermatitis which can lead to scarring of the skin.
Sandalwood Oil
Sandalwood is extremely moisturizing oil that is good for dehydrated or dry skin. Sandalwood can remove wrinkles, scars, and fine lines. It is also an antibacterial and anti fungal which can reduce the occurrence of acne and skin infections.
Lemon Oil
Lemon oil and other citrus oils are great for clearing up acne fast by removing the excess sebum and oil on the face. It has great healing and restorative making particularly when useful to skin care. Lemon oil can brighten ones complexion by eliminating dead skin cells. Beauty Tips for Skin helps to treat skin conditions and improve complexion contain essential oils.
Oregano Oil
Oregano Oil is also amazing for getting rid of pimples. The natural antiseptic and antibacterial properties of oregano oil make it handy for spot treating zits. As with the other oils, oil of oregano has amazing anti-bacterial properties. It also has many other uses, notably being used to prevent colds.
Patchouli Oil
Patchouli oil is very fragrant and is known to treat all types of skin conditions. It is helpful in healing rashes, scarring, cracked and inflamed skin, acne, dermatitis and eczema. It can be used as a moisturizer to tone and tighten the skin as well as removing wrinkles.
Geranium Oil
Derived from the geranium plant, this is great oil for oily, acne prone skin. It is also anti-bacterial and anti-microbial, so its kills and fights growth of acne causing bacteria.
As a further bonus, it as well has anti-aging properties. It is an astringent and is amazing for toning, tightening and regenerating skin. It has further properties that allow the oil to assist in healing scars as well.
Carrot Seed Oil
Carrot seed oil is extracted from the carrot plant and contains great antioxidants that are excellent for skin health and fighting diseases. Getting antioxidants in your diet and topically applying antioxidant-rich natural remedies help to address scarring from both an internal and external angle.
Skin care regiments are important as they not only improve its condition but also help in the treatment of various conditions. Users can select a number of different natural essential oils for skin care to help them in taking care of their skins.Essential oils are available for various purposes and one of them is skin care.There are many more essential oils with many more uses for skin care than is listed above. Keep in mind that no matter which natural essential oils for skin care you are using for a particular skin issue, in addition to receiving the benefits to your skin. Visit Natural Health News for more information about different types of skin you can find here to learn about Beauty Tips for Skin visits our website.
Related Articles:
Vitamins for Skin Acne and Skin Care Problems
Natural Liquid Vitamins for Skin Care
Vitamins for Skin Care Use Every day of Life
Most Effective Skin care Regimen for Dry Skin
Top 10 Skin Care Essentials Products for Healthy Skin
10 Benefits of Fruits Peels For Health And Skin Care
Night Time Skin Care Routine December 2016
Summer Skin Care – Some Important Tips And Tricks
These Vitamins Can Replace Your Cosmetics & Skin Care Products
The Most Effective Health Benefits of Tea Tree Oil
Natural Vitamin E Oil for Skin and Healthy Hair
Natural Essential Oils for Wellbeing and Weight Loss
Uses and Benefits of Coconut Oil in Your Daily Diet Routine
Learn About Essential Oils and Herbs How Works in Everyday
8 Health Benefits of Virgin Coconut oil
Vatika Naturals Almond Enriched Hair Oil
Olive Oil – The Health Benefits
Boscia Makeup Breakup Cool Cleansing Oil
13 Natural Remedies for Grover's Disease with Natural Essential Oils
7 Natural Remedies for Granuloma Annulare Treat with Coconut Oil