Diet
Uses and Benefits of Coconut Oil in Your Daily Diet Routine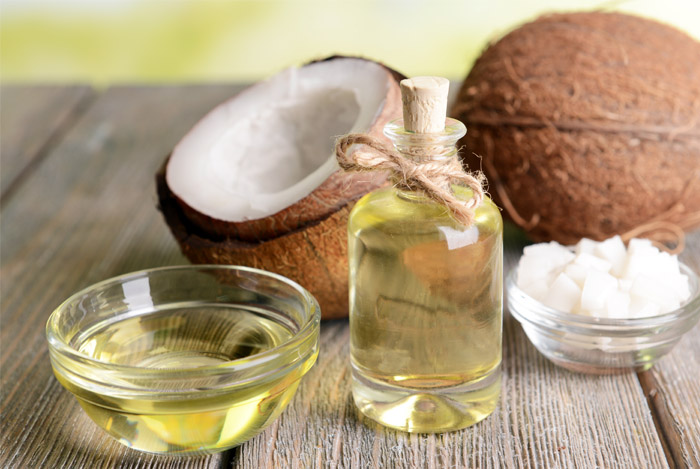 Thousands of people are getting amazing results just by including coconut oil into their Diet. It has been acknowledged as an excellent medium helping people weight loss. Furthermore, its qualities get better the immune functions of the body; stop heart disease, diabetes, cancer and much more. It contains a great number of medium chained triglycerides. This is a saturated fat with unique qualities, which is carried directly to the liver after consumption.
Coconut oil diet is becoming more and more popular as people are find out how Coconut Oil helps them weight loss, enhance their metabolism, and even fight disease.
The coconut oil diet was inspired from cultures where people's eating habits were formed over hundreds of years without any concern about sugar, carbohydrate or protein content. Because of the abundance of coconut oil in these countries, coconut oil formed a great part of their diet plan, which also included some dairy products, fish, meat and vegetables. The coconut was used in various forms for example; cooking oil, fresh grated coconut to make sauces, curries and pastes.
The coconut oil diet is very like to a very well-known Low Carbohydrate Diet, with some coconut oil variations added as the main source of fat. It follows that it will be very helpful in losing weight while enhancing the function of the thyroid.
What Coconut Oil Does Not Do:
 Does not increase blood cholesterol level
 Does not contribute to weight problems
 Does not contribute to atherosclerosis or heart disease
 Does not promote platelet stickiness or blood clot formation
What Coconut Oil Does Do…?
 Helps control diabetes
 Supports healthy metabolic function
 Has a mild delicate flavor
 Reduces risk of atherosclerosis and related diseases
 Reduces risk of cancer and further degenerative conditions
 Provides an immediate source of energy
 Helps prevent osteoporosis
 Improves digestion and nutrient absorption
 Supplies fewer calories than other fats
 Promotes weight loss
 Functions as a protective antioxidant
 Supports immune system function
 Is highly resistant to spoilage long shelf life
 Is heat resistant the healthiest oil for cooking
 Helps keep skin soft and smooth
 Helps prevent premature aging and wrinkling of the skin
 Helps protect against skin cancer and other blemishes
 Supplies important nutrients essential for good health
 Helps prevent bacterial, viral, and fungal as well as yeast infections
How to Use Coconut Oil for Weight Loss
Coconut oil naturally solidifies at 76 F/ 24 C so it is best to liquefy it in hot water before consuming as a weight loss help.
How can add Coconut Oil into Diet?
This is a question I get asked quite often. So I decided to list a few different methods you can add coconut oil into your every day Diet Plans and how to use to replace your personal care products.
Cook With Coconut Oil
Because coconut oil has a particularly high smoke point it's an ideal choice when cooking. Try to look for unrefined, pure oil of coconut to get the mostly health benefits out of it. If you don't want your dinner to flavor tropical, you can give expeller pressed oil a try, because it tends to have less of that coconut flavor.
Popping Popcorn
A sweet twist on a common snack! To make oven popcorn, you need a weighty bottomed pan. First, add the coconut oil and popcorn to the pot. Coat the area of the pot with the Natural Essential Oil, and use just some popcorn to make a single layer over the bottom of the pot. Give the pot a small shake to make certain all of the kernels are coated with coconut oil. After that, place the pot over medium heat. Put the lid on the pot, leaving it slightly open so that steam can escape. It should take about five minutes for the popcorn to pop completely.
Eat From a Spoon
This one works if you can handle it. I know I could not, but I am extremely sensitive to texture. You simply take one tablespoon of the oil, pop it in your mouth. You can let it melt or chew it up and swallow. Just pretend it is like candy, and you will be fine.
Coconut Oil Coffee
Adding 1 spoon to your daily cup of coffee is a delicious way to start your day with a huge energy boost! Here is a great recipe for coconut oil coffee. Want a simple method to make coconut oil coffee quick? 1 tbs of coconut oil mixed into morning coffee. I find that if you add the coconut oil to your cup first, and then pour the coffee over, it melts and mixes better. You can moreover make a frothy coffee by combining your coconut oil and coffee in other high powered blender cup.
Replace Vegetable Oil for Baking
Next time you make your much loved recipe of brownie, replace the vegetable oil with coconut oil. Your friends will be begging you for the Weight Loss Recipe.
Coconut Oil Candy
If you have a sweet tooth, these coconut oil candies make for a healthy and delicious choice to your traditional candy bars. All you need is melted oil, cocoa powder, some honey and any other add-ins you prefer. The great thing about these treats is how customizable and simple they are to make. Get ready to get creative..
How Much Coconut Oil to Include in Your Diet?
Usually speaking, a little is better than none. Coconut oil is still a fat, so enjoy just in moderation. However, it is considered a healthy fat with various actual and possible healthy benefits. Just make it part of a healthy Balanced Diet, or talk to your health care professional if you have any concerns.
Personally, I like to get in at least one tablespoon every day in my coffee. Some days, I will do some of the above, but I'm not stringent on getting "X" quantity in daily, and it's seemed to work well for me so far!
Related Articles:
By : Natural Health News