Vitamins
Vitamins for Hair Loss – Re-Grow Your Hair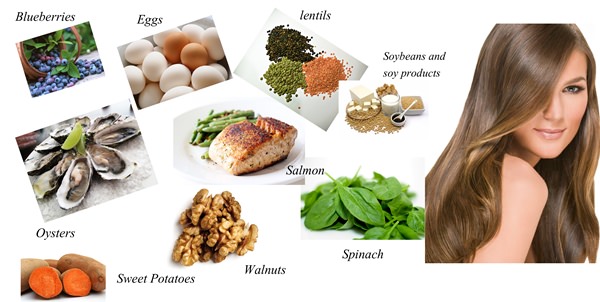 Millions of people worldwide unfortunately have dealt with or are dealing with losing hair. The obvious point that people are missing is diet. People are simply not getting the necessary vitamins to create the optimal circumstances for hair growth.
A good thing about Vitamins for Hair loss is that they generally contain ingredients that are needed requirements of your hair. Most of these vitamins include Inositol, Vitamin B, 4-amino benzoic acid, Vitamin B-3 (Niacin), Vitamin B-5 (Panthenol), Vitamin B-6, vitamin B-12 and biotin.
Hair Loss Vitamins in Foods
You can give your strands the nourishment they need by taking supplements every day. It is as well essential to eat a Healthy Diet. Foods that contain fatty acids can help keep your strands strong and stop them from becoming dry and brittle.
Foods That Contain Hair Loss Vitamins
Biotin is also sometimes called vitamin H. You can get this Natural Vitamins by eating eggs, brewer's yeast and other malted foods. Vitamin B6 keeps the strands strong and stops them from becoming excessively dry and brittle.
Vitamin A
Vitamin A promotes healthy sebum production within your scalp and is an antioxidant. These are the top 10 vitamin A rich Foods:
Liver
Sweet potatoes
Carrots
Apricots
Spinach
Cantaloupe
Mangoes
Milk
Eggs
Cheese
Vitamin B Group
These vitamins play essential roles in promoting growth and preventing loss. They help with scalp circulation, strengthen the hair and also prevent it from graying. Great Vitamin B group sources are:
Wheat germ
Fish
Poultry
Meat
Whole grain cereals
Liver
Eggs
Vegetables
Milk
Vitamin B Complex
Niacin (vitamin B3), Pantothenic acid (vitamin B5), vitamin B6 and vitamin B12 contribute significantly in various health conditions. These are known as useful vitamins for hair loss problems. Vitamin B Complex helps in promoting scalp circulation. Vitamin B3 is abundant in
Wheat Germ
Chicken
Fish
Turkey
Meat
However, large intake may cause harmful effects, known as niacin flush. Vitamin B5 helps preventing premature graying and hair loss problems. It is mostly available in egg yolks, whole grain cereals, and organ meats.
Biotin
Biotin is one of the most powerful vitamins for hair loss. It has been shown to help produce keratin which is a protein your hair needs to remain nourished and strong. It is also found in nails and prevents them from becoming dry and brittle. It as well prevents your hair from graying and promotes growth. Biotin sources are:
Whole grains
Rice
Liver
Egg yolks
Milk
Vitamin C
Vitamin C is another powerful antioxidant that is necessary to maintaining healthy skin and hair. Vitamins for Skin and hair mostly vitamin C is found in:
Citrus fruits
Strawberries
Kiwi fruits
Pineapples
Blackcurrants
Cantaloupes
Tomatoes
Peppers
Potatoes
Green vegetables
Vitamin E
Vitamin E promotes healthy circulation within the scalp. This makes sure the necessary nutrients required for healthy hair reach your follicles. Vitamin E sources include:
Vegetable oils
Beans
Nuts
Seeds
Green leafy vegetables
Inositol
Inositol is imperative for healthy hair follicles as it strengthens the cells of the hair helping it to keep moisture. It also helps control depression and stress which can also be a contributing factor of hair loss. The best biotin sources are:
Bran cereals
Nuts
Beans
Melons
Cantaloupes
Oranges
People simply do not understand the fact that a healthy diet not only helps maintain a healthy body it also strengthens your hair. People blindly search for some magical vitamin for hair loss which will put an end to all their hair fall problems but the root cause to this problem is their improper diet and unhealthy eating habits. There are more vitamins that help with hair growth.
In some circumstances an increase in vitamin intake may not reverse the effects of hair loss. There may be another problem that you have. To find out about a proven natural hair loss product that utilizes these essential vitamins, check out Natural Health News and would like to learn more on how they could benefit you visit this great post to read more on vitamins for hair.
Related Articles:
5 Super foods For That Bouncy Beautiful Hair!
Treatment For Hair – The Expert's Oinion
Some Diet Tips for Healthy Skin and Hair
Natural Vitamin E Oil for Skin and Healthy Hair
Healthy Food for Healthy Hair Diet Plan Prevent Hair Loss
Vitamins For Thin Hair To Make Them Stronger Over Time!
7 Necessary Vitamins you need for Healthy Skin and Hair
How does Vitamins B Complex Work on Skin and Hair?
Natural Vitamins for Kids Skin and Hair Health That are Found in Food
Best Vitamins for Glowing Skin and Hair loss
8 Best Vitamins for Skin and Hair Problems
Vitamins for Hair How Can Loss after Pregnancy
What Are the Best Vitamins for Hair and Skin Problem?
Vitamins for Hair Loss and they are good for your overall Health
Get the Best Vitamins for Hair, Skin & Nails
Vitamins for Hair Skin and Nails & Vitamins for Regrowth Hair