Health A - Z
T
Type 1 Diabetes Causes, Symptoms, Diagnosis, Treatment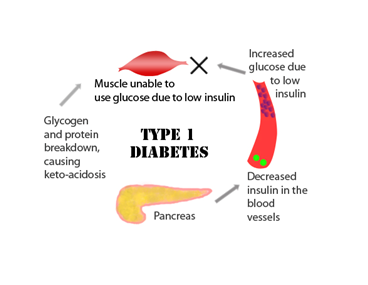 What Is Type 1 Diabetes ?
Type 1 diabetes, once known as juvenile diabetes or insulin-dependent diabetes, is a chronic condition in which the pancreas produces little or no insulin, a hormone needed to allow sugar (glucose) to enter cells to produce energy. The far more common type 2 diabetes occurs when the body becomes resistant to insulin or doesn't make enough insulin.
Various factors may contribute to type 1 diabetes, including genetics and exposure to certain viruses. Although type 1 diabetes usually appears during childhood or adolescence, it also can begin in adults.
Causes Of Type 1 Diabetes
The exact cause of type 1 diabetes is not yet known, but we do know it has a strong family link and cannot be prevented. We also know that it has nothing to do with lifestyle, although maintaining a healthy lifestyle is very important in helping to manage type 1 diabetes.
At this stage nothing can be done to prevent or cure type 1 diabetes.
Symptoms Of Type 1 Diabetes
Type 1 diabetes happens most often in children and young adults but can appear at any age. Symptoms may include
    Being very thirsty
    Urinating often
    Feeling very hungry or tired
    Losing weight without trying
    Having sores that heal slowly
    Having dry, itchy skin
    Losing the feeling in your feet or having tingling in your feet
    Having blurry eyesight
Diagnosis Of Type 1 Diabetes
Diagnoses of Type 1 Diabetes are as follows:
    Glycated hemoglobin (A1C) test
    Random blood sugar test.
    Fasting blood sugar test
Further  blood tests, to check for autoantibodies that are common in type 1 diabetes. These tests help to distinguish between type 1 and type 2 diabetes. The presence of ketones byproducts from the breakdown of fat in your urine also suggests type 1 diabetes, rather than type 2.
Treatment Of Type 1 Diabetes
Treatment for type 1 diabetes includes:
    Taking insulin
    Carbohydrate counting
    Frequent blood sugar monitoring
    Exercising regularly and maintaining a healthy weight
Insulin and other medications
Types of insulin are many and include:
    Rapid-acting insulin
    Long-acting insulin
    Intermediate options
Examples are regular insulin (Humulin 70/30, Novolin 70/30, others), insulin isophane (Humulin N, Novolin N), insulin glulisine (Apidra), insulin lispro (Humalog) and insulin aspart (Novolog). Long-acting insulins include glargine (Lantus) and detemir (Levemir).
Insulin administration
    Injections.
    An insulin pump
Artificial pancreas
Additional medications also may be prescribed for people with type 1 diabetes, such as:
Related Articles:
Papaya is Good for Diabetics and Other Health Benefits
Diabetes Symptoms, Causes, Diagnosis and Treatment
Diabetes Insipidus Symptoms, Causes, Diagnosis and Treatment
Gestational Diabetes Symptoms, Causes, Diagnosis and Treatment
Type 2 Diabetes Causes, Symptoms, Diagnosis and Treatment
The Blood Sugar Diet That Will Make a Difference in Blood Sugar Levels
Fruits as Natural Remedies for Diabetes
7 Best Natural Herbs for Diabetes and its Healthy Benefits
Diabetes – A Healthy Diet Plan
Diabetes Friendly 1600 Calorie Diabetic Diet Plan
The Diabetes Diet and Food Supplements
Diabetes Diet Plan for Kids – Weight Loss Diet Plans
By : Natural Health News