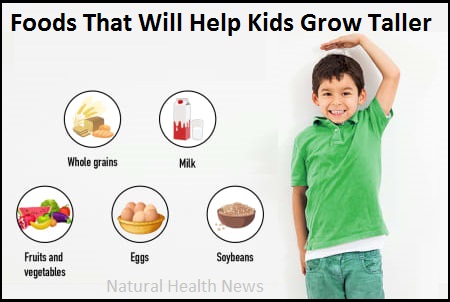 Food for Your Kids
Even though genetic factors play some role in determining your child's height, healthy eating may make your child grow taller. What are the healthy foods for kids? This is a question that is normally asked by parents all over the world.
Often, somewhat shorter children are made fun of or are bullied at school, which may make them fearful and impact their self-confidence.
A lot of parents wonder what the best Food is for their kids to be healthy and, particularly, to grow taller. We found that there are some foods that can help a child add an extra few inches to their height.
Some Healthy Food Guide that will help your kids grows taller and stronger according to The Health Review:
Foods to Help Children Grow Taller
As a parent, you want your kids to grow up healthy and strong. A lot of that will come from genetics, but just as important are some things that you can do as a parent. If you are worried about their height and strength, there are a few Tips for Healthy Food that you can do to help the process.
Leafy Green Vegetables
Your kid might make a face when he sees green vegetables, but you know how valuable they are for him! Green veggies such as spinach, broccoli, peas, okra, and Brussels sprouts are rich in vitamins, essential minerals, and fiber too.
All these elements are important for good overall development and growth. Green vegetables should be included in his Healthy Diet Plan, no matter how many excuses he makes not to eat these!
Fresh Milk
Fresh milk is listed as kid's Healthy Eating food because it is particularly rich in calcium which is very important for the formation and development of strong bones. Milk is as well easily digested and absorbed in to the body stream. Even though the drinking of milk does not act as guarantee for the growth in height, if it is lacking in the body, the child will show symptoms of retarded growth. Thus, you should encourage your kids to drink as much as milk as they can.
Fruits
Fresh and summer fruits are full of minerals and Vitamins required for the synthesis of protein in the body. Give your kid at least 2 or 3 fruits every day. This way, she/he will get a continuous supply of multivitamins in the most organic way, make them stay full, and avoid processed foods that hamper their growth.
Also Read: Natural Vitamins and Minerals Supplements for your Kids
Natural Vitamins for Kids Skin and Hair Health That are Found in Food
Yogurt
You must make yogurt or curd a part of your kid's lunch. The pro-biotics keep your kid's instant healthy and that is where whole health starts. Yogurt is rich in vitamin-D and calcium too and therefore is important for strong bones and good height.
Peanut Butter
Rich in monounsaturated fats, peanut butter provides children with energy and protein. Though, some brands contain added salt, sugar, palm oil and partially hydrogenated fats, which lessen nutritional quality.
Whole Grains
Whole grains are rich in vitamin B, magnesium, selenium, zinc and iron and have a small amount of calcium. All these minerals are important for bone growth and mineralization. You can give your kids whole-grain bread and pasta along with cereals.
Soybeans
Soy has become gradually more common in this day and age. The countless thing about soy is that it is rich in protein while as well being vegetarian-friendly. So if your child is lactose intolerant or sensitive to animal products, then soybeans are a perfect food to stimulate growth without worrying about the repercussions of consuming meat.
There are various simple foods that help kids grow strong. Yet most children are not growing at the proper rate.
Some of their targets include:
40% lessening in the number of children under-5 who are stunted
30% reduction in low birth weight
No increase in childhood overweight
Increase the rate of limited breastfeeding in the first 6 months up to at least 50%
Healthy Balanced Diet
Genes majorly control your child's height. And while there's no magic wand that can increase your child's height overnight, a good Diet and healthy lifestyle will go a great way in making your child taller.
Also, a balanced and healthy diet has other advantages, such as helping your child maintain his overall health and boost his development. Following a healthy balanced diet and a healthy lifestyle can help in boosting their health and overall growth and development.
Related Articles:
Well Balanced Diet Plan and its Some Important Facts
Why Balanced Diet Is Necessary? And It's Some Foods to Eat
Eating Disorder – Balanced Diet Is A Must
If you are looking for Healthy Eating Plans that help increase height, we hope this article has provided you with all the answers. Along with including foods into your diet, make sure to reject the foods that may hinder your goal of increasing your height. Also read about food for Weight Loss Healthy Eating then visit our website Natural Health News.