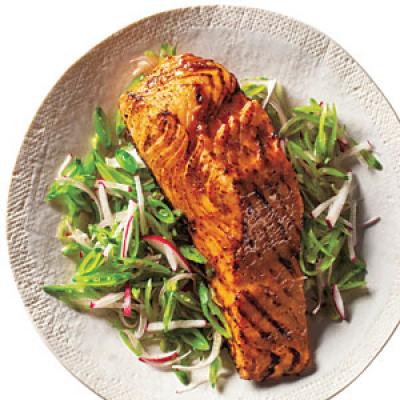 RECIPE: Barbeque Salmon And Snap Pea Slaw
What do you need?
    2 tablespoons dark sesame oil, divided
    3 garlic cloves, crushed
    1 (1/2-inch) piece fresh ginger, peeled
    2 tablespoons fresh lime juice
    2 tablespoons lower-sodium soy sauce
    1 1/2 tablespoons ketchup
    2 teaspoons dark brown sugar
    1 teaspoon ground fresh chile paste
    4 (6-ounce) fresh or frozen sustainable salmon fillets (such as wild Alaskan), thawed
    Cooking spray
    2 cups sugar snap peas, trimmed and thinly sliced crosswise
    1/2 cup grated radishes
    1/4 cup very thinly vertically sliced shallots
    2 teaspoons rice vinegar
    1/4 teaspoon kosher salt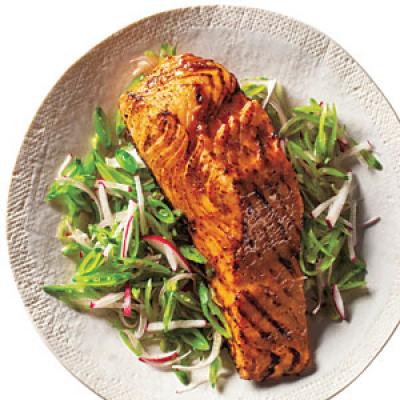 Note: This serving is for 4 people.
How do you make it?
    Preheat the grill to high heat
    Add juice and next 4 ingredients (through chile paste); pulse to combine
    Place salmon on a grill rack coated with cooking spray
    Brush tops of salmon with half of sauce
    Grill for 10 minutes
    Brush with remaining sauce
    Grill for an additional 10 minutes or until desired degree of doneness
    Combine peas, radishes, and shallots
    Combine vinegar and remaining 1 tablespoon oil
    Stir well
    Drizzle over pea mixture
    Sprinkle with salt and toss well
    Serve with salmon
How many calories would you consume with this?
300 CALORIES
Good to know!
Who thought having fats can give you that lean body? Nobody until the concept of healthy fats arose! These healthy fats found in Salmon disapprove the theory that all fats add to weight gain. Healthy fats don't! Also when you consume Salmon you are consuming the following vitamins & nutrients before hitting bed:
    Omega 3 fatty acids
    High Quality Protein
    Essential Amino Acids
So; eat fats, stay healthy and lose pounds!
By : Natural Health News
Save