Well-Being
6 Ways to Increase Hemoglobin Levels During Pregnancy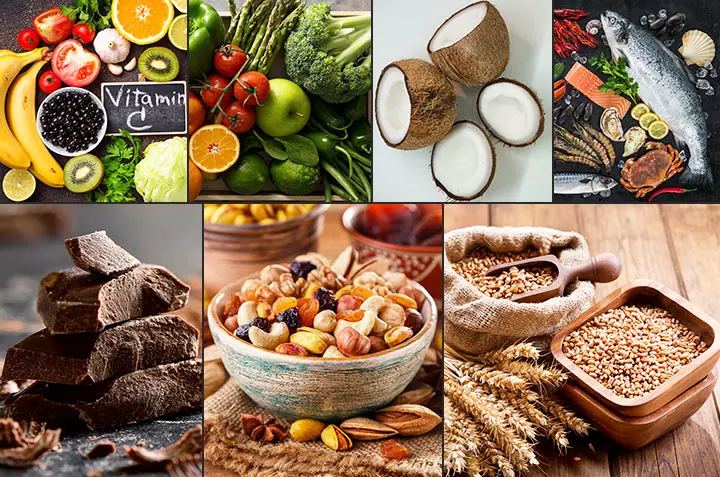 Increase Hemoglobin During Pregnancy
Hemoglobin helps in transporting oxygen from your lungs to the rest of the body. During pregnancy, it helps fulfill the oxygen requirements of your baby too. Food ingredients rich in iron to help you prevent problems associated with lack of iron and to increase your hemoglobin levels.
While there is an increase in the circulating hemoglobin, the overall hemoglobin concentration may tend to drop during pregnancy, especially during the mid-trimester. The levels hit the lowest in the second trimester and could result in anemia, which is a cause of concern. One way to try to boost your iron levels is through your diet. Hemoglobin helps in brain health and your Well-Being.
To minimize the risk of anemia, doctors track the maternal hemoglobin levels during prenatal check-up and may recommend remedies to improve it. Here, lists a few such effective ways that might improve your hemoglobin levels during pregnancy.
Ideal Hemoglobin Levels During Pregnancy
According to the World Health Organization, the hemoglobin levels in pregnant women should be more than 11g/dl in the first and third trimester, and more than 10.5g/dl in the second trimester. Low levels of hemoglobin during pregnancy are likely to be associated with low birth weight and preterm birth.
Excessively high hemoglobin could also pose risks, and may not necessarily mean good iron levels, according to research. Therefore, proper care should be taken to maintain the ideal hemoglobin level during pregnancy.
Possible Ways to Increase Hemoglobin Levels During Pregnancy
Here is what you could do to improve hemoglobin levels during pregnancy.
Iron-rich Foods in the Diet: If your hemoglobin is just below the ideal levels, increase the intake of foods that are rich in iron. During pregnancy, you need 27mg of iron a day. To meet that requirement, you may consider including the following foods in your diet:
Also read: 7th Month Pregnancy Diet Which Foods to Eat
a. Vegetables and Fruits: Spinach, parsley, Brussels sprouts, turnips, peas, broccoli, kale, asparagus, cabbage, green peppers, and tomatoes are some sources of iron in vegetables. In fruits, you may eat oranges, apples, apricots, and figs.
b. Dry fruits: Raisins, peanuts, almonds, dates, dry figs, and hazelnuts are good sources of iron.
c. Grains, Cereals, and Bread: Wheat germ, wheat, buckwheat, millet, barley, oats, and cereals and bread fortified with iron might help.
d. Poultry and Seafood: Eggs, chicken, liver, pork, beef, lamb, and seafood such as oysters, sardines, clams, tuna, and shrimp, are good choices.
e. Others: Some other foods that could help you improve hemoglobin levels are coconut, peanut butter, chocolate, and nettle tea.
Foods rich in Vitamin C: Vitamin C could help in absorbing iron from the food you consume, thereby producing more hemoglobin in your body. Some of the sources include cauliflower, green pepper, cantaloupe, strawberries, kiwifruit, tomato juice, and potatoes.
Foods not to have along with Supplements: Do not take iron blockers along with iron supplements, as they may hinder iron absorption. You may take them after some gap. A few such foods are cheese, yogurt, ice cream, milk, tea, coffee, and alcohol.
Medications and Supplements: Doctors usually prescribe iron supplements based on your hemoglobin count, your dietary plan, and the trimester you are in. Taking the prescribed dosage of supplements could help in preventing the risk of anemia.
Oral or Intravenous: Iron supplements can be oral but if the woman is unable to tolerate oral iron, she may be administered intravenously.
Intake of Vitamins: It is also important to take Vitamins such as vitamin B12 as the deficiency of iron can mask the deficiency of vitamins.
Read about: Vitamins for Hair How Can Loss after Pregnancy
The safest way to maintain a healthy hemoglobin level is to follow a Healthy Diet Plan throughout the pregnancy. See that you are getting proper nourishment from the foods you eat. Also, get your hemoglobin levels checked during regular visits to your doctor.
When to Visit the Doctor?
Low hemoglobin levels may also cause the following signs and symptoms that might need a doctor's visit.
Pale gums and skin
Muscle weakness and fatigue
Frequent headaches
Irregular heartbeat
Difficulty in concentration
Labored breathing
Maintaining the right hemoglobin levels is essential for your Well-Being and health and your baby's health. So be conscious of what you are eating, any changes in the body or behavior that seem unusual, and get the hemoglobin levels checked regularly. There are many different things you can do to Improve your Human Well Being during pregnancy.
Source Link: https://www.momjunction.com/articles/increase-hemoglobin-during-pregnancy_00478447/
Read more about:
Weight Loss Diet Tips after Pregnancy – The Best Way
Pregnancy Diet – Some Common Queries
Exercises You Need To Avoid During Pregnancy
20 Minutes Pregnancy Exercise Chart
By : Natural Health News