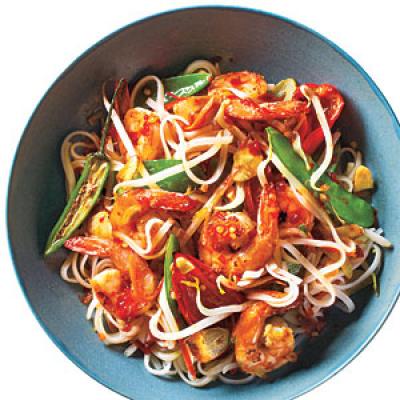 RECIPE: Sweet & Spicy Shrimp With Rice Noodles
What do you need?
    1 tablespoon rice vinegar
    2 1/2 teaspoons honey
    1 tablespoon sambaloelek (ground fresh chile paste, such as Huy Fong)
    1 tablespoon lower-sodium soy sauce
    12 ounces peeled and deveined medium shrimp $
    4 ounces uncooked flat rice noodles (pad thai noodles)
    1 tablespoon peanut oil
    2 tablespoons chopped unsalted cashews $
    1 tablespoon thinly sliced garlic
    2 teaspoons chopped peeled fresh ginger
    1 green Thai chile, halved
    12 sweet mini peppers, halved
    3/4 cup matchstick-cut carrot $
    1/4 teaspoon salt $
    3/4 cup snow peas, trimmed
    3/4 cup fresh bean sprouts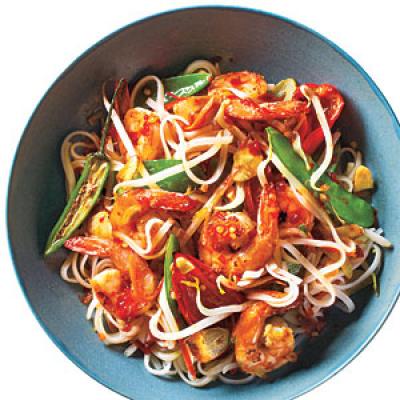 Note: This serving is for 4 people.
How do you make it?
    Combine first 4 ingredients in a medium bowl
    Stir them well with a whisk
    Add shrimp to vinegar mixture; toss to coat
    Cover and refrigerate for 30 minutes
    Cook noodles according to package directions, omitting salt and fat
    Carefully drain them with cold water once cooked
    Heat a large skillet or wok over medium-high heat
    Add oil to pan; swirl to coat
    Add cashews, garlic, ginger, and chile to pan
    Stir-fry  these ingredients for 1 minute or until garlic begins to brown
    Remove cashew mixture from pan with a slotted spoon, and set it aside
    Increase heat to high
    Add sweet peppers, carrot, and salt to pan
    Stir-fry for 2 minutes only
    Add shrimp mixture but do not drain
    Stir-fry the whole combination for 2 minutes
    Stir in noodles and peas
    Cook them for 1 minute, tossing to coat
    Return cashew mixture to pan
    Add bean sprouts
    Cook now for  1 minute or until thoroughly heated, tossing frequently
& this was the last step! Your low calorie homemade Pad Thai is ready !!!
How many calories would you consume with this?
300 CALORIES
Good to know!
This is a low-calorie version of the restaurant Pad Thai with no compromise on flavors but a huge compromise on calories (which is a good thing). The sauce used in the recipe is pretty much comparable to the one used in high-end restaurants. This recipe also keeps the noodle portion in check so that you don't overload on starch.
By : Natural Health News
Save
Save