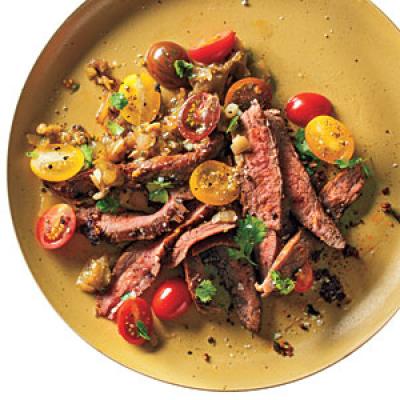 RECIPE: Grilled Skirt Steak & Roasted Tomatillo Sauce
What do you need?
    1 cup boiling water
    1 dried guajillochile, stemmed
    3 tablespoons chopped fresh oregano, divided
    2 tablespoons fresh lime juice, divided
    1 tablespoon olive oil
    1 1/2 teaspoons ground cumin, divided
    8 garlic cloves, divided
    1 (1-pound) skirt steak, trimmed
    1/2 cup sliced onion
    8 ounces tomatillos, husks removed
    Cooking spray
    1 teaspoon kosher salt, divided
    3/4 teaspoon freshly ground black pepper, divided
    Dash of sugar
    2 tablespoons chopped fresh cilantro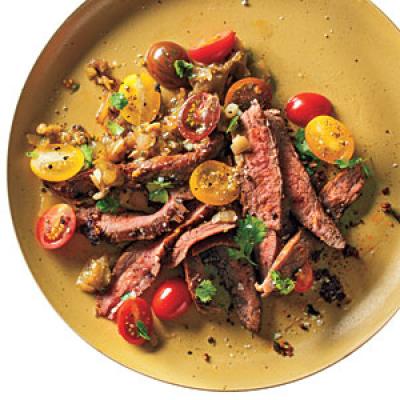 Note: This serving is for 4 people.
How do you make it?
    Combine 1 cup boiling water and chile in a small bowl
    Let it stand for 10 minutes or until hydrated and then drain it
    Finely chop chile
    Combine chile, 1 tablespoon oregano, 1 tablespoon juice, oil, and 1 teaspoon cumin in a zip-top plastic bag
    Mince 4 garlic cloves and add them to the bag
    Add steak to bag
    Seal the bag with all these ingredients
    Shake to coat and refrigerate for 1whole hour
    Preheat oven to 450°
    Crush remaining 4 garlic cloves
    Arrange crushed garlic, onion, and tomatillos in a single layer on a baking sheet coated with cooking spray
    Lightly coat vegetables with cooking spray
    Bake at 450° for 20 minutes or until charred
    Combine tomatillo mixture, remaining 2 tablespoons oregano, remaining 1 tablespoon juice, remaining 1/2 teaspoon cumin, 1/2 teaspoon salt, 1/4 teaspoon pepper, and sugar in a blender
    Process until smooth, scraping sides
    Preheat the grill to high heat
    Remove steak from bag
    Sprinkle both sides of steak evenly with remaining 1/2 teaspoon salt and remaining 1/2 teaspoon pepper
    Place steak on grill rack coated with cooking spray
    Grill 2 minutes on each side or until a thermometer inserted into the thickest portion of steak registers 135° or until desired degree of doneness
    Let the steak stand for 10 minutes
    Cut steak diagonally across grain into thin slices
    Place 3 ounces steak on each of 4 plates
    Top each serving with about 3 tablespoons sauce
    Sprinkle each serving with 1 1/2 teaspoons cilantro
How many calories would you consume with this?
300 CALORIES
Good to know!
This recipe has been specifically designed
By : Natural Health News
Save