Health A - Z
M
Monkey Pox Causes, Symptoms, Diagnosis and Treatment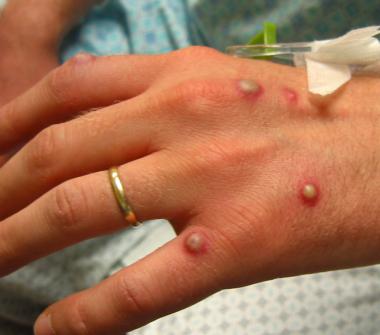 What is Monkey Pox?
Monkey Pox is a rare disease that is caused by infection with monkey pox virus. Monkey pox virus belongs to the Orthopoxvirus genus in the family Poxviridae. The Orthopoxvirus genus also includes variola virus (the cause of smallpox), vaccinia virus (used in the smallpox vaccine), and cowpox virus. The natural reservoir of monkey pox remains unknown.
However, African rodent species are expected to play a role in transmission. Smallpox  and monkey pox are so closely related, studies have suggested that people vaccinated against smallpox have about an 85% chance of being protected from monkey pox.
Causes of Monkey Pox
Causes  of Monkey Pox virus occurs :
When  a person comes into contact with the virus from an animal, human, or materials contaminated with the virus.
The virus enters the body through broken skin (even if not visible), respiratory tract, or the mucous membranes (eyes, nose, or mouth).
Animal-to-human transmission may occur by bite or scratch, bush meat preparation, direct contact with body fluids or lesion material, or indirect contact with lesion material, such as through contaminated bedding.
Human-to-human transmission is thought to occur primarily through large respiratory droplets. Respiratory droplets generally cannot travel more than a few feet, so prolonged face-to-face contact is required.
Other human-to-human methods of transmission include direct contact with body fluids or lesion material, and indirect contact with lesion material, such as through contaminated clothing or linens.
Symptoms of Monkey Pox
The illness begins with:
Headache
Muscle aches
Backache
Swollen lymph nodes
Chills
Exhaustion
Within 1 to 3 days (sometimes longer) after the appearance of fever, the patient develops a rash, often beginning on the face then spreading to other parts of the body.
Lesions progress through the following stages before falling off:
Macules
Papules
Vesicles
Pustules
Scabs
Diagnosis of Monkey Pox
The diagnosis of Monkey Pox is often made presumptively in Africa by the patient's history and the exam that shows the pox lesions, however, a definitive diagnosis is made by PCR, ELISA, or Western blotting tests that are usually done by the CDC or some state labs. Definitive diagnosis is important to rule out other possible infectious agents like smallpox.
Treatment of Monkey Pox
Following are the treatment for Monkey Pox:
A smallpox vaccination should be administered within two weeks of exposure to monkey pox.
Cidofovir (Vistide), an antiviral drug, is suggested for patients with severe, life-threatening symptoms.
Vaccinia immune globulin may be used, but efficacy of use has not been documented.
For severe symptoms, supportive measures such as mechanical ventilation may rarely be needed.
Related Articles:
Candidiasis Causes, Symptoms, Diagnosis and Treatment
Jacquest Erythema Causes, Symptoms, Diagnosis and Treatment
Herpes Zoster Causes, Symptoms, Diagnosis and Treatment
Yaws Causes, Symptoms, Diagnosis and Treatment
Molluscum Contagiosum Causes, Symptoms, Diagnosis and Treatment
Seborrheic Dermatitis Causes, Symptoms, Diagnosis and Treatment
Myiasis Causes, Symptoms, Diagnosis and Treatment
Osteomyelitis Causes, Symptoms, Diagnosis and Treatment
Radiation Sickness Causes, Symptoms, Diagnosis and Treatment
Typhus Causes, Symptoms, Diagnosis and Treatment
By : Natural Health News