C
Health A - Z
Contact Dermatitis Causes, Symptoms, Diagnosis and Treatment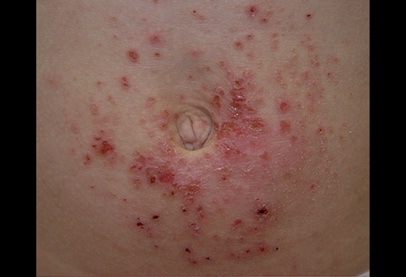 What Is Contact Dermatitis?
Contact dermatitis is a type of skin inflammation.
It is a red, itchy rash caused by a substance that comes into contact with the skin.
The rash isn't contagious or life-threatening, but it can be very uncomfortable.
Types of contact dermatitis include:
Irritant contact dermatitis
Allergic contact dermatitis
Occupational contact dermatitis
Causes Of Contact Dermatitis:
Contact dermatitis is caused by exposure to substances which trigger an allergic reaction.
The cause depends upon the type of contact dermatitis.
Irritant contact dermatitis:
This occurs when a substance damages your skin's outer protective layer.
Some common irritants include:
Solvents
Rubbing alcohol
Bleach
Personal care products, such as soaps, deodorants and cosmetics
Airborne substances, such as sawdust or wool dust
Burdock, a plant used in alternative medicine therapies
Allergic contact dermatitis
Usually affecting the exposed area, allergic contact dermatitis occurs when a substance to which one is sensitive (allergen) to triggers an immune reaction in the skin.
Common Allergies Include:
Nickel, which is used in:
Medications, such as:
antibiotic creams
oral antihistamines
Balsam of Peru, used in products, such as :
perfumes,
cosmetics
mouth rinses
flavorings
Formaldehyde, present in
Personal care products, including:
deodorants,
body washes
hair dyes
cosmetics
nail polish
Skin tattooing and black henna
Plants such as:
Airborne substances
Symptoms Of Contact Dermatitis:
People who develop contact dermatitis show the following signs and symptoms:
Red rash or bumps
Itching, which may be severe
Dry, cracked, scaly skin, if your condition is chronic
Blisters, draining fluid and crusting, if your reaction is severe
Swelling, burning or tenderness
Diagnosis Of Contact Dermatitis:
Contact dermatitis can be diagnosed via thorough examination of signs and symptoms.
The following procedure is taken:
Taking a medical history
Doing a physical exam
Performing a Patch test
Treatment Of Contact Dermatitis:
Treatment for contact dermatitis includes the following:
Avoiding the irritant or allergen
Applying prescription steroid cream
Applying medications to repair the skin
Using oral medications.
Related Articles:
Bursitis Causes, Symptoms, Diagnosis and Treatment
Folliculitis Causes, Symptoms, Diagnosis and Treatment
Carcinoid Syndrome Causes, Symptoms, Diagnosis and Treatment
Buerger's Disease Causes, Symptoms, Diagnosis and Treatment
Shingles Symptoms, Causes, Diagnosis and Treatment
Chilblains Causes, Symptoms, Diagnosis and Treatment
Cradle Cap Causes, Symptoms, Diagnosis and Treatment
Cold Urticaria Causes, Symptoms, Diagnosis and Treatment
Henoch Schonlein Purpura (HSP) Causes, Symptoms, Diagnosis and Treatment
Soft Tissue Sarcoma Causes, Symptoms, Diagnosis and Treatment
Pilonidal Cyst Causes, Symptoms, Diagnosis and Treatment
Stevens-Johnson Syndrome Causes, Symptoms, Diagnosis and Treatment
By : Natural Health News