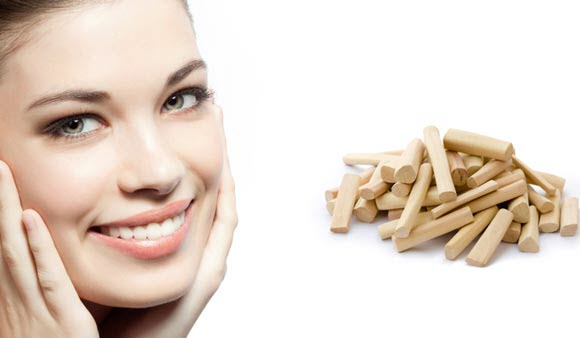 Sandalwood is a very common ingredient that is popular in India and often used in beauty products. Sandalwood supplies many benefits for skin care. Some of the very general personal use products consisting of sandalwood are creams, soaps, powders, hand washes and face packs. Nowadays, many people, particularly in teenagers, face some skin problems such as dark spots, dark circles, pimples, smuts, etc. Luckily, sandalwood is a time-tested ingredient for soothing acne, pimples, rashes, and blemishes. In addition, it is effective in soaking sebum and excess oil from the skin. Besides, sandalwood remedy gives you healthy and clear skin in no time. Let's find more the benefits of sandalwood and its uses for clear skin.
Benefits of Sandalwood for Skin
Sandalwood contains medicinal properties, making the most reliable and the best home remedies for the face as well as all types of skin issues such as eczema, ringworm, psoriasis, and rash.
a. Anti-aging property: Sandalwood contains the toning effect that helps to shrink skin pores, thus providing an even skin texture and preventing aging and sagging skin. It also aids in tightening the drooping skin tissues to provide a youthful and supple appearance to the skin.
b. Anti-tanning property: Basically, sandalwood paste is a good clear skin remedy, which can be used to calm harsh sunburns and clean skin tanning as well. In addition, it comprises of the natural oils that clear skin complexion naturally and add a glow to it.
c. Skin softening effect: Ensuring baby soft skin is one of the greatest sandalwood oil benefits. You can use sandalwood oil by itself. You can also infuse it with other natural oils and later massage into the skin to attain best results.
d. Itch relief: Applying sandalwood on the skin for 30 minutes will help to relieve skin itching and infections. Furthermore, it helps to decrease inflammation, skin redness as well as sore skin.
e. Acne and pimple treatment: Treating acne and pimple is also one of the outstanding benefits of sandalwood. Sandalwood works effectively in combating the fungi and bacteria and inhibits the breakout of acne and pimples thanks to its powerful antibacterial properties.
f. Prickly heat solution: Itchy as well as painful prickly heat often are caused by sweating and excessive heat during summer season. The cooling astringent agent of sandalwood helps to cool the skin and cure prickly heat fast and naturally.
g. Clear complexion: Generally, dull and dark complexion can make you unattractive and unappealing as well. Topical application of sandalwood combined with other natural ingredients helps to clear skin naturally and quickly without leaving any side effect.
Uses of Sandalwood for Skin
The skin should be pampered with special care. For skin care, there are many skin lotions and creams but these products contain the harsh chemicals that damage the skin. Therefore, you should choose natural solutions for skin care. Here I give you some sandalwood remedies for healthy and clear skin that you can make at home.
Treat Skin Spots
Age spots and pigmentation are often caused by increasing age, liver dysfunction, and exposure to the sun rays. For this purpose, take an equal quantity of turmeric powder and sandalwood powder and late make a paste. Then, to it, add one pinch of camphor powder. Massage your face using the paste and keep it for the night. In the morning, wash it off.  This remedy offers you a cool feeling and removes the skin marks too.
Cure Pimples
Sebum and excessive oil deposited on the skin often attracts impurities and dirt and clogs the pores causing pimple and acne breakouts. Don't worry because sandalwood can help you to treat acne and pimple breakouts as well. All you have to do is combining sandalwood powder (1 tablespoon) with turmeric powder (½ tablespoon) and rose water (1 tablespoon) to make a paste. Apply a coat of the paste on the face and keep for around twenty minutes and finally, wash it off using water. By following this, you can decrease your pimples and you can also feel your skin happy.
For Soft Skin
Our skin loses its softness because of progressing age and exposure to environmental pollution as well. To have the soft skin, you mix sandalwood powder, holy powder or turmeric powder and lemon juice in equal measures to create a paste. After that, apply this paste your face and rinse by using cool water after half an hour. This remedy makes your skin soft and marks free too.
For Clear Complexion
Sandalwood is also one of the best answers to the question about how to get a smooth and clear face in one week. You just need to combine sandalwood powder (1 tablespoon) with almond paste (1 tablespoon) and 1/2 teaspoon each of milk and honey. Mix all the things well to make a paste and apply it on the face and neck too. Wait for 60 minutes and wash off using water. Applying this paste 3 to 4 times weekly helps to lighten skin tone.
For Open Pores
Generally speaking, open skin pores promotes the secretion of sebum and gives an uneven appearance to our skin. To solve this problem, you only need to make a paste of rose water and sandalwood powder and later apply it on the face. Wash it off after fifteen minutes. For people having oily skin, this paste inhibits prevents pimples and it cleanses the pores for others.
For Anti-tanning    
Sandalwood is also the ultimate answer to the question about how to protect the face from the sun. To treat sun tan, you prepare 1 tablespoon of sandalwood powder, ½ teaspoon of honey and 1 teaspoon of curd. Then, mix all the things together and blend them well. After that, apply the mixture on face, hands as well as other tanned areas in the body. Allow it on for 60 minutes and wash off using water. This remedy adds a natural glow to your skin and removes skin tan as well.
Treat Allergies And Rashes
Sensitive skin is likely to rashes, allergies and infections. To cure this problem, you mix 1 tablespoon of sandalwood powder with 1 pinch of powdered camphor. Later to it, add some water to form one paste of thick consistency. Evenly apply the paste on the skin rashes and allergy. Leave it to dry off for 60 minutes and finally, wash it away using cold water. This remedy is also one of the best solutions to treat eczema, psoriasis, and burns.
For Anti-aging
Continuous cellular damage caused due to free radicals and progressing age result in the appearance of wrinkles, furrows and fine lines. But you can easily prevent con control it by consuming anti aging juices and fruits and using sandalwood remedies regularly. To cope with anti-aging, you mix sandalwood powder (2 tablespoons) with an egg yolk and honey (1 tablespoon). Evenly apply this pack on your face along with neck. Wait for around 60 minutes and wash off by using water. This helps to enhance the elasticity of drooping and sagging skin.
Treat Prickly Heat
As talked earlier, irritating prickly heat is often caused by the heat and sweating in the summer season. You can make a thick paste by mixing sandalwood powder (2 tablespoons) with water (2 tablespoons). Later apply this paste on your affected areas such as the face, neck, arms, chest and back. Keep for 60 minutes and use water to wash it off. This helps to soothe and cool the burn and irritation caused by excessive sweating and prickly heat. It is also a safe remedy for children.
Sandalwood Scrub
Basically, exfoliation is a vital part of regular skin care that rids the skin of the deposits and dead cells, and softens cracked skin and heels. You need to combine black chickpea powder and sandalwood powder in equal amounts either of rose water or milk. Then, apply the paste to the face and massage gently in a soft circular motion for five minutes. Wait for another half an hour and wash off using water. This is a great scrub for exfoliating our skin and removing dirt, dead cells, and impurities as well.
In fact, sandalwood is a wonderful solution for all kinds of skin issues and one of the most beneficial ways to remove the impurities from the skin. People with all types of skin – oily, dry, combination or normal can treat the skin problems with all above-mentioned methods.  Remember to share your experiences with me and other readers as well. I will be glad to hear your experiences.
Guest Post by Mai Cao
Author Bio:
This guest post is by Mai Cao, a blogger with many years of experience on searching the most effective remedies for beauty and health issues.