RECIPE: Garden Herbburger & Fries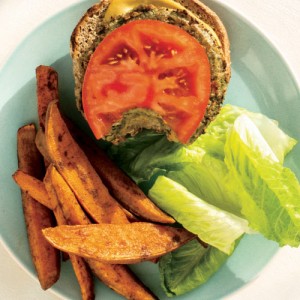 What do you need?
    1 Garden Herb burger
    1/2 whole-grain bun
    2 leaves romaine lettuce
    1 thick slice red tomato
    2 tsp Dijon mustard
    1 small sweet potato
    1 tsp olive oil
    Cumin
    Paprika
How do you make it?
    Cook burger
    Serve open-faced on half a bun
    Top with lettuce, tomato, and mustard
    Cut sweet potato into wedges
    Coat with oil and seasonings to taste
    Bake &it's ready
How many calories would you consume with this?
490 CALORIES
Good to know!
You can still lose weight and enjoy your favorite burger by simply cutting down the main culprit that is cheese. This burger recipe is a low calorie recipe that does not make you feel heavy or add extra calories to your daily diet. It's healthy and it's worth it!
By : Natural Health News
Save