Diet
An Effective Acne Diet Plan for Teenager with Proven Home Remedies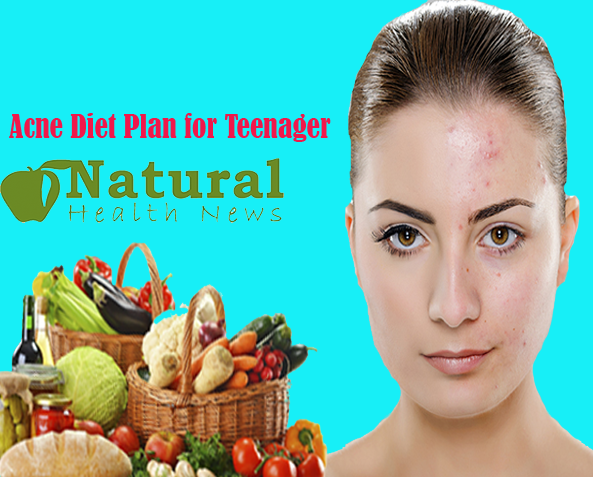 Importance of Acne Diet Plan for Teenager
Acne is a disease and its symptoms are pimples. A specifically designed Acne Diet Plan for Teenager plays an important role in controlling hormones and oil secretion. Beneath the skin layer, the pores are connected to glands that release sebum. These glands and pores are connected by a channel that has fine hair growth. The canal is called a hair follicle. Clumping of sebum and dead skin form a cap in the follicle. The bacteria in the cap cause inflammation, which causes the red pimples to turn into acne.
Adolescence is about channeling your energy in the right direction to grow and be successful in life. As you progress with such vigor and courage, don't lose confidence just because of the pimples. Almost 80% of teenagers suffer from Acne and pimples. Read on for home remedies for pimples and Acne Diet Plan for Teenager. Here are some Herbal Remedies for Acne.
Causes of Pimples in a Teenager
Overuse of skincare products or makeup products: These products further clog the pores of the skin. Oil-based cosmetics are more dangerous compared to water-based cosmetics.
Medications: Medications in the form of androgens, epilepsy medications, or lithium can cause pimples. Read Metformin for PCOS.
PCOS: With PCOS there is excessive or abnormal androgen secretion in women. This leads to pimples.
Genetics: It can be inherited for generations.
Other reasons: Excessive scrubbing of the face, pitting of blemishes, prolonged friction from shoulder bags or tight clothing, stress, or a premenstrual symptom.
You can benefit from reading: Vitamins for Acne Skin That Will Repair Your Skin
1-Week Acne Diet Plan for Teenager
People with acne problems or oily skin should take special care in their food choices. This Best Diet Plans for Teenager is a simple and highly healthy menu.
Monday
Breakfast: 1 natural yogurt, whole wheat toast with olive oil, and 1 kiwi.
Meal: lettuce salad, sweet corn, tomato and carrot, cod croquettes, and strawberries with orange juice.
Snack: Toast with quince.
Dinner: Grilled salmon with mashed potatoes, and 1 natural yogurt.
Tuesday
Breakfast: 1 glass of semi-skimmed milk, breakfast cookies, and 1 orange juice.
Meal: Zucchini puree, stewed meat with carrots and peas, and 1 pear.
Snack: Fresh cheese with honey.
Dinner: Mixed salad, sardines with ham, and 1 apple.
Wednesday
Breakfast: 1 glass of semi-skimmed milk, bread with oil and natural tomato, and 1 banana.
Meal: Roasted peppers, ½ eggs cooked with bonito and tomato, and 1 curd.
Snack: a handful of nuts, and 1 orange juice.
Dinner: Carrot and onion puree, baked fish with potatoes and 1 natural yogurt.
Thursday
Breakfast: 1 glass of semi-skimmed milk, breakfast cereals, and 1 fruit juice.
Meal: Garden salad, zucchini and eggplant lasagna, and strawberries with sugar.
Snack: 1 curd with dried fruits.
Dinner: Vegetable soup, pumpkin omelet with natural tomato, and 1 kiwi
Friday
Breakfast: 1 natural yogurt, breakfast cookies, and 1 orange.
Meal: Green beans with potatoes, grilled cuttlefish with lettuce, and fruit salad.
Snack: Cottage cheese with honey.
Dinner: Pasta salad with crab sticks, and 1 curd.
Saturday
Breakfast: 1 glass of semi-skimmed milk, whole wheat bread with olive oil and natural tomato, and 1 orange juice.
Meal: Tomatoes with fresh cheese and oregano, squid with romaine lettuce and tomato, and 1 kiwi.
Snack: Bread with fresh cheese.
Dinner: Swiss chard with ham, rabbit stewed with carrots, and 1 pear.
Sunday
Breakfast: 1 glass of semi-skimmed milk, 1 piece of yogurt cake, and 1 orange juice.
Meal: Rice with vegetables, watercress salad with tuna, and 1 apple.
Snack: Fruit and dried fruit salad.
Dinner: Endives with fresh cheese and smoked salmon, swordfish with potatoes, and 1 natural yogurt.
We wish you all the best results after following this Teenage Acne Diet Plan
Treatment for Pimples in Teenagers
Topical application: With the advice of doctors, you can use lotions or gels that contain antibiotics if there is an active infection.
Medication: Dermatologists recommend antibiotics and isotretinoin that shrink pores and control oil secretion in the body.
Diet: The diet must be very low in fat. All fat in the Acne Diet Plan for Teenager must be of good quality. Protein and carbohydrates should be balanced and refined food products should be avoided. Eat the recommended amounts of vegetables and fruits that are rich in vitamins, minerals, fiber, and antioxidants.
Home Remedies for Pimples in Teens
Wash your face with lukewarm water. Avoid using too hot or too cold water. Use a milk-based soap that keeps the skin moist. Pat the skin dry instead of rubbing it dry with a towel. Don't forget to wash after workouts or after sweating. Sweat can also clog pores and lead to acne. Always wash off your makeup before sleeping and let your skin breathe. Check out How Strawberry Face Mask for Acne Works
Gently rub your face once every 15 days to remove dirt, dead skin, or any black or white spots on your face. Do not overdo it when scrubbing or else it will damage the integrity of the skin. Opt for pasty papaya seeds with natural organic ingredients, coffee, salt, sugar, or ground rice. These products provide the soft fiber needed to remove dirt and dead skin without removing moisture from the face.
Apply fresh fruit and vegetable pulp to the face and keep it for half an hour. Wash your face under running water and pat it dry. Follow this once a week for hydrated and renewed skin. The application of fruit and vegetable pulp provides antioxidants, vitamins, and minerals to the skin. This helps keep the skin hydrated and non-greasy. Regular application cleanses the oil from the pores and prevents infection.
Honey mixed with lemon juice helps reduce acne. Honey, turmeric, and cinnamon all have antibacterial properties that help reduce inflammation and infection in the skin. It also helps reduce spots or marks left by pimples. Honey with lemon acts as a natural facial bleaching agent that helps reduce blemishes and marks. Honey also helps retain moisture and skin integrity. Here are Oily Skin Fairness Tips That Help You Get Fair and Beauty Skin
Final Note:
A single treatment is not enough to fight pimples. You should visit a dermatologist if you have severe acne and Teenage Acne Diet is not giving the best results. Along with it, try these home remedies and a proper training regimen. Don't let pimples affect your adolescent's psychological and physical growth. I hope these Home Remedies and Acne Diet Plan for Teenager help you fight back.
Related Articles:
Vitamins for Skin Acne and Skin Care Problems
Try This Herbal Mask At Home To Get Rid Of Acne!