Diet
What is The Mediterranean Diet? And How it Be Should Followed?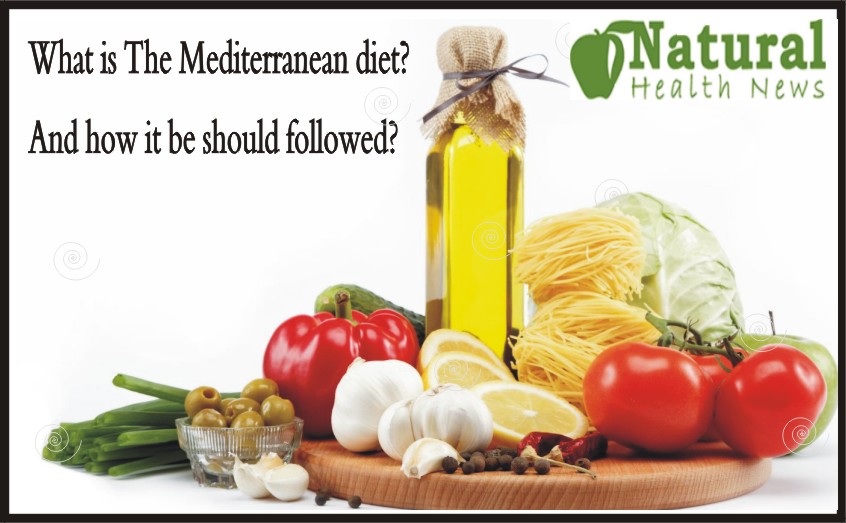 Mediterranean diet is that way of eating instead of formal diet plan. It emphasizes foods like vegetables, beans, cheese, meat fish, fruits, olive oil, nuts and whole grains are very limited. These foods are rich with fiber, omega-3fatty acids and monounsaturated fats. In Mediterranean diet about 35% to 40% calories produced from fat. The fats are allowed in Mediterranean diet are mainly from unsaturated oils like olive oil, canola, soybean or flax seed. These oil have protective effect on your heart. Try to add more salt when you are sitting on table for eating.
Benefits of Mediterranean Diet
The Mediterranean diet can help you for risk of many other disease, can improve your mood and also gives you energy. It also help you to keep your brain and heart healthy. Mediterranean diet prevent you from following diseases
Heart attack
Lower cholesterol
Stroke
Depression
Metabolic syndrome
Type 2 diabetes.
Parkinson's disease
Mediterranean Diet Includes
Fresh fruit like dessert
Lots of plant foods
Saturated fats with no more than 8% of calorie
Just four eggs in a week
Limit amounts of poultry and fish
High consumption of nuts, cereals, beans and in the form of brown rice, oats, barley and seeds.
Low consumption of wine
Yogurt and cheese are main dairy foods
Limit the red meat
You should add following foods in Mediterranean Diet Plans;
Olive oil
Red wine in moderation
Seeds, nuts, legumes and beans
Fresh herbs like mint, dill, basil and parsley
Protein like baked chicken, eggs, fish, tuna, shrimp and salmon
Whole grains like bulgur, quinoa and couscous
Mediterranean 5 Days Meal Plan
Day One:
Breakfast : add almonds ( slivered) and sprinkle of granola. Greek yogurt,pumpkin seeds
Morning snack : handful walnuts with apple
Lunch: toasted pita with hummus, cut the onions, tomatoes, peppers, cucumbers and some kalamata olives.
Afternoon snack: 2 boiled eggs
Dinner: two roasted lemon and dill salmon
Day Two:
Breakfast: quinoa and banana with walnuts, hazelnuts and cinnamon (chopped)
Morning snack:  1 boiled egg
Lunch: Greek style salad red onion, black olives, cucumber pepperoncinis, tomatoes, fata) with salmon from previous night
Afternoon snack: 2 boiled eggs
Dinner: Mediterranean shrimp skillet with homemade tabbouleh.
Day Three:
Breakfast: eat 2 pieces of whole wheat bread with the slice of avocado and with egg.
Morning snack: Greek yogurt parfait
Lunch: homemade tabbouleh with a toasted pita
Afternoon snack: eat slice of fresh basil, tomatoes, low fat mozzarella and some olives drizzled in olive oil.
Dinner: lemon cumin Greek yogurt with lamb meatballs.
Day Four:
Breakfast: Mediterranean frittata
Morning snack: handful of almonds with some mixed berries
Afternoon snack: eat carrots and peppers with hummus
Dinner: Mediterranean quinoa
Day Five:
Breakfast: Mediterranean frittata
Morning snack: Greek yogurt with fresh fruit
Lunch: quinoa salad which is from previous night
Afternoon snack: lemon parmesan chickpea salad
Dinner: thyme white fish fillets with live and tomatoes.
By : Natural Health News