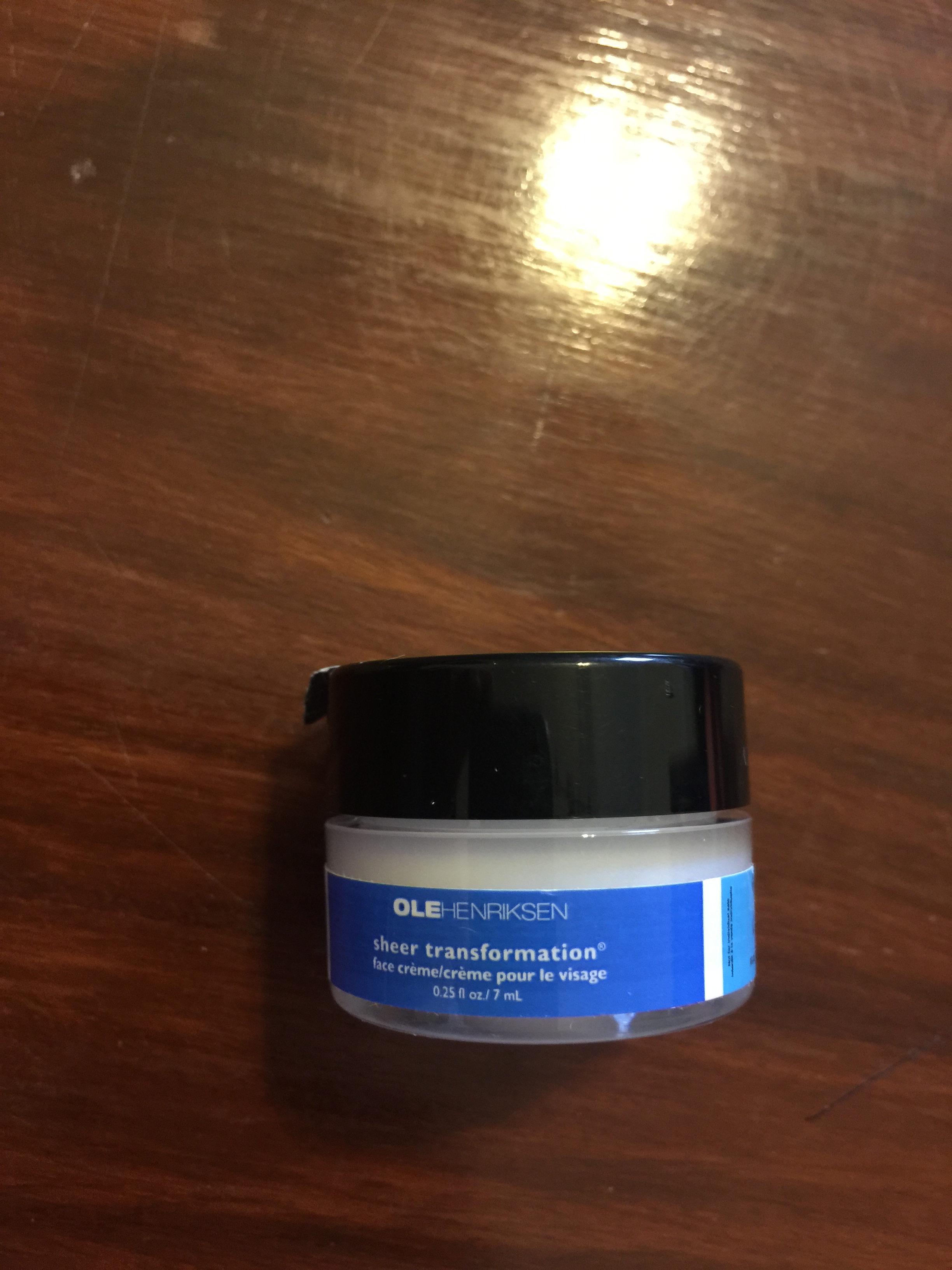 Brand Name: OLE HENRIKSEN
Purpose: Plump and moisturize dull, dry and problematic skin.
Priced at: $65 for 3 oz. excluding taxes
Overall Rating: 5/5
Packaging Highlights
    Comes in a transparent jar
    Comes in 3 different quantities i.e. 0.5oz, 1.7oz & 3oz
    Nothing too special about the overall packaging except the blue theme which looks very pleasant
What I like about Ole Henriksen Sheer Transformation®?
    Does not leave a greasy film on the skin
    Instantly absorbs into the skin
    Makes skin appear soft and smooth instantly
    Provides instant hydration as if you have dug your face into a tub of clean, fresh water
    Makes skin visibly plump and smooth
    Refreshes and preps my skin before applying makeup
    Does not clog pores
    Suitable for all skin types
What I don't like about Ole Henriksen Sheer Transformation®?
My thoughts on Ole Henriksen Sheer Transformation®
Since I have breakout prone skin, anything that does not clog my pores and does some good to my skin is accepting with arms wide open. This is another one of those products that I love to keep handy because this does not cause breakouts, moisturizes my skin, makes it look plump, enhances the overall look and feel of my skin, super hydrates and refreshes it.  I absolutely love the way it seamlessly gets absorbed into my skin without leaving a greasy film on my face which looks so dirty and somehow gross. It just makes me so uncomfortable to sleep with a greasy layer on my face as I personally feel that is just the product sitting on your skin and doing nothing in actuality to improve the condition of your skin.
What happens when you use products that leave a greasy film?
The grease rubs off into the pillow and the dirt or bacteria from the pillow forms a cocktail overnight and in the morning tada! You have clogged pores with huge cystic breakouts by noon or maximum by the end of the day.
Suggested Usage:
    Dampen your face either with a spray bottle or lightly dab tissue all over your face after washing it
    Take a scoop of moisturizer and apply it on the skin while it is still damp
    Keep rubbing and massaging in upward circular motions until it is completely dry
What is it made of?
Water, Caprylic/Capric Triglycerides, Dimethicone, Stearyl Alcohol, Tribehenin, Glycerin, Steareth-20, Hydrogenated Coco-Glycerides, Phenoxyethanol, Dimethiconol, Sucrose Dilaureate, Polysorbate 20, Cyclomethicone, Octyldodercanol, Xanthan Gum, PisumSativum (Pea Extract), Steareth-2, Caprylyl Glycol, Hexylene Glycol, Ethylhexylglycerin, Tocopheryl Acetate, FusanusSpicatus Wood Oil, Santalum Album (Sandalwood) Seed Extract, Sorbitol, AscorbylPalmitate, Helianthus Annuus (Sunflower) Seed Extract, Berberis Vulgaris Fruit, GlycyrrhizaGlabra Licorice Root Extract, ChamomillaRecutita (Matricaria) Flower Extract, VacciniumMyrtilus Fruit Extract, SaccharumOfficinarum (Sugar Cane) Extract, Acer Saccharum (Sugar Maple) Extract, Citrus AurantiumDulcis (Orange) Fruit Extract, Citrus MedicaLimomum (Lemon) Fruit Extract, Calcium Ascorbate, Dimethyl Sulfone, Superoxide Dismutase
By : Natural Health News
Save