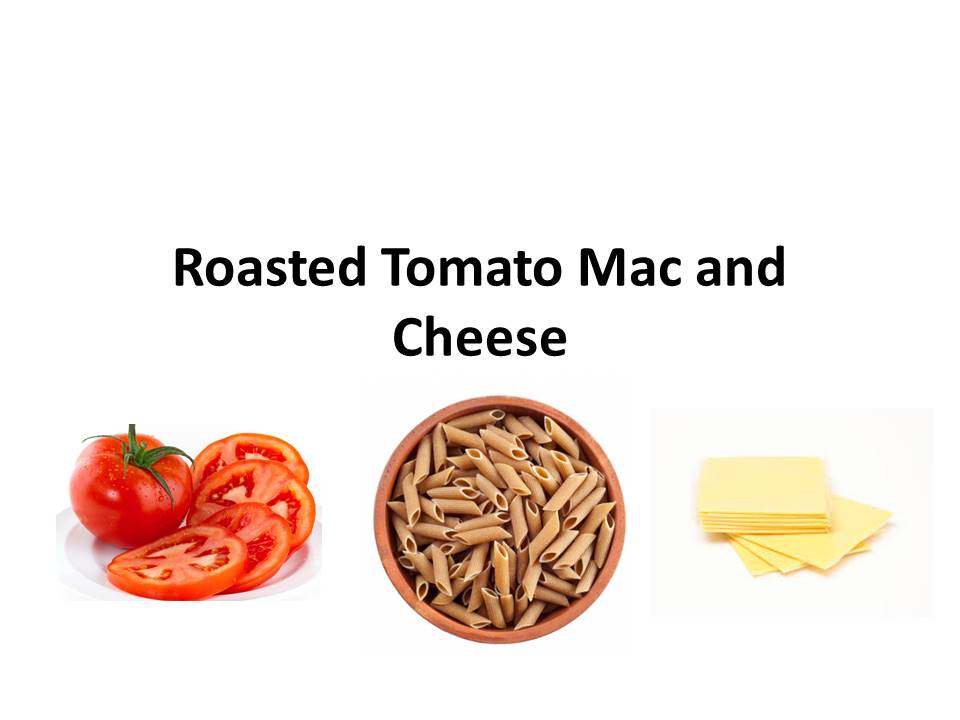 Recipe:Roasted Tomato Mac and Cheese
What Do You Need?
    Cooking spray
    5 plum tomatoes, cut into 1/2-inch-thick slices (about 16 slices)
    2 tablespoons brown rice flour or all-purpose flour
    2 tablespoons butter, softened
    4 cups unsalted chicken stock
    3 cups 1% low-fat milk, divided
    3/4 teaspoon salt
    3/4 teaspoon Dijon mustard
    18 ounces brown rice elbows or whole-grain pasta shells
    4 1/2 ounces (1/2 package) frozen artichoke hearts, thawed and halved
    6 ounces reduced-fat sharp cheddar cheese, shredded (about 1 1/2 cups)
    3 ounces fontina cheese, shredded (about 3/4 cup)
    2.5 ounces Parmesan cheese, grated and divided (about 10 tablespoons)
    1/2 teaspoon freshly ground black pepper
How Do You Make It?
    Remove top oven rack, and cover it with foil
    Lightly coat with cooking spray
    Preheat broiler to high
    Arrange tomato slices on prepared rack
    Lightly coat with cooking spray
    Broil 8 to 10 minutes or until tomatoes are lightly browned
    Transfer tomatoes to a plate and set aside
    Now combine flour and butter in a bowl until a paste forms
    Place a large high-sided sauté pan over medium-high heat
    Add stock, 2 cups milk, salt, and mustard and keep stirring with a whisk
    Add pasta to pan
    Bring it to boil
    Cook for 12 minutes or until pasta is done, stirring frequently
    Stir in remaining 1 cup milk and artichokes
    Cook for 2 minutes
    Add butter-flour paste, in pieces, stirring constantly to blend and thicken
    Remove from heat
    Now stir in cheddar, fontina, 6 tablespoons Parmesan, and pepper
    Arrange broiled tomato slices on top of pasta
    Sprinkle with remaining 4 tablespoons Parmesan
    Broil 2 minutes or until cheese begins to brown
How Many Calories Would You Consume With This?
299
Good to Know!
This recipe serves 12 people if the serving size is roughly one cup. It takes about 40 to 50 minutes to prepare this recipe. You can make this recipe gluten-free by adding brown rice. You can replace white flour, rice and pasta with brown. It would have about 11.3 grams of fat altogether.
Recipe courtesy: myrecipes.com
By : Natural Health News