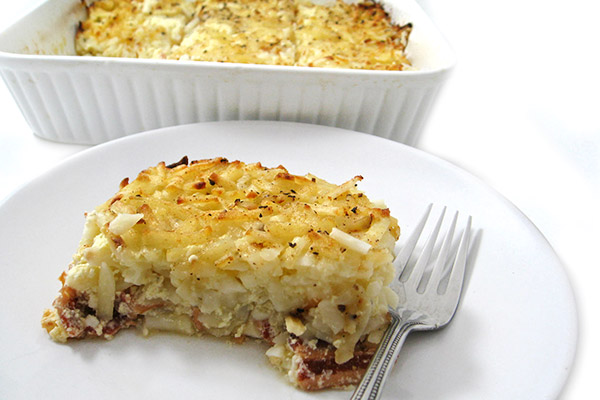 Hash Brown Casserole with Bacon, Onions, and Cheese
What do you need?
    6 bacon slices
    1 cup chopped onion
    2 garlic cloves, minced
    1 (32-ounce) package frozen Southern-style hash brown potatoes
    1 cup (4 ounces) preshredded Classic Melts Four Cheese blend, divided
    1/2 cup chopped green onions
    1/2 cup fat-free sour cream
    1/2 teaspoon salt
    1/4 teaspoon freshly ground black pepper
    1 (10.75-ounce) can condensed 30% reduced-sodium, 98% fat-free cream of mushroom soup, undiluted
    Cooking spray

How do you make it?
    Cook bacon in a large nonstick skillet over medium heat until crisp
    Remove bacon from pan, and crumble
    Discard drippings in pan
    Add 1 cup onion and garlic to pan; cook for 5 minutes or until tender, stirring frequently
    Stir in the potatoes
    Cover and cook for 15 minutes
    Stir occasionally
    Combine crumbled bacon, 1/4 cup cheese, green onions, sour cream, salt, pepper, and soup in a large bowl
    Add potato mixture into it
    Toss gently to combine
    Spoon mixture into an 11 x 7-inch baking dish coated with cooking spray
    Sprinkle with remaining 3/4 cup cheese
    Cover with foil coated with cooking spray
    Refrigerate 8 hours or overnight
    Preheat oven to 350°
    Remove casserole from refrigerator
    Let it stand at room temperature 15 minutes
    Bake casserole, covered, at 350º for 30 minutes
    Uncover and bake an additional 30 minutes or until bubbly around edges and cheese begins to brown
How many servings would you get out of it?
You will get approximately 6 servings out of it measuring 1 cup.
Good to know!
This recipe is ideal if you are planning on serving a number of people, mainly a crowd. All the work can be completed in a day and you can it a day before the actual occasion. Before serving it is advised to give it a round in oven for about 30 minutes so everything is hot and fresh. You can invite a lot of people for breakfast by mastering this simple recipe that can be completed without putting yourself through a lot of hassle.
By : Natural Health News
Save