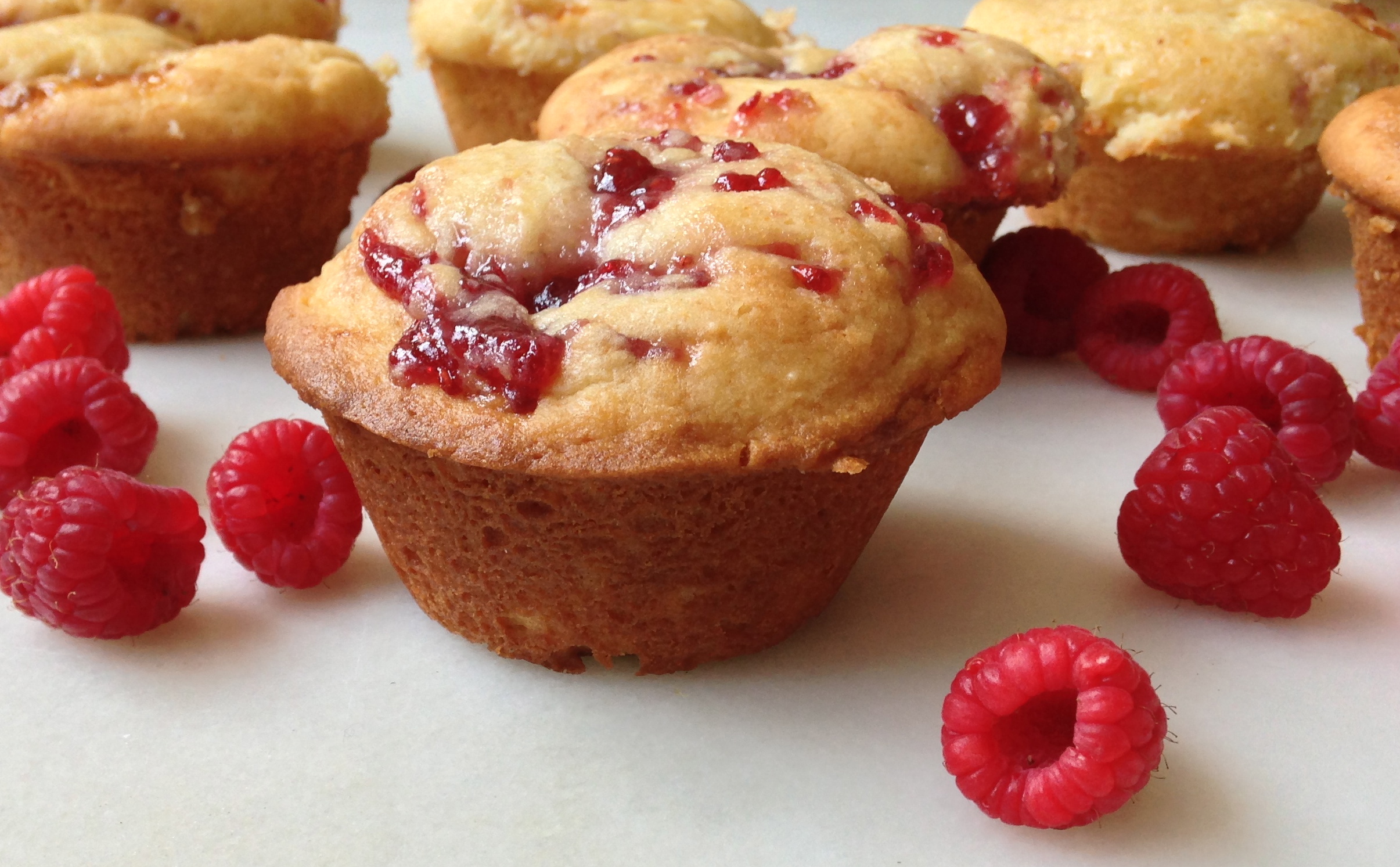 Raspberry-Cream Cheese Muffins
What do you need?
    2/3 cup (5 ounces) 1/3-less-fat cream cheese, softened
    1/3 cup butter, softened
    1 1/2 cups sugar
    1 1/2 teaspoons vanilla extract
    2 large egg whites
    1 large egg
    2 cups all-purpose flour
    1 teaspoon baking powder
    1/4 teaspoon baking soda
    1/2 teaspoon salt
    1/2 cup low-fat buttermilk
    2 cups fresh or frozen raspberries
    1/4 cup finely chopped walnuts

How do you make it?
    Preheat oven to 350°.
    Combine cream cheese and butter in a large bowl
    Beat with a mixer at high speed until well blended
    Add sugar
    Beat until fluffy
    Add vanilla, egg whites, and egg
    Beat everything together again
    Lightly spoon flour into dry measuring cups; level with a knife
    Combine flour, baking powder, baking soda, and salt
    With mixer on low speed, add the flour mixture and buttermilk to cream cheese mixture, beginning and ending with flour mixture
    Gently fold in raspberries and walnuts
    Place 24 foil cup liners in muffin cups
    Spoon batter evenly into liners7
    Bake at 350° 25 minutes or until a wooden pick inserted in center comes out clean
    Remove from pans; cool on a wire rack
How many servings would you get out of it?
You will get approximately 2 dozen servings out of it.
Good to know!
This recipe is so versatile that you can create so many different types out of it. You can mix it with blueberries, cherries, and dried cranberries. These are so easy to make and can be a great lunch for your school going kids. You can make these within no time early in the morning as well or a night before.
Source: My recipes
By : Natural Health News