G
Health A - Z
Gynecomastia Causes, Symptoms, Diagnosis and Treatment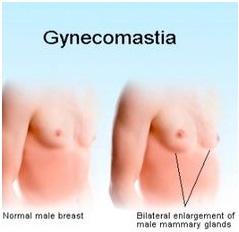 What Is Gynecomastia?
Gynecomastia is a common disorder of the endocrine system in which there is a non-cancerous increase in the size of breast tissue in males.
Gynecomastia can affect one or both breasts, sometimes unevenly.
Causes Of Gynecomastia:
Gynecomastia can occur due to any of the following reasons:
It can be caused by an altered ratio of estrogens to androgens mediated by an increase in estrogen production, a decrease in androgen production, or a combination of these two factors.
Side effect of medications
Anti-androgens
Anabolic steroids and androgens.
AIDS medications.
Anti-anxiety medications, such as diazepam (Valium).
Tricyclic antidepressants.
Ulcer medications
Cancer treatment (chemotherapy).
Heart medications
Health conditions
Hypogonadism
Aging
Tumors
Malnutrition and starvation
Substance abuse
Alcohol
Amphetamines
Marijuana
Heroin
Methadone
Symptoms Of Gynecomastia:
Signs and symptoms may include the following:
Swollen breast gland tissue
Breast tenderness
Pain
Tenderness
Nipple discharge in one or both breasts
Diagnosis Of Gynecomastia:
The following procedure is undertaken to diagnose gynecomastia:
Physical examination
Blood tests
Mammograms
Computerized tomography (CT) scans
Magnetic resonance imaging (MRI) scans
Testicular ultrasounds
Tissue biopsies
Treatment Of Gynecomastia:
Generally gynecomastia regresses over time without any treatment.
However, if it does not, the following treatment is available:
Medications
tamoxifen (Soltamox)
raloxifene (Evista)
Surgery
Liposuction
Mastectomy
By : Natural Health News