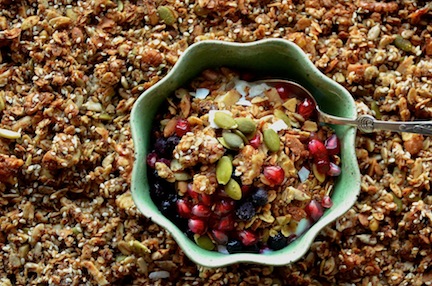 Power Granola
What do you need?
    2 cups regular oats
    1/3 cup ground flaxseed
    1/4 cup chopped walnuts
    1/4 cup chopped slivered almonds
    2 teaspoons ground cinnamon
    1/3 cup orange juice
    1/3 cup honey
    1/4 cup packed brown sugar
    2 teaspoons canola oil
    1 teaspoon vanilla extract
    Cooking spray
    1/3 cup dried cranberries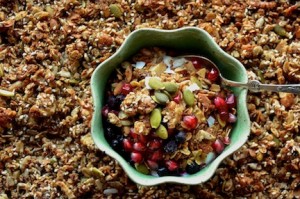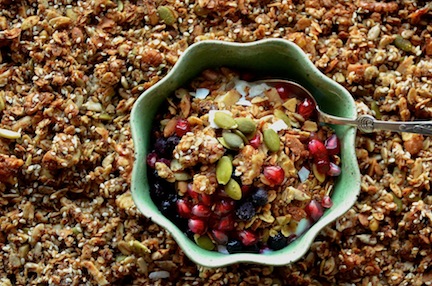 How do you make it?
    Preheat oven to 300°
    Combine first 5 ingredients in a medium bowl
    Combine orange juice, honey, and brown sugar in a small saucepan
    Cook over medium heat just until sugar dissolves, stirring frequently.
    Remove from heat and stir in oil and vanilla
    Pour honey mixture over oat mixture, stirring to coat
    Spread mixture in a thin layer onto a jelly-roll pan coated with cooking spray
    Bake at 300° for 10 minutes; stir well.
    Bake an additional 10 to 15 minutes or until golden brown
    Spoon granola into a bowl
    Stir in dried cranberries
    Cool completely
How many servings would you get out of it?
You will get approximately 4 servings measuring ½ cup each.
Good to know!
Store completely cooled granola in an airtight container at room temperature for up to 2 weeks. You can use it in so many ways. You can refrigerate and make interesting food bags to give away at a party or for your kid's school friends on his/her birthday. You can so many creative things using these bags. Also try pairing it with yoghurt if you find it to be drying on its own.
Source: My recipes
By : Natural Health News