Vitamins
Experiencing Hair fall? Can Be A Result Of Vitamin D Deficiency !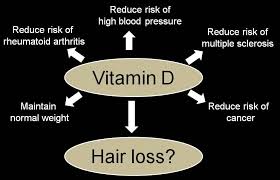 The very first thing we do when we experience hair fall is to go for several home remedies, shampoos, oils, commercially available anti hair fall products and so much more.  It is until after months of failed attempts and zero results we realize that it can be due to an underlying condition. This underlying condition usually can be deficiency of vitamin D.
Vitamin D is known for strengthening bones and keeping skin healthy. It has recently emerged through research that it can also play an immense role in promoting hair growth.
A 2012 study in the journal Stem Cells Translational Medicine suggests that the vitamin can help create new follicles — little pores where new hair can grow.
Vitamin D activates hair follicles that get dormant over a period of time. It is however, not guaranteed that even after taking vitamin D and activating hair follicles you will surely witness hair growth. There are still chances that hair won't produce even after overcoming vitamin D deficiency but mostly this deficiency is known to be the cause of hair fall. Next time, you experience hair fall make sure that you get your vitamin D levels checked before jumping onto thousand different treatment options and making your hair fall situation even worse.
Recommended Daily Intake
    600 international units OR
    15 micrograms
Natural Sources of Vitamin D
    Fish (salmon, swordfish)
    Mushrooms
    Grains
    Fortified orange juice
    Low-fat fortified milk
    Direct, but controlled contact with sun
Warning
Over ingestion of vitamin D can lead to excessive build up in fat tissues at dangerous levels. If you exceed daily recommended intake it can lead to reserves of calcium in your blood leading to kidney problems and fatigue.
Precautions
If you opt for vitamin D supplements just be sure to take it with a meal that has fats in it so it can easily get absorbed without causing any adverse effects.
By : Natural Health News