Brand Name: ENCHANTEUR
Purpose: Moisturizing with elegant musk fragrance
Ideal for: All skin types
Priced at: 22 SAR in Saudi Arabia at Danube and Carrefour
Overall Rating: 4.7/5
Packaging Highlights
    Not a very impressive packaging
    Made of cheap plastic and printed paper pasted on top
    Good thing is that comes with a pump which controls the amount of product dispensed
    Packaging is kind of ok for the price
What I like about ENCHANTEUR ELEGANT MUSK LOTION?
    Oh it smells like heaven
    So soso moisturizing and refreshing
    Makes skin so soft and smooth that I cannot stop touching it
    Does not dry out skin after washing off like some of the moisturizers do
    Actually moisturizes and softens skin
What I don't like about ENCHANTEUR ELEGANT MUSK LOTION?
My thoughts on ENCHANTEUR ELEGANT MUSK LOTION
Another product I bought based on my mother in law's recommendation. Hers finished and she was desperate to get a new bottle because apparently it was out of stock everywhere. Every time I used to go out to the mall she used to instruct me to look for EnchanteurOud lotion because she loved the smell of Oud. I got so curious as to why she was so desperate about getting this particular lotion when I offered her to try some other really amazing ones in the market. Now I know why she was reluctant on getting this lotion in particular.
I went to Carrefour once and saw a giant sized bottle of Enchanteur Elegant Musk lotion that too on a promotional price. I was so excited that finally I can go back home and surprise her with something she wanted to get since so many days. I looked for Oud everywhere because she instructed me to get Oudonly but no, I couldn't find it anywhere. I discussed it with my husband and we thought why not get Musk instead, because Musk and Oudboth share a particular scent that we thought might impress his mother. We were right about it because she loved the scent so much that she rated it better than Oud. My curiosity at this point was reaching the highest levels and I reluctantly asked her if I could please try this once because I wanted to know WHY DOES SHE LOVE IT SO MUCH? She being generous gave me a good amount and the moment I started massaging it on my hands I knew I would be addicted to it like she is.
Now I can safely say that Enchanteur Elegant Musk lotion is one of the best body lotions I have tried so far. I went to Carrefour that same evening and got two giant sized bottles for myself and my mom. This is one highly recommended body lotion if you are looking for something that actually works when it comes to moisturizing your body.
What is it made of?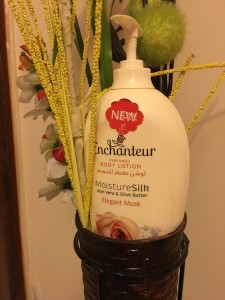 By : Natural Health News
Save
Save