172 grams of black beans contain:
    227 calories
    8 calories from fats
    0 gram of saturated or trans fats
    1 gram of total fat
    0 mg of cholesterol
    2 mg of Sodium
    41 grams of carbohydrates
    15 grams of dietary fiber
    15 grams of protein
    5% of calcium &
    20% of iron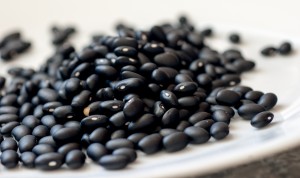 Black beans have been rated has world's healthiest foods because it is low in saturated fat, cholesterol and sodium.
Black beans are an ideal source of:
    Protein
    Thiamin
    Magnesium
    Phosphorus
    Manganese
    Dietary Fiber &
    Folate
In case you need more information about health benefits of black beans do not hesitate to follow the links down below.
EATING BLACK BEANS MAY WARD OFF CANCER FROM YOUR LIFE, READ TO FIND OUT HOW?
NOT A MEAT PERSON? REPLACE YOUR PROTEIN REQUIREMENT WITH BLACK BEANS & ENJOY THESE HEALTH BENEFITS
By : Natural Health News