Brand Name: CeraVe
Ideal for: Eczema prone and dry skin.
Purpose: To moisturize and restore dry, dull and flaky skin.
Priced at: $12.99 at drugstore.com (excluding taxes)
Rating: 5/5
Packaging Highlights
    Comes in a huge white jar
    Nothing too fancy, just simple blue and white color theme that represents hydration
What I like about CERAVE MOISTURIZING CREAM?
    It moisturizes, restores and nourishes dead and flaky skin
    Does not clog pores
    Safe to put on the skin
    Does not feel greasy and instantly absorbs into the skin
    Developed by skin experts
    Keeps skin hydrated all day
    Makes skin baby soft
What I don't like about CERAVE MOISTURIZING CREAM?
I absolutely love this jar of moisture and have nothing bad to say about it.
My thoughts on CERAVE MOISTURIZING CREAM
I initially ordered it for my dad because he's got some skin allergies so I thought this might help control his skin dryness. I used it randomly one day and I absolutely loved how soft it made my hands without making them greasy. For me, a moisturizer being non-greasy is so important that I don't care how amazing the results are, if it's greasy I don't buy it. This one is just perfect and offers results that are long lasting. I can clearly feel my skin is getting restored and the softness I feel immediately after putting it up remains even when I skip 2 to 3 days which has never been possible with so many other moisturizers I used. Even the most expensive ones out there didn't have long lasting results.
I highly recommend this jar of moisture to all those who are battling with super dry and flay skin type.
What is it made of?
Purified Water, Glycerin, Ceteareth-20 and Cetearyl Alcohol, Caprylic/Capric Triglyceride, BehentrimoniumMethosulfate, Cetearyl Alcohol, Cetyl Alcohol, Ceramide 3, Ceramide 6-II, Ceramide 1, Hyaluronic Acid, Cholesterol, Petrolatum, Dimethicone, Potassium Phosphate, Dipotassium Phosphate, Sodium LauroylLactylate, Disodium EDTA, Phenoxyethanol, Methylparaben, Propylparaben, Phytosphingosine, Carbomer, Xanthan Gum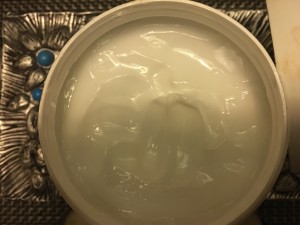 Save