Brand Name: Gerard Cosmetics
Shade: Pretty Penny (Warm Bronze)
Ideal for: Adding a hint of color with glossy finish on the lips with neutral eyes and intense winged eyeliner.
Priced at:
$24 excluding taxes – full price
$9.60 on sale
Rating: 4.8/5
Packaging Highlights
    Very cool, unique and chic packaging
    Comes with a nice mirror on the side to give you a clear view of your lips
    Comes with an LED light in the doe foot applicator
    The actual gloss is further packed in a black and gold themed standard Gerard packing
What I like about GERARD COSMETICS COLOR YOUR SMILE LIP GLOSS PRETTY PENNY?
    The packaging of course
    The gloss is non-sticky
    Such an awesome warm bronzed shade ideal for everyday wear with soft neutral eyes
    Compliments so many skin tones
    Looks great on nude lip base
    Adds a nice warm bronze hue to the neutral lip colors
    Not golden bronze at all
    Color is simply wow
    Great for wheatish to dark complexions
What I don't like about GERARD COSMETICS COLOR YOUR SMILE LIP GLOSS PRETTY PENNY?
    Doesn't last longer which is a typical problem with all glosses
    Doesn't look nice of really fair skin tones
My thoughts on GERARD COSMETICS COLOR YOUR SMILE LIP GLOSS PRETTY PENNY
I ordered the color after looking at an Instagram post on Gerard Cosmetics' official account which looked awesome in the picture but when I received it I was a little shocked and disappointed at how it looked golden bronze. I thought I would never use it and would probably throw it away but then I randomly swatched it and OMG! I absolutely loved it. I am not the type of person who would go for bronzed lips but this one is just awesome. I first layer my lips with a warm brown pencil and then layer it on top to increase the wear time. Absolutely love how it enhances the overall look of my neutral eyes.
I highly recommend it to people with wheatish complexions or dark skin tones. It might look orangey bronze on really fair complexions therefore, it is advised that you think twice before picking this color up if you are NC 15 or below and especially if you have pink undertones. This is ideal for people with warm beige  or yellow undertones.
What is it made of?
Not available on the official Gerard website.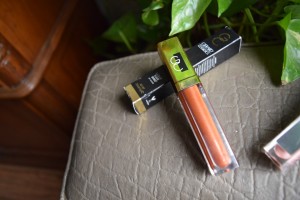 Save