SALE! This one word excites a woman more than the hottest man on planet does!
It's a funny description though…
Anyways, moving on to the director who is a makeup hoarder herself just stepped in to share her haul because she is the one who reviews all the products which sometimes makes us wonder where does she put all her makeup on. I mean common, she's got only one face but she knows well how she manages because she doesn't stop looking flawless for even a day at work. Enough said! Need to step on the brake and hand it over to her so that she can delight you all with her recent haul.
Hello everyone! I am super excited to share with you all my recent haul which is probably going to be the first ever haul going up on this blog because we were not adding hauls previously. We have now deiced to haul whatever we buy so that you can enjoy along with us! I'd be the one mostly sharing my hauls as I am the only one on the entire panel shopping all the time for more and more makeup.
Sharing with you all my Black Friday & Cybery Monday Haul Part I. Detailed reviews will be up on the product analysis section once thoroughly used.
Urban Decay Vice 4
This is love at first sight!
    Beautiful packaging
    Richly pigmented shades
    Beautiful color selection
Anastasia Illuminator "Starlight"
Love, love, love how it looks on my skin tone!
Custom Cover Drops by COVERFX
It was 20% off at COVERFX and I have been eyeing them since long so this was the right time to adda bottle to the cart.
Total Cover Cream Foundation by COVERFX
A tester from Sephora drove me nuts about this foundation. This foundation was love at first application and with 20% off I needed it even more so I went ahead and added it to cart.
NARS Blush in "SIN"
I had no plans to buy another blush but a little birdie told me NARS is having 20% off, I rushed to the website immediately, clicked blushes, Googled this color and added it to cart. Upon receiving I was a little shocked and disappointed as I saw it in a different light and it looked like a grey toned highlighter to me more like the color of sand but in the morning on my way to work when I applied it I LOVED it soooo much!
NARS Semi-Matte Lipstick in "MOROCCO"
Same happened with the lipstick. I thought initially from the swatches that it's going to be a beautiful nude shade with orange undertones but when I opened it looked weird rust color to me which I immediately thought would not look good one me but when I applied and came to work almost everyone was asking what color and brand am I wearing? So, yeah! It's a winner!
TATCHA Luminous Dewy Skin Mist
This was totally a surprise in my mailbox. A present by my husband that was totally unexpected. I was eyeing this ever since Jaclyn Hill raved about it and finally thanks to my husband who made it possible. 😀
That's it for now! Some more hauls coming in. Stay tuned: X
For more fun stuff follow me on:
Snapchat: enumrana
Instagram: enumrana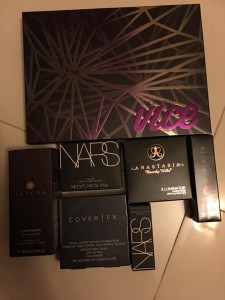 By : Natural Health News