Recipe: Goat Cheese Omelet
What Do You Need? *for 4 servings*
    8 large eggs
    kosher salt and black pepper
    1tablespoon butter
    4 ounces fresh goat cheese, crumbled
    4 scallions, thinly sliced
    3 tablespoons olive oil
    1tablespoon white wine vinegar
    1teaspoon Dijon mustard
    6 cups baby arugula
    1small baguette, warmed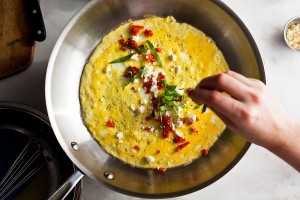 How Do You Make It?
    Whisk eggs together in a bowl
    Add 2 tablespoons water, ½ teaspoon salt, and ¼ teaspoon pepper
    Melt the butter in a large nonstick skillet over medium heat
    Cook the eggs, without stirring, until they begin to set, 2 to 3 minutes
    Lift the edges with a rubber spatula
    Tilt the pan so that the uncooked eggs flow to the edges of the pan
    Cook until set for about 1 minute
    Sprinkle the cheese and scallions over the eggs
    Fold a third of the omelet over the center in the pan
    Fold over the other third
    Cut it into 4 pieces
    Whisk together the oil, vinegar, mustard, and ¼ teaspoon each salt and pepper
    Drizzle over the arugula
    Serve with the omelet and bread
How Many Calories Would You Consume With This?
Good to Know!
Goat cheese contains 80 calories and 6 grams of fat per ounce as compared to cow milk which generally contains about 100 calories and 10 grams of fat per ounce. When it comes to fat and calories, goat cheese has the advantage over cheese made from cow's milk therefore; it is clearly a better choice to stay thin and healthy. It also contains 5 grams of protein in a single ounce and is a really good source of high-quality protein as compared to other protein sources such as meat.