Diet
8 Refreshing Drinks That You Can Try in Ramadan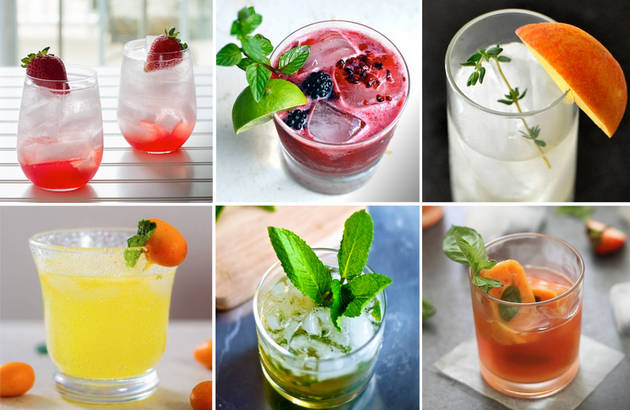 What better way to end a fine Ramadan feast than with a thirst-quenching drink to wash it all down? Guests generally prefer to end their meals on a sweet note, but an unhealthy sugary aftertaste may put off a few palates. Now that the summer heat has arrived, cool things down with one of my favourite summer drinks, my cherry lemonade! It's refreshing, simple to make, and non-alcoholic so the whole family can enjoy it.
Ramadan and summers call out for a need for some immediate refreshment. Therefore, we gathered a lot of foodies and put our heads together and came up with some delicious drinks that not only taste good, but will also help you remain refreshed throughout the day.
In Pakistan people generally drink a rose flavored drink called Roh Afza. In rural parts some families serve Yogurt Milkshake instead of rose flavored drink. If Ramadan arrives in summer then lemonades are served at Iftar dinners. Because Muslim calendar is a lunar calendar so there is no fix season for Ramadan. Therefore seasonal fruits and ingredients bring more variety to Ramadan Healthy Diet Plan recipes.
Fruit Juices
Fruit juices are tasty, easy to get ready and go well with most people. You can adjust your drink by choosing the fruits you prefer as well as the quantities you use. As fruit juices are best served chilled, it's a perfect drink to help you beat the heat.
Dates Shake
Dates and Ramadan go hand-in-hand. So, why not put together a smoothie out of it? This particular recipe only wants a handful of dates, cream, milk and honey. Blend it and retailer it within the fridge.
Lemon Mint Juice Shake
This one is very simple. As the name suggests, all you need is lemon, sugar and mint. Squeeze the lemon, add sugar and mint leaves, and stir it well. Lemon can add the much needed freshness to your Diet.
Watermelon Green Tea Refresher
This healthy drink is rich in antioxidants from the green tea and has heart-healthy nutrients from the watermelon. The lemon juice in the drink improves digestion and also helps detoxification of the body.
Mint Lime Iced Tea
Mint leaves are the great way to transform a regular beverage into an invigorating one, and this thirst-quenching mocktail is no different. Blend simple syrup out of sugar, water, Lime Seasoning and crushed mint leaves, then mix in pre-steeped Lipton Yellow Label Tea. The result is an irresistible tropical drink that is completely complemented by the slightly acidic tea base.
Kiwi Mint Lemonade Shake
Do you know that Kiwi Fruit is one of the healthiest fruit varieties on the planet? It's rich in Vitamin C, almost twice as much as and orange a three times more than a lemon. It's full to the brim with antioxidants and is rich in fibres. It was a good addition to our Iftar table.
Strawberry Shake
Strawberry, ginger ale and lemonade mixed together, it's refreshing and is a great thirst quencher. This is certainly going to be a large hit and will turn into everyone's favorite drink for summer.
Tamarind Shake
One more traditional drink that is enjoyed during the month of Ramadan is the Tamarind. It is a sour-sweet drink made of tamarind fruits paste mixed with sugar and water. For those who do not like sweet drinks, Tamarind can be the perfect Ramadan drink for them.
Water
Water is the best, most obvious, most effective and most accessible beverage available for Ramadan. Some of the drinks on this list can be passed if you have certain favourite or dietary requirements.
Water, however, is mandatory. Make sure you are getting enough of it during the break of your fast. It can also be consumed with other drinks and meals during iftar and suhoor.
What you eat needs to align with the weather and conditions you live in, what your job is like and what your lifestyle is, among other things to make sure it is healthy and helps your Diet Plan for Weight Loss goals.