Fashion
Zara Shahjahan Spring/Summer 2016 Lawn Collection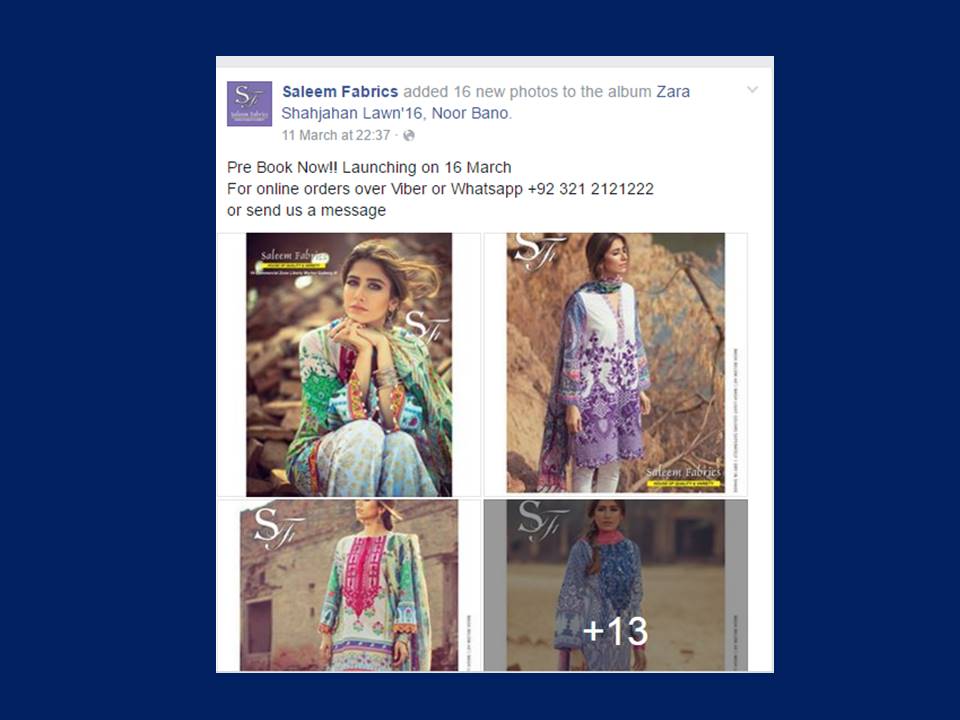 This summer Zara Shahjahan has been in the news not because of her collection but because of the bad stuff that happened before her launch date. The designer had to go through a lot of mess caused due to her retailers but the point is that she herself called for it.
The first teaser that went up on her Facebook page where SyraSheroz was seen wearing a beautiful lilac outfit (that apparently looked lilac in pictures) caught so much attention that our women almost glued to her page for further updates on the launch or pre-booking date. That also raised desires amongst people to see more designs from her collection which she didn't upload till date even after her collection has been launched. Saleem Fabrics (Lahore) had to jump in and do it for her which caused a massive chaos amongst the audience. The designer added fuel to the already ablaze fire by changing the launching date over and over again. People felt disappointed, betrayed, heartbroken and so much more when their favorite designs sold out. When? Where? How? No one knows this! The problem was that people were just glued to her page for updates which she never updated; neither posted the collection, nor announced that the pre-booking was open.
Initially, the pre-booking was supposed to start on 12th March but was postponed to 14th March with no sign of the actual collection on her page,and then on 11th
March the status update on her Facebook page shows something like this:
Zara Shahjahan
11 March at 16:47 •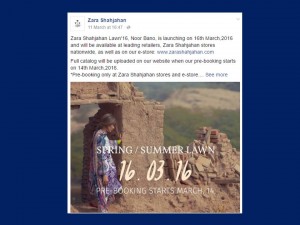 "Saleem Fabrics added 16 new photos to the album Zara Shahjahan Lawn'16, Noor Bano.
11 March at 22:37 •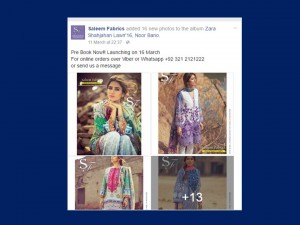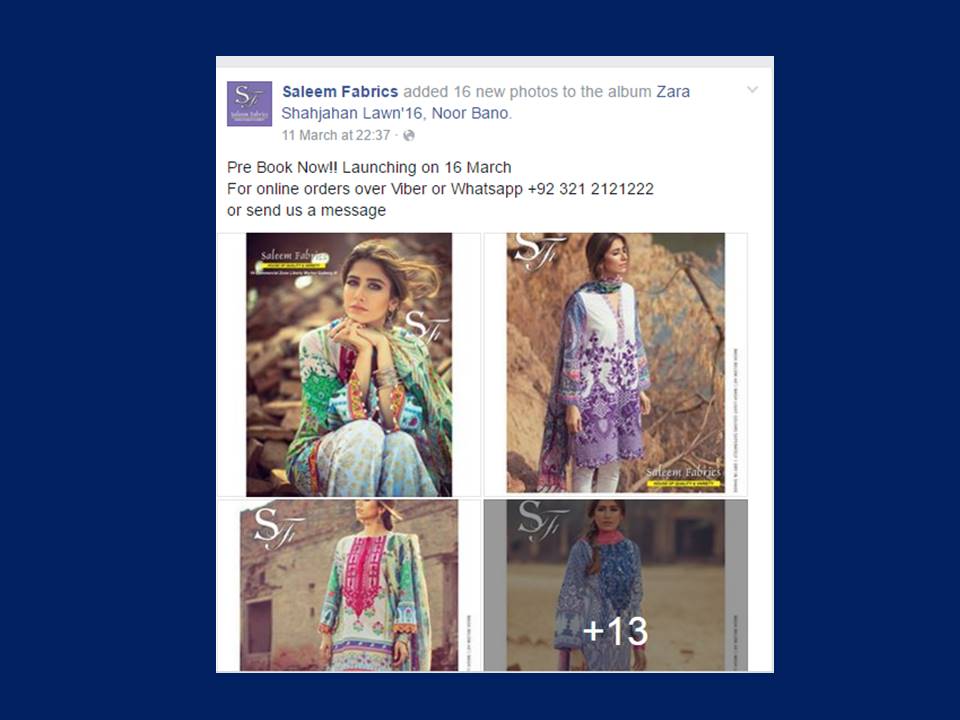 Anyways, the news started spreading and immediately after Saleem Fabrics posted this status, Murad FabricsFasialabad went ahead and started taking pre-booking too. This caused massive chaos and by the time people woke up the next morning "Zara Shahjahan" was apparently sold out. The entire collection wasn't all that appealing either, just the two designs "kehkshaan" & "Chasm-e-Shahi" were the real hits and they caused the actual havoc everywhere. People got super pissed and out of sheer disappointment ordered whatever they could get their hands on. Just because of all the hype people ended up ordering anything that they could get their hands on. The situation was nothing less than a war happening in a battlefield. "Take what you can" type situation emerged everywhere.
Once it all happened; people came onto her page, started complaining which further lead to cursing because of stubborn attitude by the designer. No apology whatsoever until a campaign against the brand started in the form of a Facebook page "Boycott Zara Shahjahan". This page in my opinion is something that should have been done because that is the only way we can spread awareness in our public that we have to boycott brands like these who play with the minds of their customers just to create a fake hype so that their product sells. Come on, you charge a hefty amount; please make your product and your service worthwhile!
Then came another status update on the page but still no sign of the actual collection on her own page. Things would have been better only if the designer or her team had initially at least uploaded hthe collection like most of the brands do. Why was she hiding her collection even till the last day? This was the status update after all the mess that was caused:
Zara Shahjahan
14 March at 17:23
Does this make sense to anyone? It doesn't to us atleast!
Actual launch date was 16th March apparently but on 15th a status update came showing how overwhelmed the designer is by the response. I mean come on, the launch date is yet to come! Stop fooling people!
Zara Shahjahan
15 March at 17:55 •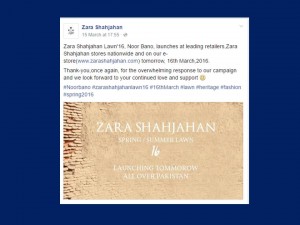 And the story ended right here. People moved on and the brand earned a really bad name. Such a messy attitude throughout by the designer and her team! She treated the audience like she is selling the stuff for free. People who have some basic sense would probably not fall into this gross marketing gimmick ever again!