Skin & Beauty
The Best Moisturizing Body Wash for Organic and Healthy Skin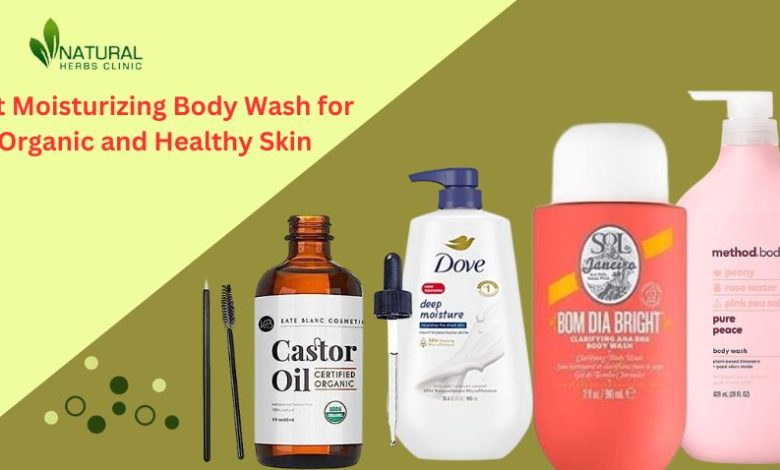 Are you looking for the best moisturizing body wash that will help you keep your skin healthy and organic? If so, you've come to the right place. We understand the importance of finding the best organic beauty and personal care products to keep your skin hydrated and looking its best. That's why we've put together a list of the top moisturizing body washes available today. We'll take a look at the features and benefits of each one so that you can find the one that works best for your skin type and needs.
Moisturizing Body Wash
When it comes to skincare, finding the right products that nourish and hydrate your skin is essential. One product that often gets overlooked is moisturizing body wash. Many people think that a regular soap or body wash is enough to cleanse their skin, but using a moisturizing body wash can make a significant difference in your skin's health and appearance.
Moisturizing body washes are specifically formulated to provide deep hydration and nourishment to your skin while cleansing it. They contain ingredients that help lock in moisture and prevent your skin from drying out, leaving it soft, smooth, and supple.
Using a moisturizing body wash from our Personal Care Products List can help combat common skincare issues like dryness, flakiness, and rough texture. It can also help soothe and heal irritated skin, making it a great option for those with sensitive skin or conditions like eczema.
Don't underestimate the importance of a good moisturizing body wash in your skincare routine. It can make a world of difference in how your skin looks and feels. So, why settle for anything less when you can give your skin the hydration and nourishment it deserves?
Ingredients to Look for in a Moisturizing Body Wash
When searching for the perfect moisturizing body wash, it's essential to look for specific ingredients that will provide your skin with the hydration it needs. One ingredient to look for is glycerin, a powerful humectant that attracts moisture to the skin and helps retain it. Another beneficial ingredient is aloe vera, known for its soothing and moisturizing properties. Other key ingredients to consider are shea butter, which is rich in vitamins and essential fatty acids, and coconut oil, known for its moisturizing and nourishing abilities. By choosing a moisturizing body wash from our Personal Care Products List that contains these ingredients, you can ensure that your skin receives the ultimate hydration and care it deserves.
Benefits of Using Moisturizing Body Wash Regularly
Using a moisturizing body wash regularly offers a multitude of benefits for your skin. Firstly, it helps to deeply hydrate and nourish your skin, leaving it soft and supple. This can improve the overall texture and appearance of your skin, making it look healthier and more radiant. Secondly, a moisturizing body wash can help to alleviate dryness, flakiness, and roughness, especially for those with sensitive skin or conditions like eczema. It also aids in soothing and healing irritated skin, promoting a calm and comfortable sensation. Lastly, incorporating a moisturizing body wash into your skincare routine can contribute to long-term skin health and prevent premature aging, ensuring that your skin stays youthful and glowing. With all these amazing benefits, it's clear that a moisturizing body wash is a must-have for achieving and maintaining healthy, organic skin.
Tips for Maximizing the Benefits of Moisturizing Body Wash
To get the most out of your moisturizing body wash, here are a few tips to consider. First, make sure to use lukewarm water instead of hot water when showering. Hot water can strip your skin of its natural oils, causing dryness. Secondly, gently pat your skin dry with a towel instead of rubbing vigorously. This helps to retain some moisture on your skin. Next, apply your moisturizer immediately after showering while your skin is still damp. This helps to lock in the hydration from the body wash. Lastly, remember to exfoliate your skin regularly to remove dead skin cells and allow the moisturizing ingredients to penetrate better. By following these tips, you can maximize the benefits of your moisturizing body wash and achieve the healthy and organic skin you desire.
Here are the best  body  wash moisturizers  that can you apply to keep your skin healthy and beautiful.
Method Body Wash, Pure Peace, Paraben and Phthalate Free, 28 oz (Pack of 1)
Method Body Wash Contains (1) 28 ounce bottle of gel liquid body soap.

Infused with peony, rose water + pink sea salt.

Biodegradable formula made with plant-based cleansers.

Made with no parabens, no phthalates, no bad vibes.

Leaves skin feeling moisturized + smelling scent-sational.

Bottle (minus pump) made of 80% recycled plastic (PCR).

Cruelty free. Tested by people, not on animals.
Pure Peace scent smells like a blend of rose water, sweet peonies and sweet serenity.

Proudly doing business with a purpose.
SOL DE JANEIRO Bom Dia Bright Body Wash
Bom Dia Bright Body Wash Radiant, clearer-looking skin. Sulfate-free, non-stripping body wash with AHAs and BHAs for balanced complexion and glow. Warm floral Cheirosa 40 fragrance with notes of Black Amber plum and vanilla woods.
BENEFITS
AHAs and salicylic acid gently exfoliate and clarify pores while avoiding ingrown hairs and bumps.
SUGGESTED USE
Massage all over your body for 30-60 seconds. Rinse clean to reveal radiant skin.
Native Body Wash Natural Body Wash for Women, Men | Sulfate Free, Paraben Free, Dye Free, with Naturally Derived Clean Ingredients Leaving Skin Soft and Hydrating, Charcoal 18 oz – 2 Pk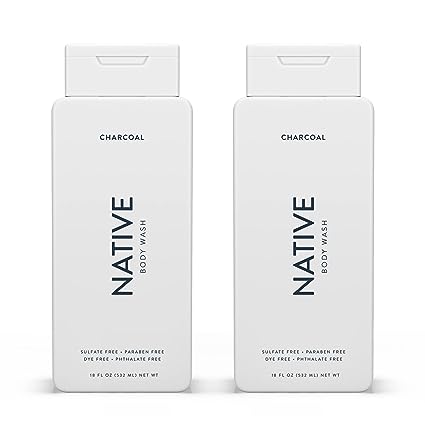 Natural Clean Ingredients – Natural body wash contains naturally derived ingredients. We also use both safe, synthetic, sustainable fragrances (free of phthalates) and natural fragrances.
Clean Scents – Our aromatic scents turn the routine task of showering or bathing into a memorable and luxurious experience. It's the little things in life.
Soft Skin Feeling – Lovingly made with cleansers derived from coconut oil to leave your skin feeling hydrated.
Transporting you to your own private white sand beach, the Native Body Wash is both sweet and sophisticated.
Vegan & Cruelty Free – Our body wash is free of SLS, SLES & phthalates.
Pick Your Favorite Scents – The only thing left to do is pick your favorite bath or shower time scents for a clean, refreshing, natural wash.
Dove Body Wash with Pump Deep Moisture For Dry Skin Moisturizing Skin Cleanser with 24hr Renewing MicroMoisture Nourishes The Driest Skin 30.6 oz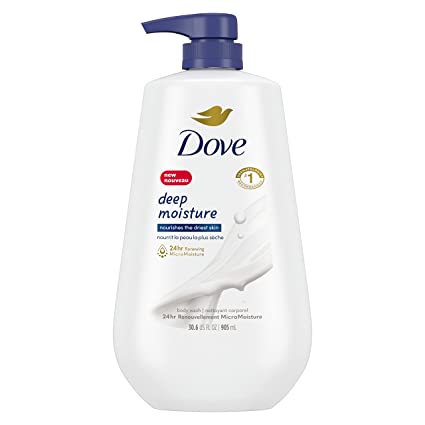 24HR RENEWING MICROMOISTURE: Dove Deep Moisture Body Wash gently cleanses and deeply moisturizes the skin, leaving it renewed and healthy-looking for 24 hours
FOR SOFT, SMOOTH SKIN: Our deeply moisturizing body wash, formulated with millions of MicroMoisture droplets, leaves skin soft as silk
NOURISHES THE DRIEST SKIN: Dove Deep Moisture Body Wash for dry skin actively regenerates skin's natural moisture and deeply nourishes the driest skin, leaving it soft and hydrated
HOW TO USE: Squeeze a generous amount of Dove Deep Moisture Body Wash into your palms. Massage the moisturizing body wash onto your skin, taking a moment to enjoy the rich lather before rinsing off
NO.1 DERMATOLOGIST-RECOMMENDED BODY WASH BRAND: From the No.1 dermatologist-recommended body wash brand, this body wash, made with plant-based moisturizers, gently cleanses your skin and nourishes its microbiome
THOUGHTFULLY MADE: This sulfate-free body wash is vegan and Dove is PETA approved, meaning we do not test on animals, anywhere in the world. Our body wash is packaged in 100% recycled plastic bottles, so you can feel good about switching to Dove
Proactiv 3 Step Acne Treatment – Benzoyl Peroxide Face Wash, Repairing Acne Spot Treatment for Face And Body, Exfoliating Toner – 60 Day Complete Acne Skin Care Kit, Multicolor
THE ORIGINAL ACNE KIT THAT STARTED A SKINCARE REVOLUTION – Designed specifically for acne-prone skin, Proactiv Solution delivers finely-milled benzoyl peroxide deep into your pores to help stop acne-causing bacteria in its tracks and prevent new breakouts from forming.
YOU NEED MORE THAN A PIMPLE CREAM – Proactiv Solution is a powerful, comprehensive acne treatment system that goes deep into your pores, removes impurities and helps prevent future flare ups.
YOUR SKIN ROUTINE, MADE EASY – Just 3 steps a day gets you on your way to clear, radiant skin.
SAFE FOR ALL AGES AND SKIN TYPES – Proactiv's 3-Step Kit provides the same powerful skin care for teens and adults, and is great for sensitive skin.
This kit includes: Proactiv Solution Renewing Cleanser, 4 FL. OZ. ; Proactiv Solution Revitalizing Toner, 4 FL. OZ. ; Proactiv Solution Repairing Treatment, 2 FL. OZ.
CeraVe Moisturizing Cream | Body and Face Moisturizer for Dry Skin | Body Cream with Hyaluronic Acid and Ceramides | Hydrating Moisturizer | Fragrance Free Non-Comedogenic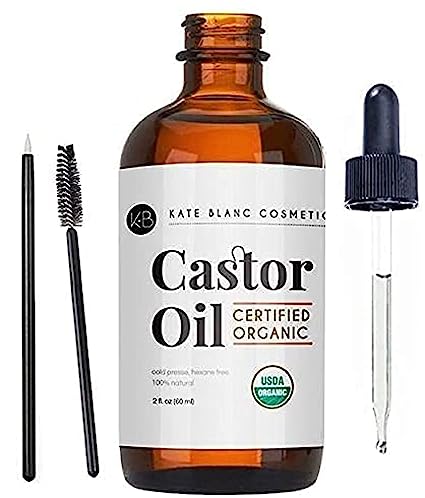 USDA CERTIFIED ORGANIC CASTOR OIL – Kate Blanc's Organic Cold Pressed Castor Oil is certified by USDA and is guaranteed to be authentic, pure, natural, and hexane free. 100% Guaranteed Authentic or FULL REFUND.
GROW LUSH LONG EYELASHES AND BOLD EYEBROWS – The eyelash and eyebrow kit allow simple application to eye lashes and brow lines to promote eyelash growth and eyebrow growth. The glass dropper is perfect for applying drops on eyelashes and nails.
STIMULATE HAIR GROWTH – Grow longer and thicker hair in a quick, natural way, while also diminishing hair loss. Pure castor oil is a natural hair treatment pack for dry brittle hair, dry scalps, and dandruff.
SMOOTHER SKIN – Keep your face moisturized and reduce blemishes, acne, pimples, scars, and fine lines without leaving your skin dry. Pure castor oil has a thick and sticky consistency because it's full of moisturizing fatty acids.
CeraVe Moisturizing Cream | Body and Face Moisturizer for Dry Skin | Body Cream with Hyaluronic Acid and Ceramides | Hydrating Moisturizer | Fragrance Free Non-Comedogenic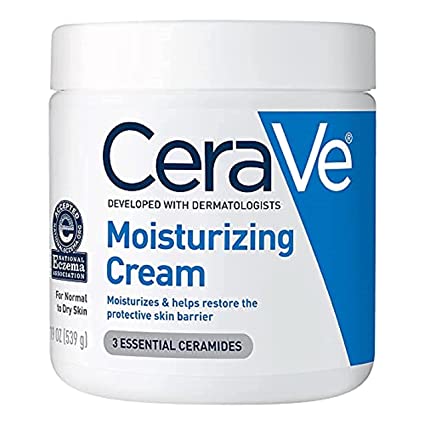 [ HYALURONIC ACID MOISTURIZER ] With hyaluronic acid, ceramides and MVE technology for 24 hour hydration. Rich, velvety texture that leaves skin feeling smooth, it is absorbed quickly for softened skin without greasy, sticky, feel.
[ MOISTURIZER FOR DRY SKIN ] A deficiency of ceramides in skin can often be associated with dry skin, which can feel itchy and look flaky. CeraVe Moisturizing Cream is formulated with three essential ceramides & hyaluronic acid.
[ GENTLE DAILY MOISTURIZER ] For face and body or can be used as a hand cream for dry skin relief. Holds National Eczema Association (NEA) Seal of Acceptance. Fragrance free, paraben free, allergy-tested, and non-comedogenic.
[ 3 ESSENTIAL CERAMIDES ] Ceramides are found naturally in the skin and make up 50% of the lipids in the skin barrier. All CeraVe products are formulated with three essential ceramides (1, 3, 6-II) to help maintain the skin's natural barrier.
[ DEVELOPED WITH DERMATOLOGISTS ] CeraVe Skincare is developed with dermatologists and has products suitable for dry skin, sensitive skin, oily skin, acne-prone, and more.
Neutrogena Rapid Wrinkle Repair Retinol Face Moisturizer with SPF 30 Sunscreen, Daily Anti-Aging Face Cream with Retinol & Hyaluronic Acid to Fight Fine Lines, Wrinkles, & Dark Spots, 1 fl. Oz
1-fluid ounce pump bottle of Neutrogena Rapid Wrinkle Repair Retinol Face & Neck Cream Moisturizer with Broad Spectrum SPF 30, retinol & hyaluronic acid to protect skin & visibly improve the look of fine lines and wrinkles

Anti-wrinkle moisturizer has been dermatologist-tested & has proven to smooth skin & improve skin clarity in one week & in just four weeks, reduce the look of fine lines & dark spots

Anti-age neck & face cream features a combination of retinol, a dermatologist-proven form of vitamin A, to fight fine lines, dullness, wrinkles & dark spots & hyaluronic acid, to add plumping moisture to help hydrate & rejuvenate the look of skin

The daily moisturizer formula features Broad Spectrum SPF 30 sunscreen to protect skin from sun damage & help prevent sunburn, if used as directed, & is formulated without parabens, mineral oil & dyes

Our clinically tested formula with dermatologist proven retinol makes the perfect addition to your daily anti-age beauty & skincare routine for an at-home self-care experience & is the #1 retinol brand used most by dermatologists

Visible results in just one week
Vitalysin Retinol Cream for Face – Moisturizer with Hyaluronic Acid and Vitamin E, Reduce Wrinkles, Anti -ageing, Smooth the Skin, Promote Cell Turnover with Retinol and Collagen, Unclog Pores, Boost Skin Radiance, For Face Neck -Day & Night, All Skin Types for Woman and Man
Advanced Prevent Wrinkles : Vitalysin Retinol Cream for Face is very effective in anti ageing ,it reduces wrinkles by increasing the production of collagen, combatting free radicals and frim the appearance of skin texture to bring skin back to more youthful state.
Deep Moisturizer &Skin Barrier Repair: The hyaluronic acid in our formula provides excellent moisturizing effectively, and vitamin E helps improve skin dryness to moisturize the skin. Moreover, squalane repairs the skin barrier prevents moisture loss, and maintains skin elasticity. Say Goodbye to dryness.
Improve Acne &Evens Skin Tone: Our retinol cream clears skin and prevents future breakouts by unclogging pores,also fades acne scarring from previous blemishes. Retinol cream can help to exfoliate the skin and promote cell turnover, resulting in smoother, more even-toned skin.
Light Texture&Zero Residue: Our retinol cream has a light texture that is easily absorbed by the skin without feeling sticky or greasy. It leaves the skin feeling refreshed and non-greasy. The ingredients are safe and suitable for all skin types, and it is especially friendly to sensitive skin.
Vegan, Harmless Formula: Our product is never tested on animals, free from silicone, mineral oils, dye, fragrance and parabens. It is vegan-friendly.
La Roche-Posay Lipikar Balm AP+ Intense Repair Body Lotion for Dry Skin, Body Cream with Shea Butter and Niacinamide, Moisturizer for Dry and Rough Skin, Sensitive Skin Safe
La Roche-Posay Lipikar Balm Body, face and hand moisturizing cream for dry & extra dry skin, providing lasting 48hr hydration. Moisturizer with Niacinamide, shea butter & glycerin to hydrate, repair & soothe dry skin. Dermatologist & Pediatrician Tested.
BENEFITS
Triple repair body moisturizer and daily relief for dry skin that helps restore the skin's protective barrier
SUGGESTED USE
Apply prebiotic body & face cream on clean skin daily. Gently massage until absorbed. Can be used all year round.