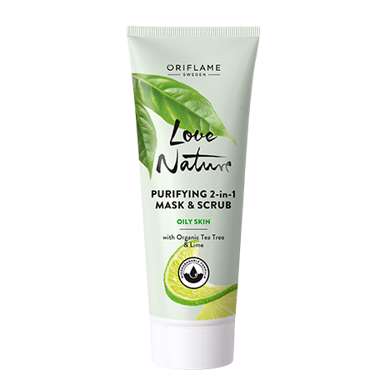 Daily cleansing and toning are always a good idea. But pampering yourself with a deep cleansing scrub or mask every few days will be like a dream come true for your Skin and Beauty– over and over again! Face masking is a pretty therapeutic step in skin care. I personally love to try out different face masks or packs for my oily, acne prone skin. Today we will be checking out the Oriflame Purifying 2 in 1 Mask and Scrub benefits.
Designed as a convenient multi-purpose mask and scrub, it's infused with all the goodness of organic Tea Tree essential oil and super ingredient Lime, making it the go-to solution for a deep and meaningful cleanse. But it won't stop there. It also works to exfoliate your skin, helps to minimise the appearance of pores and even contains salicylic acid to target blemish-prone skin.
Brand Name:   Oriflame
For: Men & Women
Includes Skin Care Combo
Organic Product
Price at 1999
How to Use Oriflame Purifying 2 in 1 Mask and Scrub
Scrub:
Apply a generous amount to damp skin. Gently circulate and rinse off. Avoid the eye area. Use twice weekly.
Mask:
Using fingertips, apply an even layer all over face avoiding the eye area. Leave on for 10–15 minutes then rinse off thoroughly. Use twice weekly.
My experience with the Oriflame Purifying 2 in 1 Mask and Scrub
It has Salicylic Acid and tea tree essential oil which are beneficial in curbing acne. I could see how the mask in spite of having a clay in it, makes the skin so soft to touch. t helps with acne and keeping the skin clear of any excess sebum or dirt.