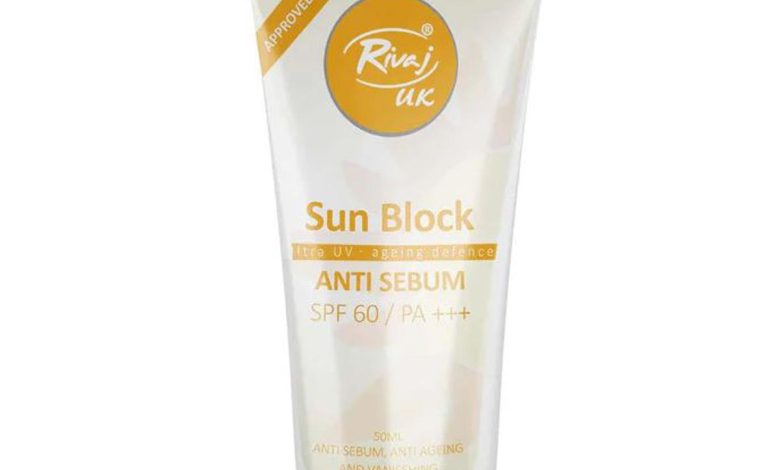 If you have acne-prone, oily and sensitive skin, our SPF60 Anti-Sebum Sunblock is for you. It's hypoallergenic, doesn't clog your poor pores & the matte finish works to absorb excess oil and stops shine. Sunscreen is an essential part of any outdoor and even indoor plan, as it helps protect our Skin and Beauty. Rivaj UK sunblock is formulated with high-quality ingredients that provide broad-spectrum protection against UVA and UVB rays.
Get effective sun protection without a heavy finish. This SPF 60 sunblock absorbs fast into the skin for a non-shiny finish. The efficient formula offers broad-spectrum protection from aging, UVA rays, and anti-sebum properties help to visibly minimize the look of pores and improve skin texture appearance.
Brand Name: Rivaj UK
Ideal for: All Skin Type
Priced at: 650
Benefits
Minimize the pores
Glides nicely on the skin
Works well under makeup
100% Genuine Product
Cheap Price
What they say:
It is water resistant
Multi-functional
Protects skin from UVA and UVB rays
Express natural skin tone
Anti-Dark Spots
Anti-Darkening
How to Use:
Apply the needed amount and gently pat until fully absorbed.
Apply onto the neck, arms, legs, and any other areas that might be exposed to the sun.
If sun exposure continues, reapply every few hours.
Rivaj Sunblock Review
Rivaj Sunscreen is a new, innovative way to protect your skin from the sun.
The product comes in two versions: for normal/dry skin types and oily/combination skin types.
It also has a light feel on your skin and doesn't leave a white cast behind, which are signs of good sun protection.
For more information about your Problem Skin please visit our website Natural Health News.