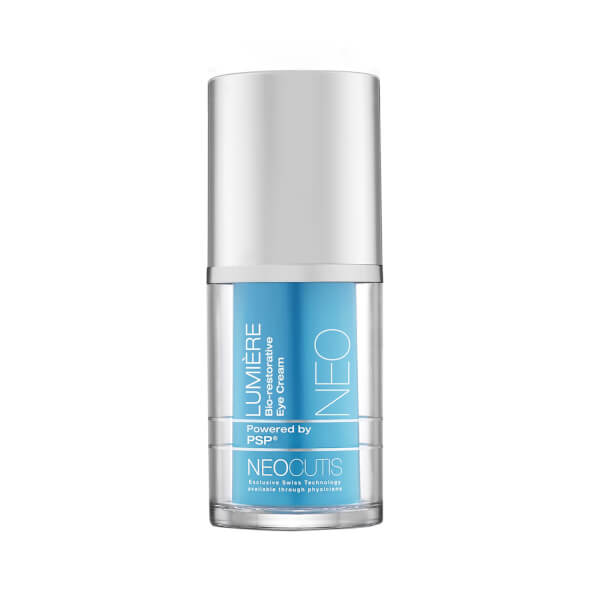 Brand Name: Neocutis Lumiere
Skin Types:  All Skin Types
Price: $97.00
Packaging Highlights:
Fragrance-free
Contains basic moisturizing ingredients
Packaged to protect its ingredients from air and light
Incredibly moisturizing and refreshing
What I like about LUMIERE BIO-RESTORATIVE EYE CREAM
Free of fragrances and color additives.
Reviewed as generally useful and beneficial to the skin.
Packaged to protect its ingredients from air and light
Comes in a luxurious looking container with an easy to use pump which gives you the right quantity of cream and keeps the product safe from contamination or oxidation.
Best price available at Amazon.
What I don't like about LUMIERE BIO-RESTORATIVE EYE CREAM
Too much Expensive
Providing light moisture is the full extent of this Skin Care Products ability.
This cream contains four different parabens and few other ingredients that are not good for sensitive skin for example Butylene Glycol and Phenoxyethanol which is a preservative that is said to be safe if used at low amounts.
Because this Anti Aging Skin Products has been reviewed as a trigger of irritation by a few users, it is always better to start with a sample before buying the full bottle.
My thoughts on LUMIERE BIO-RESTORATIVE EYE CREAM
NeoCutis Lumiere BIO-RESTORATIVE EYE CREAM is, unfortunately, not very exciting for what you get for your money. Despite the marketing claims that this will smooth fine lines and "provide your eyes with a younger, fresher outlook," it lacks the ingredients needed to make such improvements. Treating signs of aging around the eyes can make your complete complexion appear more youthful. Neocutis Lumiere Eye Cream targets fine lines and dark circles, the two main signs of aging around the eyes, to leave your complexion more radiant and vibrant. The hydrating formula softens and plumps skin to fill in crow's feet and create a smooth texture.
One very positive thing that hit me after reading many user reviews about this product was that a lot of users stated that they first noticed some observable improvements in the appearance of their skin soon after 24 hours and soon after only just a week, the results became even better.
What is it made of?
Water (Aqua/Eau), Caprylic/Capric Triglyceride, C12-20 Acid PEG-8 Ester, Glycerin, Butylene Glycol, Cetyl Alcohol, PEG-8, Saccharide Isomerate, Caprylyl Glycol, Potassium Cetyl Phosphate, Carbomer, Bisabolol, Tetrahexyldecyl Ascorbate, Caffeine, Lecithin, Cutaneous Lysate, Glycyrrhetinic Acid, Sodium Hyaluronate, Sodium Polyacrylate, Citric Acid, Tocopherol, Fagus Sylvatica Bud Extract, Elaeis Guineensis (Palm) Oil, Tocotrienols, Ascorbyl Palmitate, Squalene, Ascorbic Acid, Phytosterols, Sodium Citrate, Disodium EDTA, Sodium Hydroxide, Phenoxyethanol, Methylparaben, Ethylparaben, Propylparaben, Butylparaben.
By : Natural Health News