RECIPE:  Tuna Avocado Sandwich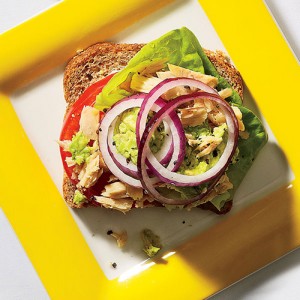 What do you need?
    1/3 avocado, mashed
    1/2 Tbsp lemon juice
    4 oz white albacore tuna, drained
    1 thick slice tomato
    1 piece butter lettuce
    1 slice red onion
    1 slice whole-grain bread
How do you make it?
    Combine avocado with lemon juice, and fold in tuna
    Stack tomato, lettuce, onion, and avocado and tuna mixture on bread for an open-face sandwich
How many calories would you consume with this?
350 CALORIES
Good to know!
Avocado is:
    Incredibly nutritious
    Contains more Potassium than Bananas
    Loaded With heart-healthy monounsaturated fatty acids
    Loaded with fiber
    Good for lowering Cholesterol and Triglyceride levels
    Good for overall health
By : Natural Health News