For the first time in Pakistan somebody took an initiative to hold a makeup master class on the patterns of international level master classes being conducted by the top makeup artists such as Mario Dedivanovic, Huda Kattan, Tamanna Roashan and some other top names in the beauty industry.
This Masterclass by Amina Raja who is one of the top makeup artists in Pakistan with 20+ years of experience in the industry,was organized and executed by Beauty Hooked, an organization that is working hard to change the way beauty is perceived here in Pakistan. To read more on Beauty Hooked click here.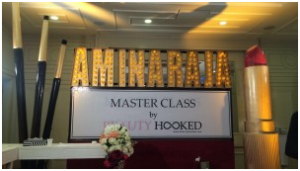 First of all, I would like to start with the arrangements. Everything was perfectly arranged in a spacious hall in Nishat Hotel which is one of the best hotels of Lahore with impeccably organized sitting arrangement. On the very first day when we entered the class, we were made to sit on our assigned seats and were greeted by goody bags on our work space which were sponsored by the leading cosmetic brands in Pakistan such as Luscious comsetics, Artdeco Pakistan and Conatural. Everything was so proper that nobody had to go through any hassles finding the seats. So much attention had been paid to every little detail which made this whole experience worthwhile.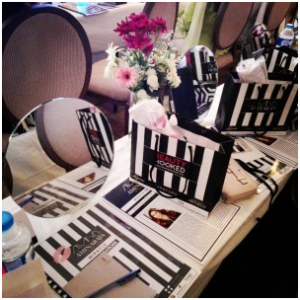 First day was all about face and little bit about basic eye makeup. From identifying our skin PH level, face shape to eye shape everything was covered so that we can better be able to decide what colors, techniques and products would suit us. Amina Raja personally helped every student identify their face and eye shapes and recommended products that would suit our skin type. She started with a little bit of chemistry on how PH balance is important to have healthy skin and how makeup should be done on different face and eye shapes. We were provided with a handbook which had all the face and eye shapes for us to clearly understand everything.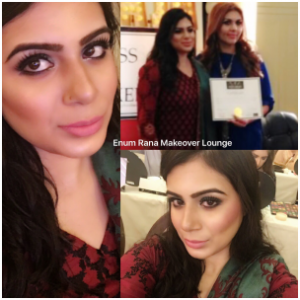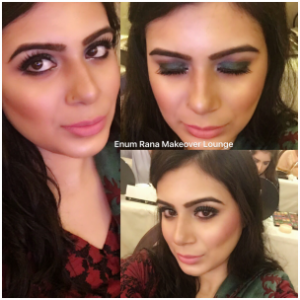 During the middle of the class before the practice we were served delicious food by Nishat Hotel. They kept refilling the pans every 5 to 10 minutes so that everybody could eat properly. Food was delicious and so was the overall arrangement.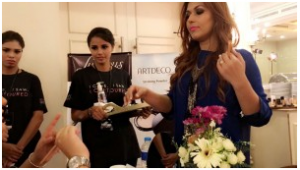 After the food break we did our whole face the way she did on the model. It started with applying moisturizer, priming the skin and ended with chiseling our cheeks to perfection. She emphasized more on keeping the skin hydrated before putting on the first layer of makeup. She also explained how people are scared of so many myths going around, such as, makeup especially foundation ruins the skin. She stressed on putting on a good foundation with SPF to actually protect our skin because that is like adding a layer of protection on our bare face.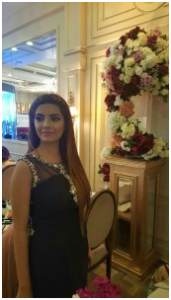 First day ended with tea, coffee and a basic eye look that she did on the model. She tried to visit every student at the end of the class to check the whole face that we replicated but due to shortage of time she couldn't interact with each one of us but hang on! This just did not end here because she started day 2 from where she left. Second day when we entered the class we were told to do the whole face again minus the lipstick and eye makeup; and then she visited EVERY SINGLE student in the hall, spent good 10 minutes with everyone, pointed out flaws, corrected them and recommended so many good products to all of us according to our requirements.
Once again we were served with delicious food after she got done approaching all the students and after the lunch break she did a breathtaking smokey eye look on her model in no more than 10 minutes and told us all to replicate the same. After learning from a proper makeup school for 6 months I was still unable to do the smokey eye but after learning from her 10 minute smokey eye I could easily replicate it and in such an amazing manner that everyone appreciated my whole look.
No to forget Amina Raja is the most humble, patient, talented, transparent and secure makeup artist out there who was not scared of putting her best secrets in front of the world. All her products were lying there open for all of us to use. Her assistants were roaming around with trays of foundations and concealers that she uses, with a proper tag on each tray that clearly mentioned which tray carries products for what skin type.
At the end of the class we received our certificates and I got to learn so much that I couldn't learn in a 6 month thorough course. My learning at the end of the class concluded with identifying my skin type, face shape, eye shape to chiseling my cheeks to perfection to doing a perfect smokey eye to putting on eyelashes according to my eye shape to finishing off the whole look with a wise choice of lipstick. People who have been following me on my social media commented on how this time around my makeup was so perfect and one of the best out of all the looks that I have been creating in the past.
By : Natural Health News