RECIPE: Soba Noodle Salad With Seared Tuna
What do you need?
    6 ounces uncooked soba (buckwheat noodles)
    Cooking spray
    1 (1-pound) sushi-grade tuna steak
    1/2 teaspoon salt, divided
    1/4 teaspoon freshly ground black pepper
    1 cup finely chopped English cucumber
    1 cup shredded carrot
    1/2 cup julienne-cut radishes
    1/3 cup finely chopped red bell pepper
    1/4 cup finely chopped green onions
    3 tablespoons rice vinegar
    2 tablespoons low-sodium soy sauce
    1 tablespoon peanut oil
    1 1/2 teaspoons dark sesame oil
    1 teaspoon sugar
    1/2 teaspoon crushed red pepper
    2 tablespoons sesame seeds, toasted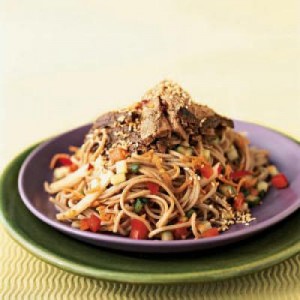 Note: This serving is for 6 people.
How do you make it?
    Cook noodles according to package directions
    Drain and rinse under cold water and set aside
    Heat a large nonstick skillet over medium-high heat
    Coat pan with cooking spray
    Sprinkle both sides of tuna with 1/4 teaspoon salt and black pepper
    Place tuna in pan, and cook for 3 minutes on each side or until desired degree of doneness achieved
    Transfer to a platter; cool slightly
    Cut tuna into 6 equal pieces
    Combine noodles, remaining 1/4 teaspoon salt, cucumber, and remaining ingredients except sesame seeds in a large bowl
    Toss well to combine
    Arrange 1 cup noodle mixture onto each of 6 plates
    Top each serving with 1 teaspoon sesame seeds and 1 tuna piece
How many calories would you consume with this?
256 CALORIES
By : Natural Health News