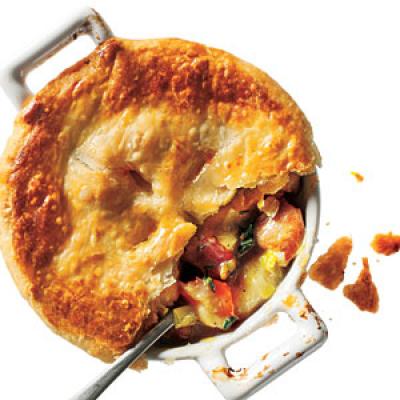 RECIPE: Chicken, Potato & Leek Pie
What do you need ?
    1 slice smoked bacon, chopped
    1 1/2 cups cubed red potato (about 8 ounces)
    1 cup chopped carrot
    6 skinless, boneless chicken thighs, cut into bite-sized pieces
    3 1/2 tablespoons all-purpose flour
    3 cups sliced leeks (about 2)
    1/2 teaspoon kosher salt
    1/4 teaspoon pepper
    2 cups fat-free, lower-sodium chicken broth
    1/2 (14.1-ounce) package refrigerated pie dough
    1 tablespoon fat-free milk
    1 large egg white
Note: This serving is for 6 people.
How do you make it?
    Preheat oven to 450°.
    Cook bacon in a large Dutch oven over medium heat until almost crisp
    Keep stirring frequently
    Increase heat to medium-high
    Add potato and carrot to pan
    Sauté 3 minutes
    Keep stirring occasionally
    Add chicken and sauté 3 minutes or until lightly browned
    Don't forget to stir occasionally
    Stir in flour and next 3 ingredients (through pepper)
    Sauté 1 minute, stirring frequently
    Slowly add broth to pan, stirring constantly
    Bring to a boil
    Cook 2 minutes or until slightly thick, stirring occasionally
    Spoon mixture into a 1 1/2-quart glass or ceramic baking dish
    Top with dough, folding under and pressing down on edges to seal
    Combine milk and egg white seperately
    Brush mixture over top of dough
    Cut small slits in dough to vent
    Bake at 450° for 30 minutes or until crust is golden
    Let stand 10 minutes

Aaaaaaaaaaannnnnnnnnddddddddddd… It's READY!!!
How many calories would you consume with this?
300 CALORIES
Good to know!
The dish is a perfect replacement for the fast food version of this recipe which carries 800 calories; too much when you are on a weight loss spree. When you are losing weight you are supposed to eat frequent meals with short intervals and it is strictly not allowed to have one meal with so many calories and starve the whole day. So, this particular recipe right here is a refined low-calorie version of the fast food one with almost the similar taste.
By : Natural Health News