Brand Name: bh cosmetics
Purpose: To apply foundation or blush for a natural coverage.
Ideal for: Thick foundations and highly pigmented blushes.
Priced at: $7.95 excluding taxes and $4 on sale
Rating: 5/5
Packaging Highlights
    Very sturdy handle in black
    Duo fiber softest bristles ever
    High quality brush for the price
    Comes with a nice white head to cover the bristles to prevent it from bacteria attack
What I like about BH COSMETICS STIPPLING BRUSH?
    Great quality
    Very sturdy handle
    Softest bristles
    Not harsh on skin
    Gives such flawless and natural coverage
    Love the cover it comes with
What I don't like BH COSMETICS STIPPLING BRUSH?
There is nothing bad to say about this brush that is the reason why it scored 5/5. This is awesome!
My thoughts on BH COSMETICS STIPPLING BRUSH
I was never a fan of stippling brush but my friend once raved about this stippling brush by Real Techniques which made me want to buy a stippling brush.  Once I was placing an order at BH and this one looked quite closer to the RT one so I thought of ordering it because it was $4 on sale. Nothing much to lose even if it doesn't work that well! Anyhow I ended up loving it. It was the best brush of all times! I love how flawless it makes my foundation look and at the same time gives an amazing, natural and healthy looking coverage too. I am a fan of this brush now. Love using it on younger clients with naturally beautiful skin. I even enjoy using my blush with this one now.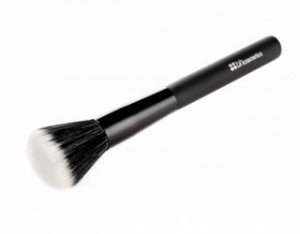 Save