Yes, I hear you!
Been there, faced that and finally have a solution to share with you all.
I have acne prone skin that reacts to almost all the moisturizers I have always tried. Winters are a little tough for me to handle as I have normal to combination skin which tends to get dry in winters and slightly dewy (not really oily) in summers. My struggle to find a good moisturizer in ongoing and during this time I have found a few good moisturizers as well but nothing so dramatically different as the one I am just about to mention right after this statement ends.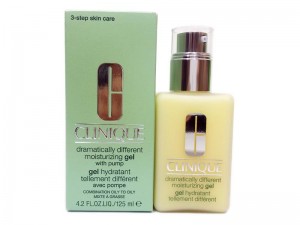 I am talking about Clinique Dramatically Different Moisturizing Gel. Yes, if you have guessed it already, you are right. It came in my order as a sample with my Clinique Acne Solutions Foundation which I have already reviewed and if you want to read up on it, you can find it somewhere in the "foundation"section in "Product Analysis".The very first time I applied this gel I knew I have a very good, long lasting relationship with this baby. I was right, very right! This moisturizing gel is not just a great moisturizer but a great skin brightener as well. I am seeing massive difference in my skin tone ever since I have started using it.
Coming on towards beauties with really dry skin types, I would probably not recommend it to them as it might not provide that thick moisture that really dry skin needs but it definitely provides hydration to normal and combination skin. If your skin is really dry and not prone to breakouts then Clinique Dramatically Different Moisturizing Lotion is what you need in your life.
After 2 weeks of regular use I see nothing but clear skin that looks bright, fresh and hydrated. Thank you Clinique for solving my problem! I am coming to place an order for the full size bottle which is 6.7 oz for $38. What a great deal!
By : Natural Health News