RECIPE:  Cooked Farro With Vinegar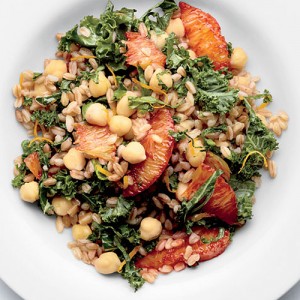 What do you need?
    1/4 cup dry farro
    1 1/2 tsp olive oil
    1 Tbsp filtered apple cider vinegar
    1 tsp agave nectar
    1 tsp orange zest
    1/2 cup sliced kale
    1/2 cup chickpeas
    1/2 blood orange, sectioned
How do you make it?
    Cook farro (found in the grains aisle) according to package instructions
    Whisk olive oil, vinegar, agave nectar, and zest for dressing
    Toss farro with kale, chickpeas, blood orange, and dressing
How many calories would you consume with this?
420 CALORIES
Good to know!
Blood orange juice is responsible for slowing down fat accumulation in mice as suggested by the research.
Apple cider vinegar has great biological effects and it kills bacteria in the body which will keep you away from bacterial infections of any sort. It is also great for diabetic patients because it improves insulin sensitivity and reduces blood sugar by 34% and most of all apple cider vinegar is great for weight loss because it increases the feeling of fullness.
Olive oil we all know is great for reducing cholesterol levels in the body therefore is great for heart health.
By : Natural Health News
Save