Hot News
The Weekend Takes Over 'The Voice' Finale With Epic Medley Of Hits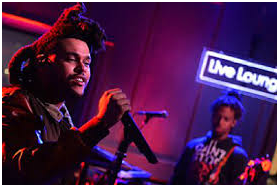 The vocalist assumed control over the season nine finale and completely shook out singing three of his greatest tunes.
"The Hills," "Earned It" and "I Can't Feel My Face" are some of the charming melodies we as of now can't escape our heads, and after The Weekend's execution on The Voice, they're never clearing out. The vocalist, whose genuine name is Abel Tesfaye, sleighed every one of us on Dec. 15 with an epic variety!
He began with a moderate form of "The Hills," which we need to say was hot, hot, hot — yes there were blazes out of sight. After self-altering himself for the melody, he then went into his adoration anthem "Earned It," which we began to look all starry eyed at in Fifty Shades of Gray. The lighting was immaculate — beat up and sentimental. He winded up with the most wonderful, "I Can't Feel My Face," his best time and peppy melody.
We can all concur this has been a HUGE year for The Weekend, who just discharged his most recent music video for "In the Night" highlighting his sweetheart, Bella Hadid! He as of late performed on Saturday Night Live and tackled some staggering models well as singing at the Victoria's Secret Fashion Show!
He likewise won the American Music Award for Favorite Soul/R&B Album for Beauty Behind The Madness! moreover, he rocked the show with his charming voice. the audience felt mad on all the melodies he sang.
Obviously, we cherished watching him perform however the entire night was spent enduring to discover who was named The Voice victor this season: everything came down to Blake Shelton's colleagues, Emily Ann Roberts and Barrett Baber; Gwen Stefani's finalist Jeffery Austin and Adam Levine's artist, Jordan Smith.
By : Natural Health News