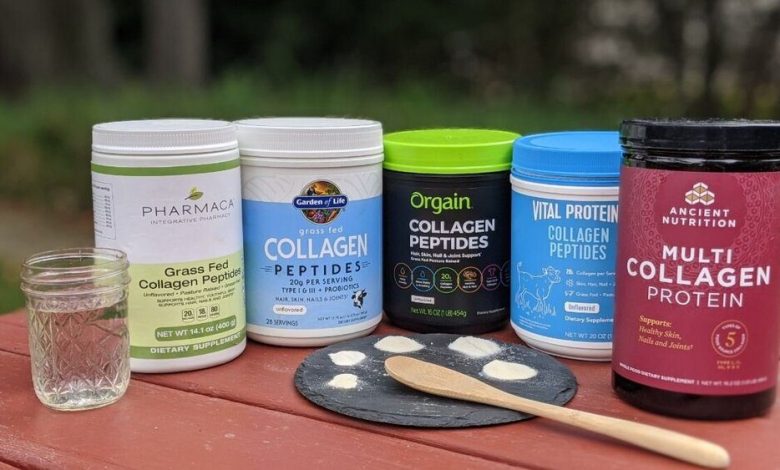 Introduction
Collagen peptides have gained significant popularity as dietary Best Collagen Supplements due to their potential benefits for skin health and overall well-being. In this introduction, we will explore "The Best 10 Collagen Peptides Powder and Supplements for Skin," highlighting some of the top products available on the market that aim to support skin health and appearance.
Collagen is a vital protein found in the body, responsible for maintaining the structural integrity of various tissues, including the skin, hair, nails, and joints. As we age, the body's natural collagen production decreases, which can lead to skin aging, wrinkles, and reduced elasticity. Collagen peptide supplements are designed to replenish collagen levels in the body and potentially counteract these effects.
Here are ten notable collagen peptides powders and supplements known for their potential benefits for skin health:
Vital Proteins Collagen Peptides: This is a popular choice known for its high-quality, grass-fed, and pasture-raised collagen peptides. It aims to support skin elasticity, hydration, and overall skin health.
Sports Research Collagen Peptides: This brand focuses on providing collagen peptides from non-GMO, grass-fed sources. It's often praised for promoting healthy skin, hair, and nails.
NeoCell Super Collagen: NeoCell offers a range of collagen supplements, including their Super Collagen powder. It contains types I & III collagen and is formulated to support skin firmness and hydration.
Bulletproof Collagen Protein: This brand combines collagen peptides with amino acids to support skin health, joint function, and muscle recovery.
Ancient Nutrition Multi Collagen Protein: Known for its multi-source collagen blend, this supplement aims to provide multiple types of collagen for comprehensive skin and joint support.
BioTrust Ageless Multi Collagen: This product offers a mix of collagen types and is often highlighted for its potential to enhance skin elasticity and hydration.
Great Lakes Gelatin Collagen Hydrolysate: This collagen powder is derived from grass-fed bovine sources and is intended to support joint health, skin, and hair.
Youtheory Collagen Advanced Formula: Youtheory's supplement contains types 1, 2, and 3 collagen and is designed to promote healthy skin, hair, nails, and joints.
Zint Collagen Peptides: Zint emphasizes sustainable sourcing and provides collagen peptides that aim to support skin health and connective tissues.
Doctor's Best Collagen Types 1 & 3: This supplement provides a blend of collagen types that target skin elasticity, hydration, and overall skin health.
Remember, individual results may vary, and it's important to consult with a healthcare professional before adding any new supplement to your routine. Collagen Peptides Powder are generally safe for most people, but it's essential to consider factors like allergies, dietary restrictions, and underlying health conditions.
Forest Leaf – Collagen Pills with Hyaluronic Acid & Vitamin C – Reduce Wrinkles, Tighten Skin, Boost Hair, Skin, Nails & Joint Health – Hydrolyzed Collagen Peptides Supplement – 120 Capsules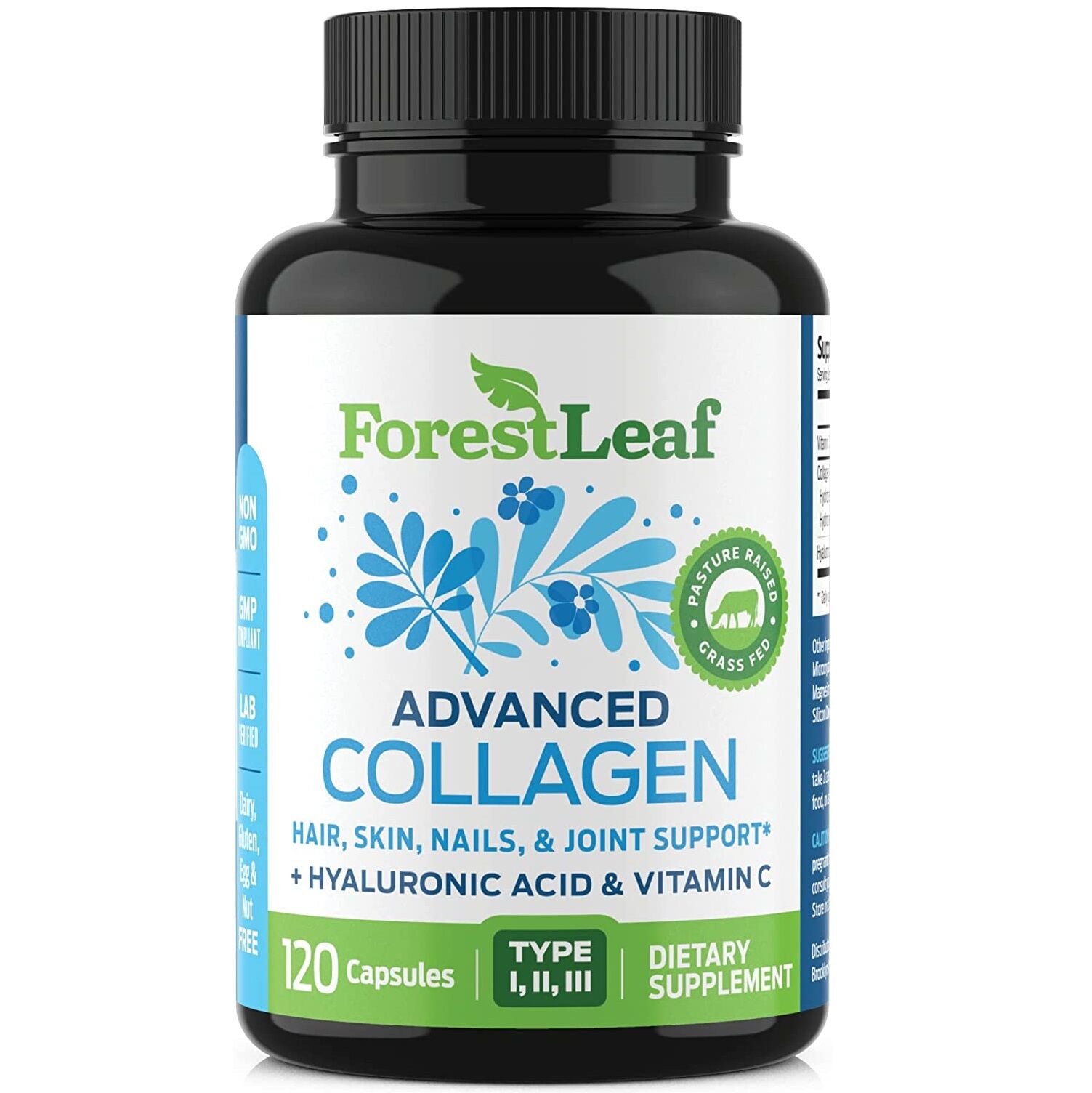 About This Item
HEALTHY HAIR, SKIN & NAILS – Collagen Pills with Hyaluronic Acid is the main protein that gives our skin elasticity. Our unique 3 Type formula fortified with Hyaluronic Acid and Vitamin C works to help rejuvenate skin, hair and nail growth while improving joint flexibility and promoting beautiful skin.
BONE & JOINT HEALTH – Collagen, Hyaluronic Acid and Vitamin C may help to promote bone healing and support the formation and repair of healthy flexible joints to promote improved mobility at any age in adult men and women.
AGE DEFYING BEAUTY – Look and feel younger by improving the overall health of your skin. This formula reduces marks like fine lines, wrinkles, crow's feet and blemishes by maintaining your skin's moisture and youthful elasticity. Antioxidant Vitamin C helps eliminate free radical build up.
FOUNTAIN OF YOUTH – Proteins and amino acids in hydrolyzed collagen help form connective tissue in your skin making it tighter and helping decrease fine lines, wrinkles, stretch marks and cellulite. Avoid greasy serums and creams with this dietary collagen and Hyaluronic Acid supplement.
GRASS FED COLLAGEN – These easy to swallow capsules are non GMO and free from dairy, gluten, eggs and nuts. They are tested for absorption, to ensure proper digestion. Join thousands of happy customers…Click Add-to-Cart to order yours Today!
Garden of Life Grass Fed Collagen Peptides Powder – Unflavored Collagen Powder for Women Men Hair Skin Nails Joints, Hydrolyzed Collagen Protein Supplements, Post Workout, Paleo & Keto, 28 Servings
About This Item
PROMOTES SKIN, HAIR, AND NAILS: Hydrolyzed Garden of Life Grass Fed Collagen Peptides Powder with 18g of protein to support skin elasticity, strong nails, & healthy hair; Helps reduce signs of aging with this beauty hair and nail supplement; Perfect for men and women
PROVEN JOINT & MOBILITY SUPPORT: These bovine peptides feature essential amino acids and branched-chain amino acids (BCAAs) – both vital and primal in supporting healthy cartilage, maintaining joints, ligaments, mobility and flexibility in tendons & tissues
SUPPORTS GUT HEALTH & DIGESTION: With 1.5 Billion CFU probiotics for digestion and hydrolyzed with enzymes which break the collagen down into its amino acids for best absorption from the digestive tract into the bloodstream – our Collagen Peptides are highly bioavailable to the body for maximum benefits
20g EASY TO USE COLLAGEN: Dissolves quickly, soluble in hot or cold liquids, including smoothies, coffee, tea, shakes, or mix with water or almond milk in your kitchen or on the go; Perfect for many food recipes. Morning, afternoon, or evening, and comes with a scoop included
CLEAN & PURE COLLAGEN PEPTIDE: Third-Party tested to back every claim. Our tasteless Collagen Supplements are sustainably sourced from cows that are pasture raised to a strict standard; Proudly Third-Party Non-GMO Tested by iGEN, Certified Gluten Free by NSF, Certified Keto & Paleo by the Paleo Foundation; Made in the USA from foods grown in the USA and other countries; NO antibiotics, hormones, or GMOs, ever
Herbster Hydrolyzed Collagen Peptides (Type I, II, III)|with Vitamin C, D-Biotin, Hyaluronic Acid, Turmeric, Black Pepper|for Skin, Hair, Nail & Joint Health|Non GMO, No Gluten & Soy, 90 Caps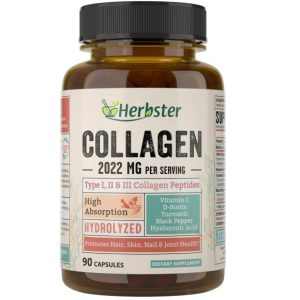 About This Item
Highly Bioavailable Hydrolyzed Collagen Peptides: Each serving of Herbster Collagen delivers 2022 mg of highly bioavailable hydrolyzed collagen peptides (Type I, II, III) with 90 mg of natural vitamin C to aid in the synthesis and maintenance of collagen in your body.* These hydrolyzed collagen peptides are sourced from pasture-raised, grass-fed bovine, free-range chicken & wild-caught fish, and are hormone-free & keto-friendly.
Revitalize Your Skin, Hair & Nails with Hyaluronic Acid & Biotin*: Collagen helps improve skin elasticity, promote hair thickness, and support nail growth.* Our hydrolyzed collagen peptides are enhanced with skin-hydrating hyaluronic acid and hair-thickening d-biotin to help you support smoother skin, fuller hair & stronger nails, making you look and feel more youthful from the inside out.*
Promote Joint Health with Turmeric & Black Pepper*: Collagen also helps maintain joint cartilage integrity and promote joint health.* To provide you with maximum joint comfort, our collagen is fortified with turmeric extract for antioxidant support and black pepper extract for enhanced absorption.* Herbster Collagen is perfectly formulated to improve bone strength & density and strengthen joint function & flexibility.*
The Secret to Become Herb Master: What makes our brand stand out from the crowd is very simple but hard, which is strictly controlling every part of the manufacturing process. A sense of responsibility to our customers monitors us to ensure a high level of quality and purity. Our products are sourced using only the finest raw ingredients with the purity and potency that your body deserves. Herbster products are non-GMO, gluten-free, manufactured in the USA, and tested for heavy metals.
Satisfaction Guarantee: Herbster has been formulated and produced at our facility in the USA. All our supplements are third-party tested for potency and purity. Our products have been designed and formulated to make a noticeable difference so that you can feel better. We offer a 100% satisfaction or money-back guarantee. If you don't feel an improvement, claim a full refund with no questions asked. We are willing to help you achieve your health and wellness goals.
Live Conscious Beyond Collagen Multi Collagen Capsules – Types I, II, III, V & X | Hydrolyzed Blend with Biotin & Vitamin C for Hair, Skin, Nails 90 Capsules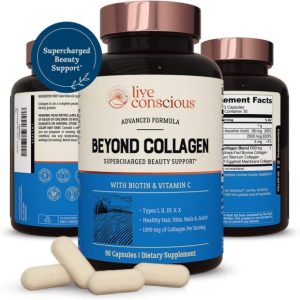 About This Item
HEALTHY SKIN, HAIR & NAIL SUPPORT: Live Conscious Beyond Collagen capsules offers 5 different types of collagen, plus biotin and vitamin C, in a convenient collagen supplement for women and men. By approaching healthy skin, hair, and nail support from 5 angles, you can promote your body's collagen levels, help you more efficiently use the collagen you have, and support the body's natural collagen production.*
6 TYPES IN ONE: Beyond Collagen capsules feature 5 types of collagen hydrolysate (I, II, III, V, & X) in order to provide maximum benefits. These collagen types can help reduce occasional joint discomfort as well as provide benefits to your appearance. Plus, when joints feel more flexible, it's easier to maintain an active lifestyle.*
AGE GRACEFULLY: Collagen can help add a more youthful look to your appearance by helping reduce the appearance of aging and providing support to overall well-being.*
PREMIUM INGREDIENTS: For best results, we use only high-quality ingredients, including grass-fed bovine, chicken, and eggshell sources, to create a collagen supplement formula that offers 5 important types of collagen in one easy-to-swallow capsule.
WITH BIOTIN AND VITAMIN C: Biotin, also called vitamin H, (for hair) is an important part of maintaining the infrastructure of the body's keratin, the protein that comprises hair and nails. Vitamin C is an important part of the body's ability to support tissues. Including these two powerful ingredients in Collagen Capsules helps bolster your overall benefits.*
Livingood Daily Unflavored Collagen Powder, 34 Servings – Collagen Protein Powder (Collagen Type 1 and 3) Plus Multivitamin, Milk Thistle & Glucosamine – Hydrolyzed Collagen Peptides – 15.10oz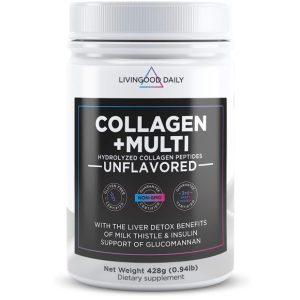 About This Item
Livingood Daily Unflavored Collagen Powder – Our hydrolyzed collagen peptides contain type I & III collagen along with 17 vitamins and minerals including a great source of B vitamins, zinc, selenium, calcium, vitamin C and biotin. Our bovine collagen is only sourced from GRASS-FED COWS in the USA.
Perfect For Your Diet – Our unflavored collagen protein powder is ideal for KETO & PALEO types of diets. This powdered collagen for women & men is free from GMOs, gluten, soy & corn. Truly a unique collagen supplement that's up-to-date on the latest science to give the best possible results!
Collagen Coffee Creamer – Revolutionize your morning coffee! Mix a scoop of our unflavored collagen powder into your coffee, smoothie or protein shakes – It DOESN'T CLUMP UP and mixes well with hot or cold liquids. Our collagen peptide contains NO FILLERS and ZERO SUGAR!
Achieve Ultimate Health – Our collagen powder for men & women promotes healthy HAIR, SKIN, NAILS, BONES, & JOINTS. It's formulated with glucomannan & milk thistle, which promote liver cleanse, digestive health, energy, and brain function. Additionally, it helps reduce skin dryness, wrinkles, and joint pains.
Your Satisfaction Is Our Top Priority – Send us a message and let us know about your experience. If our product did not meet your expectations within the first 30 days of use or it got damaged in transit – we're happy to reimburse your money! Please note that you are not required to return the product back to us.
Multi Collagen Protein Powder Hydrolyzed (Type I II III V X) Grass-Fed All-in-One Super Bone Broth + Collagen Peptides – Premium Blend of Grass-Fed Beef, Chicken, Wild Fish, Eggshell Collagen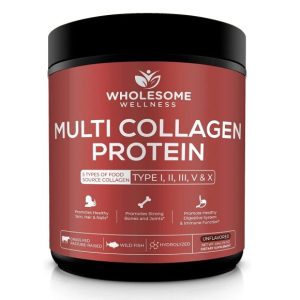 About This Item
Manufactured in GMP Facility
Made in USA
Enhanced All-In-One Bone Broth Multi Collagen Protein Powder: Ultra premium bone broth, collagen powder supplement with a high-quality, potent, blend of grass-fed beef, chicken, certified wild fish, and eggshell membrane collagen providing collagen types I, II, III, V and X.
Easy to mix agglomerated hydrolyzed collagen protein powder
Hydrolyzed Collagen – Collagen makes up 30 percent of all proteins in the body
Values: Made in Usa / Gmp Manufactured / 3rd Party Lab Tested for Purity & Potency / 100% Hydrolyzed / Grass-Fed Beef / Certified Wild Fish / Organic / Gluten-Free / Clinically Studied Ingredients / Gmo-Free / Raw / Peanut-Free / Dairy-Free / Soy-Free / Paleo approved. Easy and convenient to take compared to collagen pills.
Contains multiples collagen types I II III V X for a more diverse mix of collagen
Nature Made Collagen Gummies with Vitamin C, Zinc and Biotin, Hydrolyzed Collagen Peptides Supplement for Healthy Skin Support, 60 Gummies, 60 Day Supply
About This Item
Skin health support supplement: contains one 60 count bottle of Nature Made Collagen Gummies for a 60-day supply
This collagen supplement combines hydrolyzed Collagen with two key skin health nutrients, Vitamin C and Zinc, plus Vitamin E and Biotin
Nature Made Collagen gummies come in a delicious lemon with other natural flavors and are made with pectin, not gelatin
Adults, chew one Collagen gummy daily
This gummy Collagen for women and men is gluten free and contains no artificial flavors, no synthetic dyes, no high fructose corn syrup and no artificial sweeteners
Number 1 Pharmacist Recommended Vitamin & Supplement Brand*
These statements have not been evaluated by the Food and Drug Administration; this product is not intended to diagnose, treat, cure, or prevent any disease
NeoCell Collagen +C Pomegranate Liquid, 4g Collagen Types 1 & 3 Plus Vitamin C 12 Ounces
About This Item
LIQUID COLLAGEN: A combination of Types 1 and 3 hydrolyzed supports healthy collagen formation with additional benefits of vitamin C; Package may vary
HEALTHY SKIN, HAIR AND NAILS: Nourish your body and boost your beauty with the key ingredients found in NeoCell Collagen +C Pomegranate liquid
VITAMIN C: Benefits of Vitamin C provide free radical cellular support and helps support cellular health
ANTIOXIDANT BENEFITS: Contains pomegranate, green tea, cranberry and elderberry and provides the antioxidant benefits of vitamin C
EASY TO USE: For best results, take one (1) tablespoon alone or mix into six (6) Fl. Ounces. of water or juice
NeoCell Super Collagen Powder, 10g Collagen Peptides per Serving, Gluten Free, Keto Friendly, Non-GMO, Grass Fed, Paleo Friendly, Healthy Hair, Skin, Nails & Joints, Unflavored, 7 Oz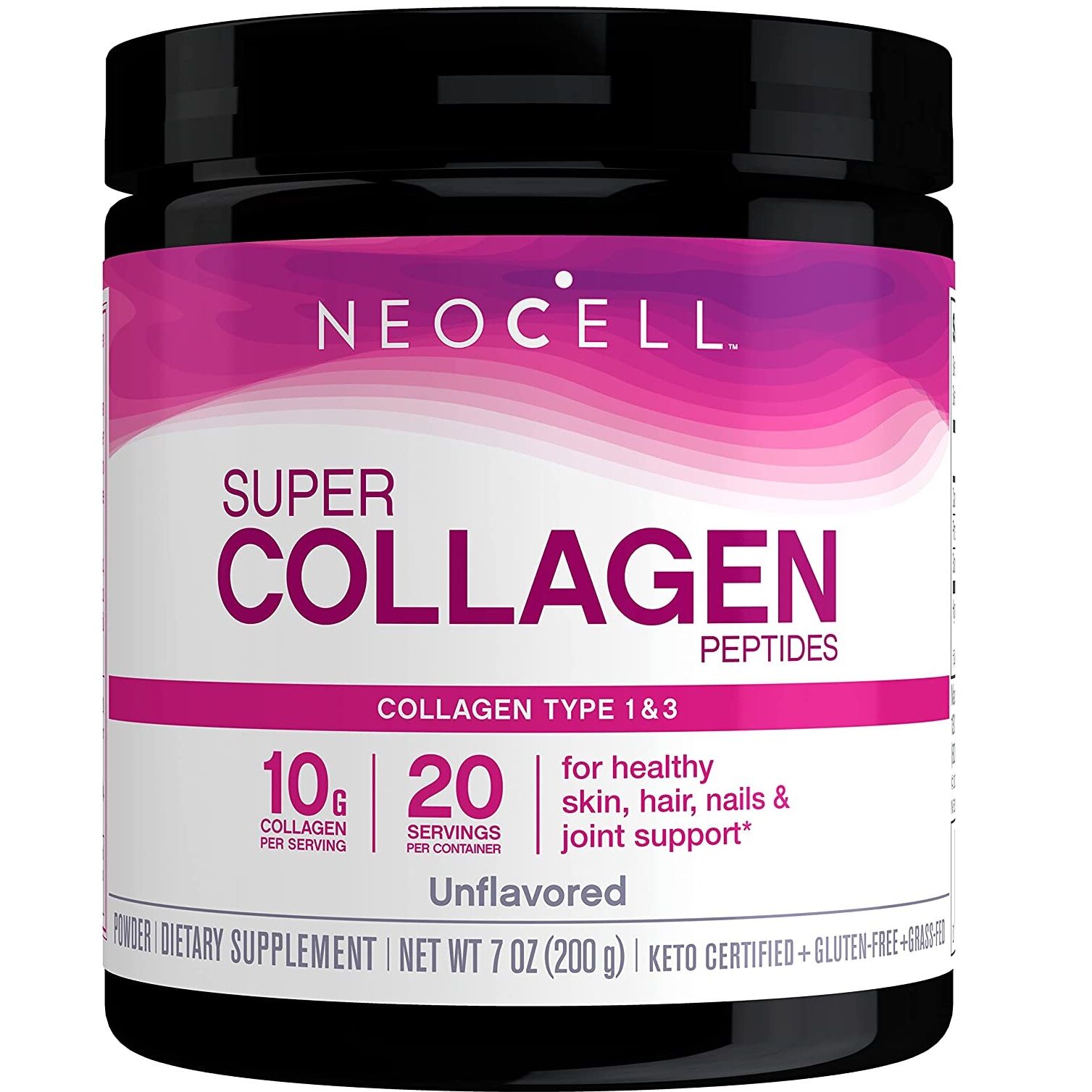 About This Item
HAIR, SKIN, NAILS AND JOINT SUPPORT: NeoCell Super Collagen Peptides is formulated with Collagen Type 1 and 3; it supports youthful skin, healthy hair, nails and joints
HYDROLYZED COLLAGEN: NeoCell hydrolyzed collagen can provide some of the building blocks our bodies need to make collagen and other proteins like keratin, which is found in our nails and hair
PROMOTE HEALTHY COLLAGEN FORMATION DAILY: Clinical studies have shown that taking collagen can promote healthy collagen formation throughout the body
FEED YOUR HEALTHY BEAUTY: Neocell Super Collagen Peptides is formulated to support your radiant beauty inside and out with 10 grams of collagen per serving
GRASS-FED COLLAGEN: Super Collagen Peptides powder is also Keto Certified, gluten-free, Paleo friendly, IGEN Non-GMO tested; contains no soy wheat, lactose, starch, corn or artificial flavors
GLUTEN FREE PLUS PALEO: This joint support supplement is formulated with gluten-free, Paleo friendly ingredients, and does not contain any soy, wheat, lactose or artificial flavors
Packing may vary between 198g and 200g
Orgain Hydrolyzed Collagen Peptides Powder, 20g Grass Fed Collagen – Hair, Skin, Nail, & Joint Support Supplement, Paleo & Keto, Non-GMO, Type I and III, 1lb (Packaging May Vary)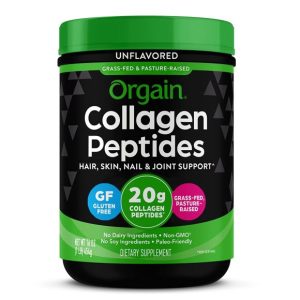 About This Item
You may receive either 10g or 20g collagen for a limited time as we transition. It is still the same great product with the same net weight. Includes 1 (1 Lb) ready to mix Orgain pasture raised hydrolyzed collagen peptides powder
Suggested Use: Depending on your preference for 10 or 20g of collagen, combine 1-2 scoops into the beverage, food, or baked good of your choice. Mixes and dissolves easily to make a great addition to your morning coffee or smoothie
20 grams of pure unflavored collagen hydrolysate per serving, type I and III collagen, essential amino acids
Paleo and Keto friendly, gluten free, dairy free, lactose free, no sugar added, no soy, non GMO, doctor developed. Odorless and tasteless
Perfect for both men and women. Supports joint function and health, strong hair and nails, muscle recovery, and radiant skin.
Boosts metabolism and improves digestion